疫情期间,怎么和朋友无接触地打招呼?下面的视频介绍了五种在疫情期间和朋友打招呼的方式。为了我们和他人的健康,一起来了解一下吧!
How to greet people without touching each other during the epidemic? Here is a video showing five ways to do. Let's take a look for the health of all.
当你的朋友不舒服时,一张卡片或一条信息对他们来说是一种善意的表示,这表明我们关心他们,希望他们早日康复。怎么用中文表达我们的关心呢?以下是一些句子,教你如何用最美好、最简单的方式问候朋友。
A card or message is a kind gesture to those who may not be feeling well. It shows that we are caring about them, and we hope they feel better soon. How to express our concern in Chinese? Here are a few sentences of how you can send a message to your friends in the nicest, simplest way.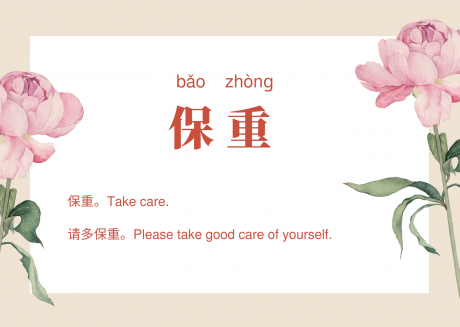 保重。
Take care.
请多保重。
Please take good care of yourself.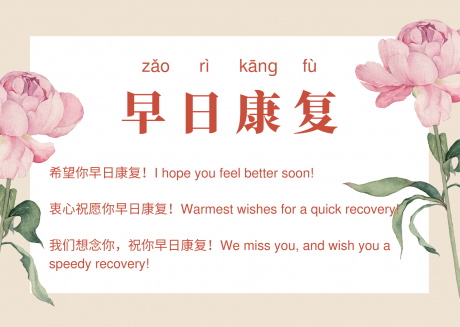 希望你早日康复!
I hope you feel better soon!
衷心祝愿你早日康复!
Warmest wishes for a quick recovery!
我们想念你,祝你早日康复!
We miss you, and wish you a speedy recovery!
祝你早日康复!如果有什么我能帮忙的,请告诉我。
Wishing you a speedy recovery! Please let me know if there' s anything I can do to help.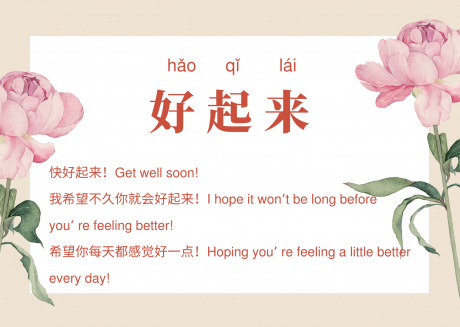 快好起来!
Get well soon!
我希望不久你就会好起来!
I hope it won't be long before you' re feeling better!
希望你每天都感觉好一点!
Hoping you' re feeling a little better every day! 
现在你可以用中文问候你的朋友了!每天学习一点中文词汇,日积月累,会有意想不到的收获!分享给你的朋友一起来学汉语吧!
Now you can send your concern to friends in Chinese! Learn a few Chinese words every day, accumulate over time, you will have unexpected gains! Share it with your friends to learn Chinese together!
How to Send Concern to Friends in Chinese During the Epidemic?
Chinese is very easy to learn, Want to know more, check out on our other posts to learn more.
Such as
Beat summer heat with TCM-based healthy diet
Chinese parents turn back on McDonald's and KFC due to food safety scare
---
Recommend Course:
Intermediate Chinese 1 (20 classes)
Intermediate Chinese 2 (20 classes)
Advanced Chinese 1(20 classes)
Pinyin for zero beginners(10 Classes)
1-on-1 live Chinese course, learn with Chinlingo Chinese,
apply a free trial: https://www.chinlingo.com/how-it-works/
Wechat:lovechinlingo2
skype:public@chinlingo.com