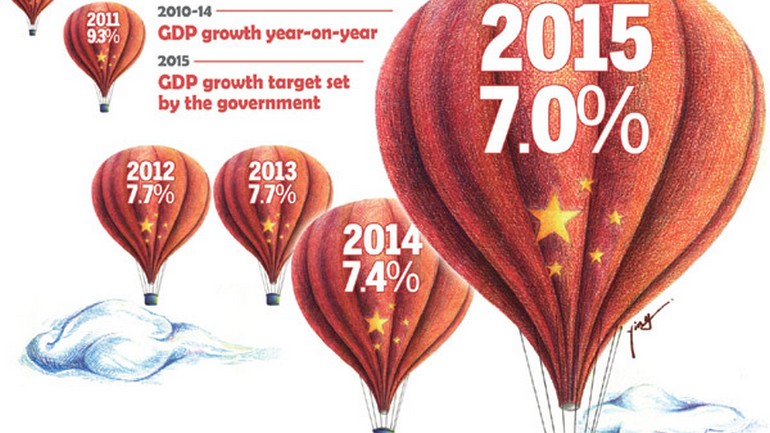 China's cooling growth prospects are expected to shift the economic
agenda away from the eurozone, although Greece remains firmly in the
spotlight because of its precarious funding outlook.
China is expected to provide further hints of the challenges it faces
after the world's No 2 economy depicted its "new normal" during this
month's annual meeting of the National People's Congress a growth
target of 7 percent for this year, the lowest for quarter of a century.
Retail sales rose 10.7 percent year-on-year in January-February, the
lowest pace in a decade, said the National Bureau of Statistics.
Fixed-asset investment, a crucial driver of the Chinese economy, rose
13.9 percent, and the industrial output grew 6.8 percent, the weakest
expansion since late 2008.
As Chinese leaders are developing a more balanced longterm growth
model, keeping the breakneck economic expansion of recent decades in
check, all eyes will be on the reforms they are expected to outline
further this year.
"Asia will be firmly in focus," Standard Chartered analyst Madhur Jha
said. "The (Chinese) government is likely to emphasize the need for
deeper structural reforms to ensure more sustainable growth, even if it
is likely to be softer in the near term."
As markets digest China's warning shots, the eurozone's ups and downs will not be far from investors' minds.
A four-month respite for Athens after it extended a bailout program
has done little to ease concerns that Greece may face a cash crunch
before then.
Its funding options took center-stage at a March 2 meeting of
eurozone finance ministers, who discussed the economic reforms that
Athens hoped would help it unlock some financial aid from international
lenders.
The government sent an updated list of reforms to Brussels on March 6
and said it wanted to start talks with lenders immediately on
concluding its bailout and a possible follow-up deal. It also repaid
part of an International Monetary Fund loan that falls due this month.
With Greece insisting it has breathing space, the Eurogroup session
is unlikely to prompt any key decisions on Athens' next steps. Worries
about the country's prospects beyond June are adding to tensions,
however, as European officials wrangle over the chances of a third
rescue package.
Greece's travails come against a rosier backdrop for the eurozone,
after the European Central Bank, which kicked off its $1 trillion
government bond-buying plan last Monday, raised growth forecasts.
Industrial production figures for the single currency area are also
expected to support this encouraging picture, rising slightly after a
year-on-year fall in December, and echoing a strong start to the year
for German output.
Firmer United States consumer spending would further support
expectations the Federal Reserve is braced for a rate hike as early as
June, following a sluggish start to the year even after a drop in fuel
prices.
Retail sales excluding automobiles, gasoline, building materials and
food services "core" retail sales, considered to the best gauge of
households' spending patterns edged up only 0.1 percent in January.
The United States employment accelerated in February, with non-farm
payrolls rising a higher-than-expected 295,000. "Such a blockbusting
rate of job creation will encourage the Fed to be more aggressive," said
David Lamb, senior dealer at foreign exchange brokerage FEXCO.
Chinese is very easy to learn, Want to know more, check out on our other posts to learn more.
Such as
Chinese students bring new business to urban economy in U.S.
What is the Impact of the Current Trade War on the Chinese Economy? 当前的贸易战对中国经济有什么影响?
Chinese Premier Li Keqiang admits flaws in China's economic model
---
Recommend Course:
Intermediate Chinese 1 (20 classes)
Intermediate Chinese 2 (20 classes)
Advanced Chinese 1(20 classes)
Pinyin for zero beginners(10 Classes)
1-on-1 live Chinese course, learn with Chinlingo Chinese,
apply a free trial: https://www.chinlingo.com/how-it-works/
Wechat:lovechinlingo2
skype:public@chinlingo.com