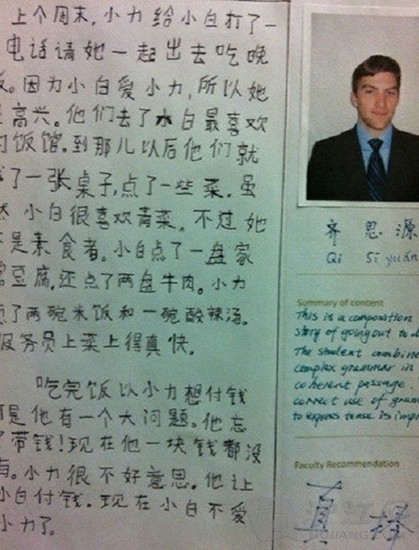 A photograph of a foreigner's beginner's Mandarin composition has (probably unbeknownst to him) been uploaded to popular Chinese microblogging service Sina Weibo and is currently being gleefully forwarded by Chinese netizens, having already been shared 3,000 times and with over 600 comments. The original uploader comments: Is this how laowai feel when they see our English compositions…?

上面是一位初学汉语的老外的作文。自这张照片上传至新浪微博(也许他本人还并不知晓此事)以来,中国的网友迅速转发,目前已分享3000多次,有超过600条的评论。上传者的评语是:"难道老外看到我们英语作文时也有着相同的感受吗?"
Netizens are finding the lack of grammatical errors impressive, despite the simplicity of the content, and especially appreciate the pithy conclusion.Translation of the composition:
除了内容浅显,网友们并没有发现明显的语法错误,尤其对简洁的结尾大为赞赏。文章原文如下:
Last weekend, Xiao Li gave Xiao Bai a phone call to invite her out to eat dinner. Because Xiao Bai loves Xiao Li, she was very happy. They went to Xiao Bai's favorite restaurant. When they arrived, they got a table and ordered some food. Although Xiao Bai really likes cabbage, she isn't a vegetarian. Xiao Bai ordered a plate of Homestyle Tofu, as well as two plates of beef. Xiao Li ordered two bowls of rice and one bowl of spicy-sour soup. The server brought the food very quickly.
上个周末,小力给小白打了一个电话请她一起出去吃晚饭。因为小白爱小力,所以她很高兴。他们去了小白最喜欢的宾馆。到那儿以后他们就有了一张桌子,点了一些菜,虽然小白很喜欢青菜,不过她不是素食主义者。小白点了一盘家常豆腐,还点了两盘牛肉。小力点了两碗米饭和一碗酸辣汤。服务员上菜上的真快。
After they finished eating, Xiao Li wanted to pay the bill, but had a large problem. He forgot to bring money! Right now he does not even have one yuan. Xiao Li is very embarrassed. He let Xiao Bai pay. Right now Xiao Bai does not love Xiao Li.
吃完饭以后小力想付钱,但是他有一个大问题。他忘了带钱!现在他一块钱都没有。小力很不好意思,他让小白付钱。现在小白不爱小力了。
In the lower right corner, the teacher remarks:"Excellent!"
在右下角处,老师给的评语是:"真棒!" 
Chinese is very easy to learn, Want to know more, check out on our other posts to learn more.
Such as
The Easiest Way to Learn Mandarin Chinese
Learn Chinese through YouTube Videos! Best Short Chinese Learning Videos
---
Recommend Course:
Intermediate Chinese 1 (20 classes)
Intermediate Chinese 2 (20 classes)
Advanced Chinese 1(20 classes)
Pinyin for zero beginners(10 Classes)
1-on-1 live Chinese course, learn with Chinlingo Chinese,
apply a free trial: https://www.chinlingo.com/how-it-works/
Wechat:lovechinlingo2
skype:public@chinlingo.com