中国南部的贵州省现在拥有一座全球最高的人造瀑布。
Guizhou province is southern China is now home to world's biggest man-made waterfall.
这个令人震撼的景观位于贵阳市裂变国际大楼–它通过4台巨型抽水泵将位于地下抽水池的可回收水抽至121米的楼层,水就从那里喷涌而下,形成了瀑布。
这座大楼及瀑布在两年前就竣工了,不过该人造瀑布至今只启动过6次左右。
The building and waterfall feature were complete two years ago, but the actual waterfall has only been turned on around 6 times so far.
其中的一个原因就是抽水装置的高运行成本。开放这些水泵一小时的电费就达到了117美元。
One of the reasons is the high operating cost of the equipment that creates the water feature. The cost of powering those massive pumps for just one hour is $117.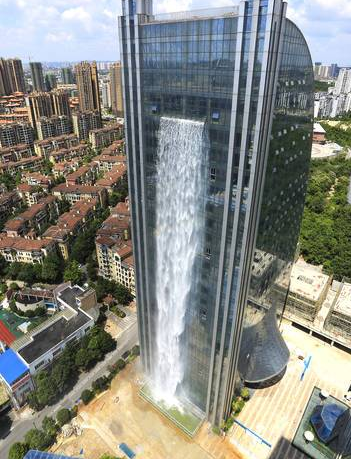 该建筑是鲁迪工业集团的一个项目,集团董事程小茂透露,建筑内有写字楼、购物中心和一家豪华酒店。
The building was a project of the Ludi Industry Group whose director Cheng Xiaomao disclosed that the building will house offices, shops and a luxury hotel.
谈及设计的灵感,他说道:"贵阳是一座山城,树多,就像森林一样。它的创造者想要打造一种水和绿色的感觉,即便是在摩天大厦里。"
Speaking about the inspiration behind the design he said, "Guiyang is a city of mountains, and with many trees, just like a forest. Its creators wanted to create a feeling of water and greenery, even when you are surrounded by skyscrapers.."
据悉,这座瀑布比此前人造瀑布记录的保持者、巴西里约热内卢的太阳能瀑布塔要长10英尺。
The waterfall is about 10ft longer than the previous record holder at the Solar City Tower in Rio de Janeiro, Brazil.
(来源:kekenet.com 可可英语)
Key words:
人造:rén zào    artifical,man-made
瀑布:pù  bù    waterfall
竣工:jùn gōng     (of a project) be completed; complete; finish
摩天大楼:mó tiān dà lóu    skyscraper
===================================================================================================================================================
Learn native Chinese with Chinlingo, Easy and Fun with "Little Fresh Meat " and "Sweetie "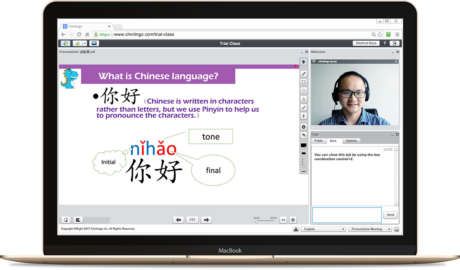 Click here to win free trial lesson