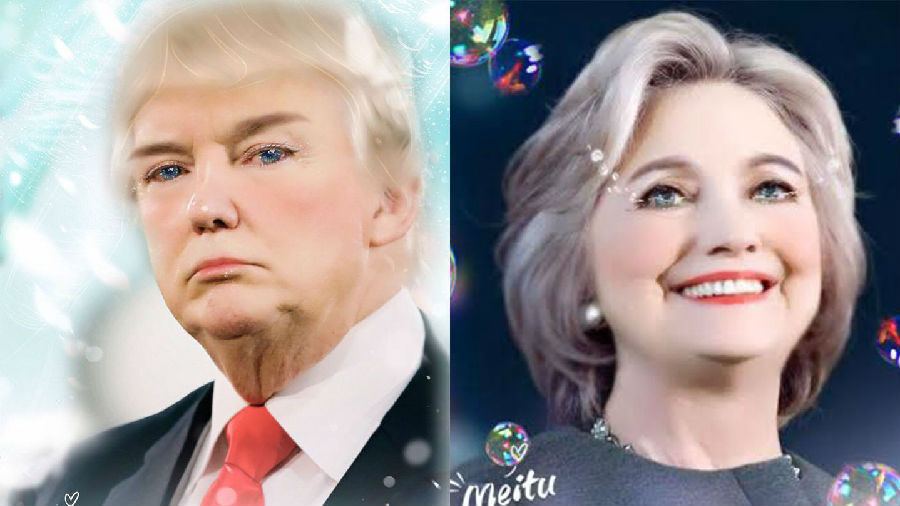 A popular Chinese photo-editing app has suddenly burst into popularity in the West, covering social feeds in airbrushed photos with huge, sparkling eyes.
一个在中国很受欢迎的图片编辑软件突然就在欧美火了起来!光滑水嫩的皮肤和闪闪发光的大眼睛铺天盖地涌到了社交媒体上!
Although Meitu has been around since 2008, it has become an overnight success, and was trending on Apple's App Store on Thursday.
虽然美图秀秀2008年就上线了,但是最近它可以说是在欧美"一夜成名",并于本周四登陆了App Store。
Meitu is a lot like other photo-editing apps — it has Bitmoji-style stickers, Instagram-style filters, and Layout-style photo collages.
美图秀秀和其他的图片编辑软件有许多相似之处——有Bitmoji风格的贴纸、Instagram风格的滤镜、以及Layout风格的拼图功能。
But the app really shines in its "hand-drawn" mode that is like a Snapchat filter on steroids. The hand-drawn mode slims down jawlines, enlarges eyes, and adds a little bit of sparkle to the whole package.
但是美图秀秀的"手绘"模式真的很赞!就好像用Snapchat滤镜画画一样。手绘模式可以削尖你的下巴、把你的眼睛变大,还可以在整张照片上加上一些璀璨流光!
Basically, it makes you look like a cartoon — and it's these images that are rapidly spreading on social media.
一般来说,这会让你看起来像是动漫里的人物——社交媒体上铺天盖地席卷而来的照片就是这样!
The company behind the app IPOed in Hong Kong in December with a roughly $4.6 billion valuation — which may increase as investors learn that Western audiences like the app too.
去年12月,美图秀秀公司于香港首次公开募股,粗略估值46亿美元——而当投资者知道西方人也很喜欢这款APP后,这个数字可能还会增加。
Source: Daily Mail