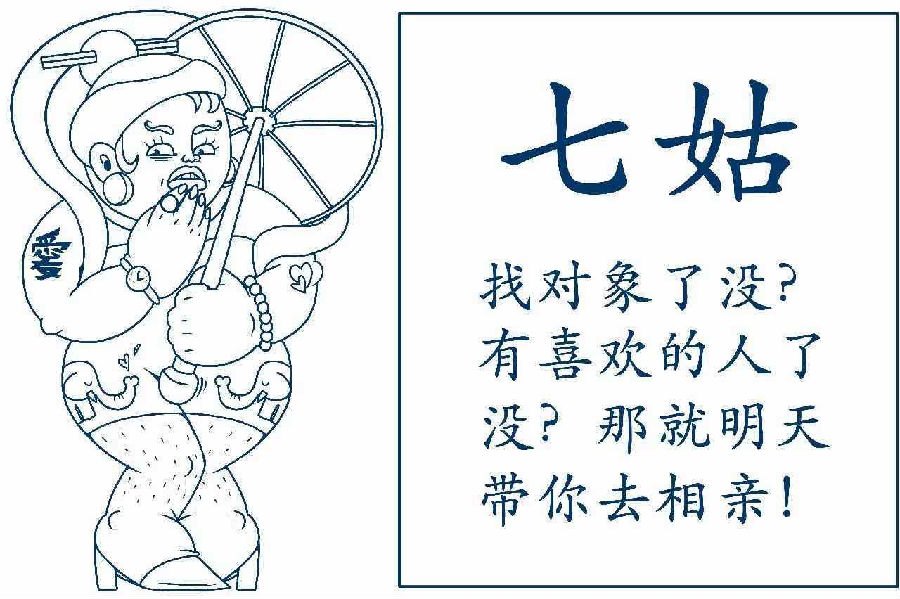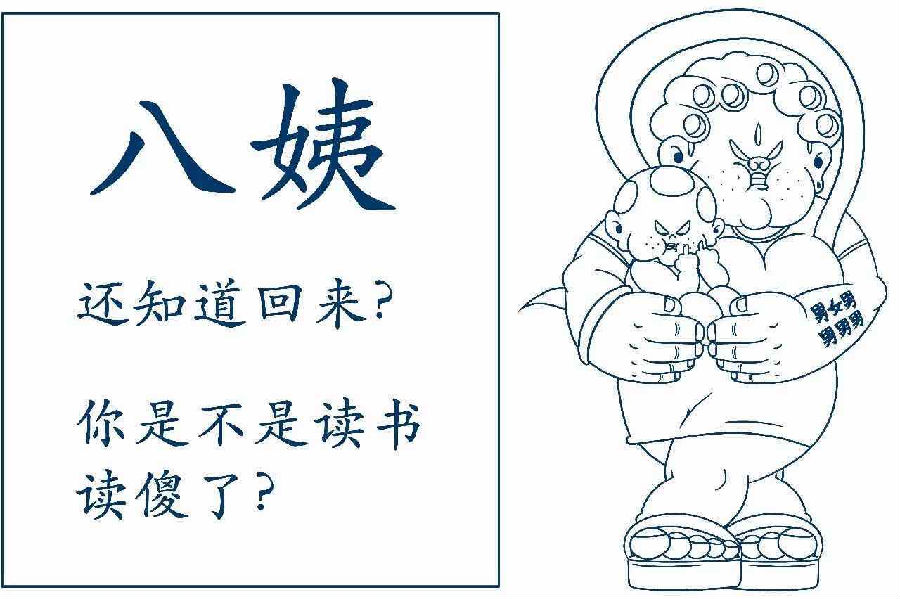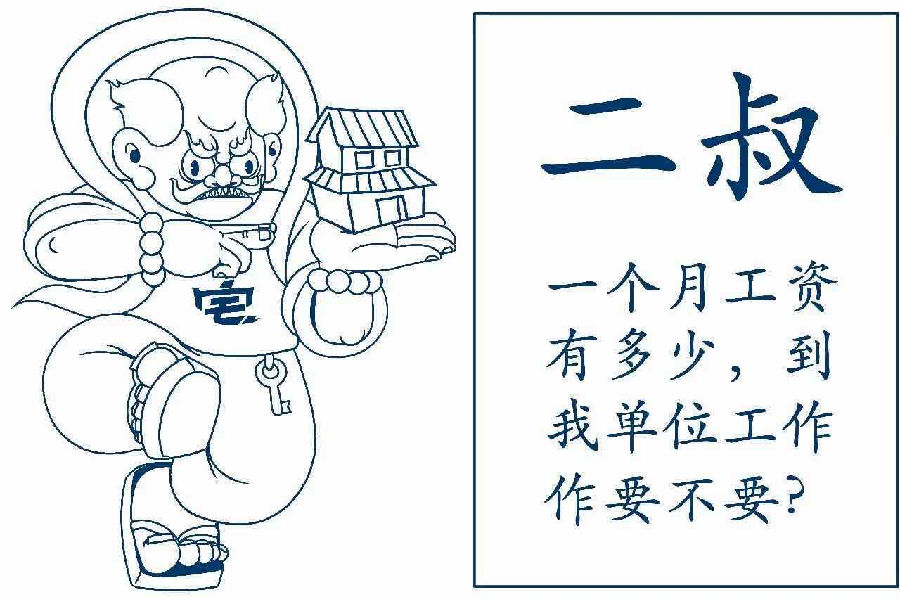 "Have you gotten married?""Have you received a salary raise??""Have you bought a house???"
"你结婚了吗?""你加薪了吗??""你买房了吗???"
Are you familiar with these questions starting with "have you" and ending in at least one question mark?
你对这些问你"有没有加薪、买房、有没有对象",且以不止一个问号结尾的问题是否已经非常熟悉?
If your answer is yes and you are getting sick of answering these questions, you probably have become a member of the "home-fear group".
如果你的答案是肯定的,你已经被这些问题烦透了,那么你很有可能就是一名"恐归族"。
The "home-fear group" refers to those feeling anxious about returning home during the Spring Festival. They have deep concerns about going back home for such factors as heavy economic pressure, high costs of the festival, the troubles of buying tickets, the long distance of the journey and exposure of private matters relating to family or love life.
"恐归族"指的是那些对于春节期间回家感到压力很大的人。由于沉重的经济压力、春节的高成本、买票难、路途远、个人家庭或者恋爱情况曝光等因素,他们对于回年过年有着深深的担忧。
Now, a special song has been tailor-made for this group.
现在,出现了一首为这个群体量身打造的歌曲。
After the popularity of the So Far, the Sofa is So Far in the past year, Shanghai Rainbow Indoor Chorus has released another song called What I Do is for Your Own Good on January 17.
继去年走红的神曲《感觉身体被掏空》之后,上海彩虹室内合唱团在1月17日推出了一首新作《春节自救指南》。
The seven-minute song utilizes a choir style and rap. The beginning of the song is sung by the choir, which involves a family scene where a recently returned young adult is asked a series of questions by family members. After the "question attack" from relatives, the young man decides to reflect on his past and also defend himself through rap.
这首歌时长7分钟,采用了合唱和说唱结合的方式。开始的部分采用合唱形式,展现了刚回家的年轻人经历的"家人拷问"场景。在亲戚的各种"问题轰炸"之后,年轻人开始以说唱的形式回顾自己的过去并为自己辩解。
It is worthwhile to note that none of the singers are professionals but actually music-lovers with diverse careers, including programmers, designers and accountants, as well as graduate students in anthropology, chemistry and gourmet food. As it is not a serious song, some funny sounds and postures are added for entertainment.
值得注意的是,他们都不是专业歌手,而是一群有着多种不同职业的音乐爱好者,比如程序员,设计师,会计,以及人类学、化学和美食专业的研究生。由于它不是一首严肃的歌曲,为了娱乐效果,还加入了很多搞笑的声音和姿势。
According to the official weibo account of Shanghai Rainbow Indoor Chorus, this is more than just a funny song, but a useful guide for young people. A careful listen to some of the lyrics will inspire you on how to wisely answer many 'Spring Festival-specific' questions.
据上海彩虹室内合唱团官方微博表示,这不仅是一首搞笑的歌曲,还是年轻人的实用指南。仔细听歌词,你会得到一些灵感来机灵的回答许多"春节特色"的拷问。
"It is a very interesting yet brainwashing song, truly describing the embarrassing situation quite a few young Chinese people have been trapped in," Sina Weibo user Santilin Clouds said.
新浪微博用户Santilin Clouds表示,"这是一首有趣又洗脑的歌曲,真实的描述了许多年轻人被问题所困的尴尬情形。"
Generally speaking, a hit song can reflect on the mood of listeners at a certain period, and What I Do is for Your Own Good is no exception. Many young people have expressed their sense of identity to it.
一般来说,一首流行神曲在某种情境下能反映出听众的心情。《春节自救指南》自然也不例外。许多年轻人表达了他们听过这首歌之后的认同感。
"I am not used to the change in my position, from a receiver to a giver of red envelops. And I just graduated from the college last year and have not saved much money yet, which really frustrates me," said Zhang Qian, a 24-year-old woman working at a state-owned enterprise.
在一家国企工作的24岁的张倩说,"我还没有习惯自己角色的转变,从一个收红包的人,变成了发红包的。我去年才大学毕业,也没存什么钱,这真让我沮丧。"
"I am very happy to return home for a reunion during the festival and cherish the valuable moments to spend with my parents. However, I am already 32 years old but still single, a knot in my family members' hearts that cannot be untied for many years," Peng Xiaochun said, an English teacher working at a public high school.
在一所公立高中教英语的彭小春说,"过年回家团聚是非常开心的事,我也很珍惜陪伴家人的宝贵时光。可是,我已经32岁了还没对象,这是我家人多少年来未能解开的心结。"
According to a survey recently conducted among 1,918 young people by the research center at China Youth Daily, an overwhelming 86.4 percent of interviewees think it is necessary to return to their homeland during the Spring Festival. However, nearly half of them (42.6 percent) have expressed their concerns for returning, as they are afraid of losing face for an average life or career.
据《中国青年报》研究中心最近对1918人进行的一项调查,占绝大多数的86.4%的受访者认为春节必须回老家团圆。然而,由于平平常常的生活,或者平平淡淡的职业,其中近一半人(42.6%)表达了他们的担心。
At the beginning of the music video, a classic line from Forrest Gump is cited: "Life is like a box of chocolates you will never know what you're going to get."
歌曲MV的开头引用了电影《阿甘正传》里的经典句子,"生活就像一盒巧克力,你永远不知道下一颗是什么味道。"
"Indeed, we may not be that good but we will work hard in the future. That's enough! After all, the essence of spending the Spring Festival is reunion not compression," the song echoes the theme at the ending.
结尾也呼应了主题,"确实,我们可能没有那么优秀,但我们一定会努力的。这就够了。毕竟,过年就是为了团聚,而不是打击。"
Source: Chinadaily; youtube