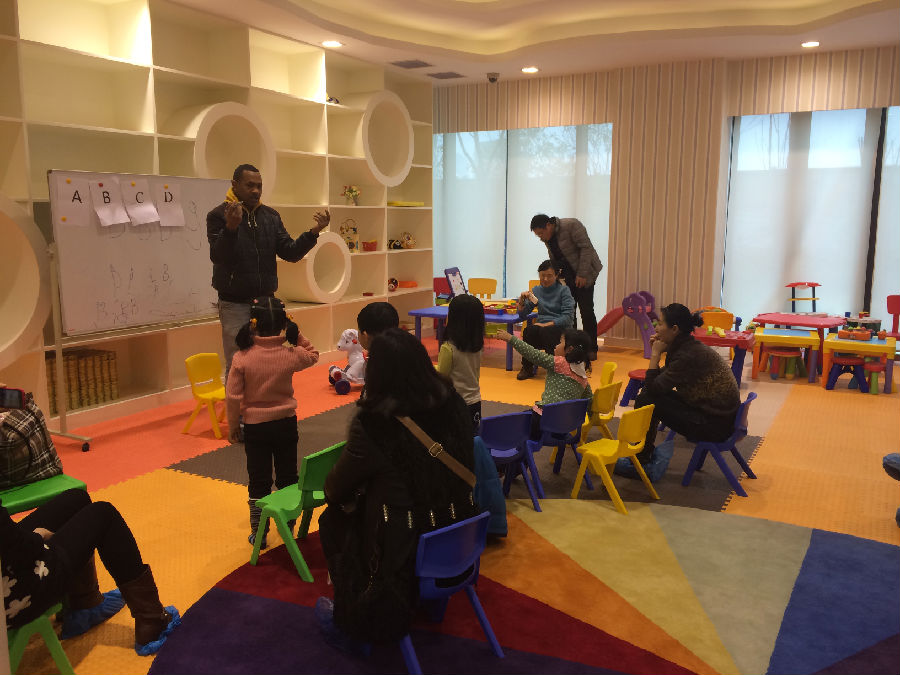 When Noli Castillano Apachicha, 38, a Filipino English teacher in Beijing, heard the new policy that non-native English speakers may not work as an English teacher in Beijing, he was upset.
当诺利.卡斯特利亚诺.阿帕奇卡(音译)——在北京教学的38岁菲律宾籍英语老师——听说不是以英语为母语的人可能不能在北京担任英语老师这一新政时,他感到很心烦。
From October 2016, a new work permit policy was launched by the State Administration of Foreign Experts Affairs (SAFEA), which classifies foreign workers into three categories, ranking them as an A, B, or C expat, based on their profession, level of education, work experience, and so forth. It has been piloted in Beijing, Shanghai, Tianjin, Hebei Province and other places, according to a post on the administration's website. In April, the pilot will spread to other areas in China.
从2016年10月开始,国家外国专家局就出台了新的工作许可政策,它根据在华外国人的职业、教育水平、工作经历等将他们分为A、B、C三大类。据国家外国专家局网站上公布的一则消息,该政策已经在上海、天津、河北省以及其它地方试行。4月份,将会推广至全国其它地方。
In these pilot areas, foreign English teachers should be native English speakers with a bachelor's degree from their home country, in addition to having two years of teaching experience. Before this new policy, non-native English speakers could work as an English teacher if they have a bachelor's degree from an English-speaking country. Yet under the new policy, the bar has been raised. Non-native speakers cannot be an English teacher, even if they obtain a degree from an English-speaking country.
在这些试点地区,英语外教除了具备两年的教学经验,还应该以英语为母语并且持有自己国家授予的学士学位。此前,不是以英语为母语的人也可以当英语老师,只要他们持有英语国家授予的学士学位。但是在新政之下,入职门槛提高了。不是以英语为母语的人都不能够担任英语老师,即便是获得英语国家的学位。
"I will not be qualified for my job because of this new regulation," said Apachicha, who works at RISE English language training school. "It will also shun many qualified non-native speakers like me who hope to come to teach English in China."
在瑞思英语培训学校工作的阿帕奇卡(音译)说道:"由于这一新规,我不符合我的工作要求了。它也否决了很多像我这样不是以英语为母语但是希望在中国教英语的人。"
An official with the SAFEA, who asked to remain anonymous, told a newspaper that they did so to attract qualified native English speakers, and to improve the overall quality of foreign language teachers. Although there are good intentions, foreign English teachers and a manager of a recruiting agency for foreign teachers interviewed by the newspaper think that it would further increase the shortage of foreign language teachers, and advise for more nuanced requirements over the qualifications.
一名要求匿名的国家外国专家局官员向一家报纸表示,他们这样做是为了吸引合格的以英语为母语的人,提高外教的整体素质。虽然意图是好的,但是接受了这家报纸采访的英语外教和一家招聘外教的招聘机构的经理认为,该政策会进一步加剧外教的短缺,他们建议对资格要求稍作改动。
In recent years, driven by China's great need for the English language, local media has reported that some English learning centers or language institutions hire unqualified English teachers, even foreign students from non-native countries such as the Philippines, India, Africa and Russia to work as teachers or to pretend to be native speakers.
近年来,我国对英语的需求巨大,很多地方媒体报道了一些英语学习中心或语言机构聘请不合格的英语老师,甚至是聘请来自菲律宾、印度、非洲、俄罗斯这些非英语国家的学生担任老师,或者是假装成以英语为母语的外籍人士。
Source: Global Times