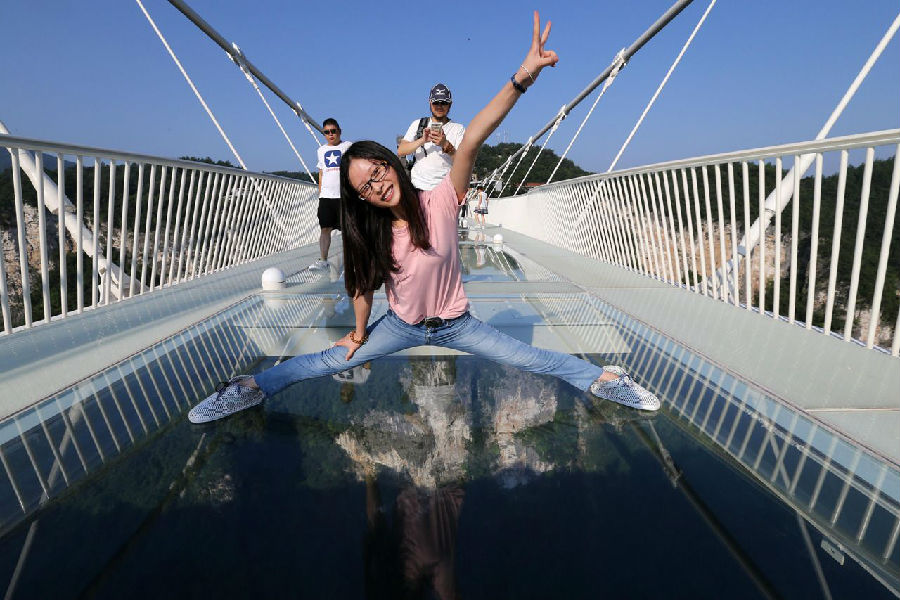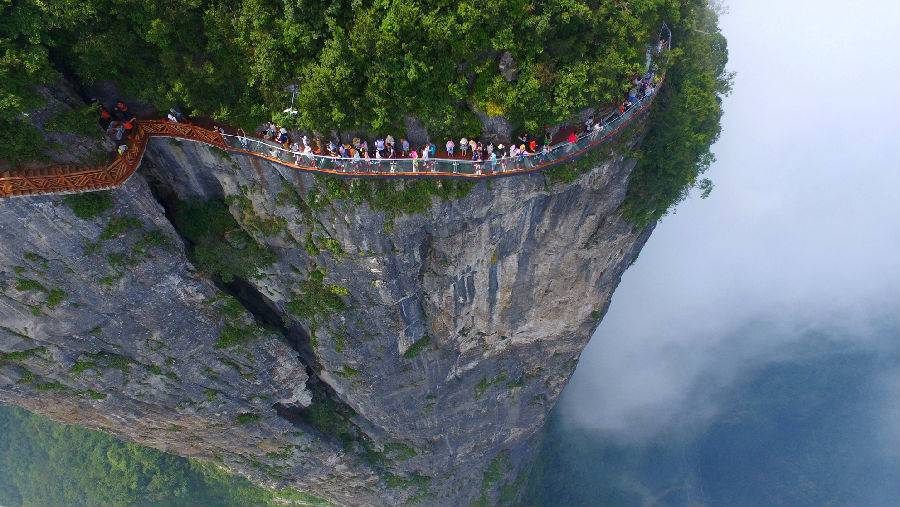 Glass bridges have become increasingly popular in China. Some tourist sites have been competing in building the longest and highest skywalks in a bid to attract visitors. Are glass bridges a good idea?
Seneca (Expat in China)
The pictures show how man-made structures destroy the serenity of natural landscapes. They mar the beautiful environment far off the main traffic ways and human settlements. If they were built within urban centres, there could be less to criticize them for. After all, it is a person's own decision to seek thrills. But to sacrifice the parks and hinterlands is a sacrilege.
rkim (China)
After seeing the article and the picture of people walking on the glass bridge set between mountain tops, I think it's not a good idea because it is concerned more with public safety and people's lives than using it for attracting more tourists. No matter how much the builder guarantees how safe it will be, it doesn't mean that tourists are well aware of the danger and the consequences if any accidents happen; besides that, most people have no idea what kind of legal responsibility must be taken by the builder and the tourists themselves in case of any accidents happens, like glass broken (or someone being injured by broken glass) or by man-made causes or by force majeure.
This kind of high risk tour product set as a tourist site must have transparent legal papers defining legal the responsibility of the tour organizer, but also, widely alert people need to be fully aware of the danger and provide the necessary training and knowledge in how to handle an emergency.
Leonard Wong (Singapore)
I still prefer that the foundations of the bridge be made of hardened steel. Glass may be hard but it is brittle. One minute crack could cause a wide fracture and collapse.
Consider the impact of weather changes such as falling snow or hail stones. Nothing man made lasts forever, things degrade with time. The safety of people is a top concern instead of the opportunity to show off or attract tourists.
Cassandra (Canada)
There is no need to be scared to walk on the amazing, wonderful bridge. Don't miss out this once in a lifetime chance to walk on and enjoy it indeed! But no way I'd get on that with ALL those people jam-packed like sardines. How can you enjoy the beauty of something with too many people on the bridge?
Alex (US)
I've been going back and forth to China for the last ten years. Every time I go, I see something new and amazing. This last trip was the Zhangjiajie. Its scenery is breathtaking, and it is the best organized tourist attraction I've ever visited. It has stunning views and is easy to walk around and enjoy.
Source: China Daily