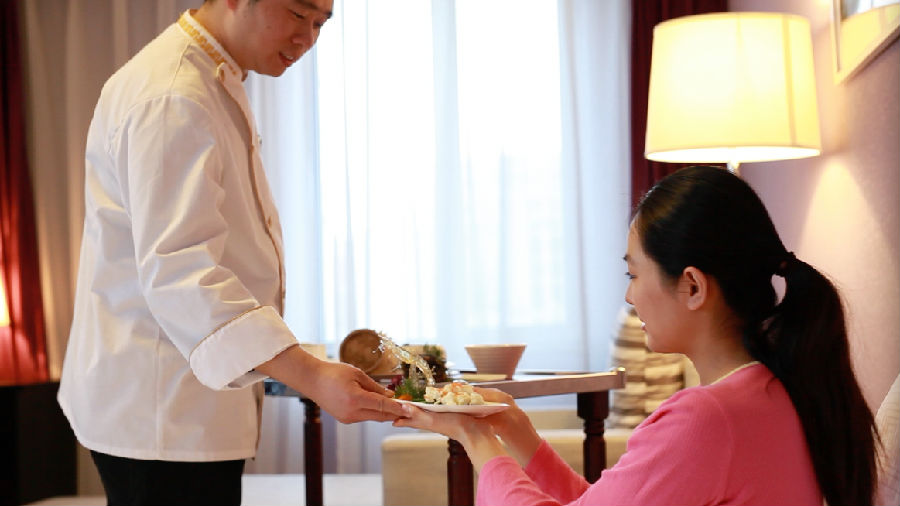 Recently, I had dinner with a friend. We were chatting away, when she reminded me of the time she had to drink her pork soup through a straw.
最近某天,我和一个朋友共进晚餐。我们边吃边闲聊时,她回忆起了自己用根吸管喝肉汤的日子。
"There was so much fat floating on the top, I just had to go under," she recalled.
她说,"汤上浮着厚厚的油,我只能喝下面的。"
You might be forgiven for thinking she was weight-conscious, on a diet or just not a big fan of fatty soup. But the truth is that she was forced to drink huge quantities of pork broth after giving birth – in a ritual known in China as 'doing the month'.
你可能会表示理解,以为她是一个体重控制者、正在节食、或者对肉类不狂热的人。然而真相是,她在生过孩子后得喝大量的猪肉汤——这在中国传统上被称为"坐月子"。
Chunky Chinese meat soup is highly nutritious, so it's little surprise it's seen as a popular booster post-birth. A woman's body (and mind) can undoubtedly benefit from taking on a little extra protein and energy after pushing out a baby.
厚重油腻的猪肉汤营养丰富,所以被当作产后佳品来进补并不意外。毫无疑问,产妇的身体(以及心理)此刻正需要补充额外的营养和能量。
In China, this awareness about what a new mother needs goes much, much further. It is distilled into an entire month of recovery, known as 'Zuoyuezi' or 'sit the month'. But it might be fairer to call it 'a month of lying down' – or even 'confinement'.
在中国,关于初产妇的护理,学问大着呢,简单概括就是需要一整个月的恢复,也就是我们常说的"坐月子"。不过,称其为"躺一个月"、或是"禁足",可能更为贴切。
Zuoyuezi broadly comes down to two concepts: restoring nutrients and restricting movement. You can also interpret these as lots of food but not moving much. It's no wonder so many Chinese women pile on the pounds after birth.
坐月子广义说来包括两个概念:补充营养,限制活动。你也可以理解成,吃的超多,动的很少。也难怪许多中国女性在产后都成了大胖子。
Most Chinese women, in fact, all the Chinese women I know, adhere to these rules in some form after giving birth. But those who really end up 'confining' themselves in an orthodox way are few and far between today – at least among active, city dwellers.
大多数中国女性——事实上,我认识的所有中国女性,她们产后都在某种形式上遵从着这些规则。但那些能真正按这些正统的礼仪限制坐完月子的女性,在今天可是少之又少了——至少在前卫的城市女性中如此。
Those in rural China are more likely to practice Zuoyuezi in its purest form – there, the thousand year post-birth recovery rituals, written into ancient texts, are still practised today. They include not taking a shower or brushing your teeth for a month (yes, really), or even going outside in case you catch a cold. Opening the window is a no-no, and keeping warm by tucking yourself in with layers of duvets is a must.
而农村地区的女性仍在依照最纯粹的方式践行着坐月子习俗——这套被写进古书的、流传千年的产后恢复仪式,仍在流传,其中包括一个月内不能洗澡、不能刷牙(没错,就是这样要求的),甚至不能出门以防感冒。想打开窗户透透气,没门,把自己用棉衣包裹起来以保暖才是根本。
Chinese medicine's take on gynaecology emphasises "keeping warm" as one the biggest considerations for women's health. During menstruation, for example, anything cold is forbidden: most women will have had it drilled into them that they must not touch or drink anything chilled, during their period.
中医里强调女性健康最要注意的因素就是"保暖"。比如在来例假时,不能沾任何生冷东西,相信大多数女孩都被反复灌输过这个思想,此时千万不能碰冰水,也不能喝冷饮。
There's a strong belief that not doing the month properly will leave women with chronic – albeit minor – illnesses, aches and pains.
有种根深蒂固的说法是,如果月子没做好,女性就会落下很多慢性的——尽管很微小——的毛病和疼痛。
Thirty-one-year-old investment banker Ms Jiang, who grew up in south China and attended university in the UK, tells me that when she has her second child, she is determined "not to bathe for a month". She worries that taking a shower might cause her to "catch a chill".
31岁的投资银行家江女士在中国南方长大,后来在英国念大学。她告诉我说,当她生二胎时,她决定"一个月不洗澡",因为担心洗澡会让自己"着凉"。
Activities that expose the lower body to cold are thought to potentially harm the reproductive cycle and impede recovery. "I'm guessing that the outcome will be better if I adhere more strictly to the zuoyuezi rules," adds Jiang.
下半身暴露在外的活动据说会潜在的影响生理周期和身体的恢复。江女士补充说,"我在想如果这次我严格按照要求去坐月子,后面可能会大有好处。"
Experts recommend gentle exercise – like the kegel – and eating balanced meals, as a healthier take on zuoyuezi.
专家推荐说,一些较为柔和的练习——比如凯格尔健肌法——以及注意平衡饮食,可以作为月子期间的一些健康练习。
Research shows that movement and exercise are important for post-birth recovery. Zuoyuezi in the traditional sense is far from evidence based.
研究显示适量的运动和练习对于产后恢复非常重要。坐月子只是一种传统观念,并没有事实论证。
Yet, for many women, 'doing the month' is simply a period of welcome time off. A month of lying on your back and drinking soup? For some new mothers that sounds like bliss – just make sure to have a straw handy.
因此,对于许多女性来说,"坐月子"只是一段被关爱的时间。一个月都只躺在床上,且天天喝肉汤?对于一些女性来说这真是天赐良机——不过要保证手上有根吸管呼(避免摄入太多油水)。
Source: Daily Telegraph