Check it out
Note: If you're using a VPN, we'd highly recommend you deactivate it for the remaining steps so it won't wreak havoc on the shopping cart and checkout procedures.
Click the button with a shopping cart icon to add it to your cart, and a window should pop up asking if you wish to check out immediately. If not, there's a shopping cart link at the very top of the page.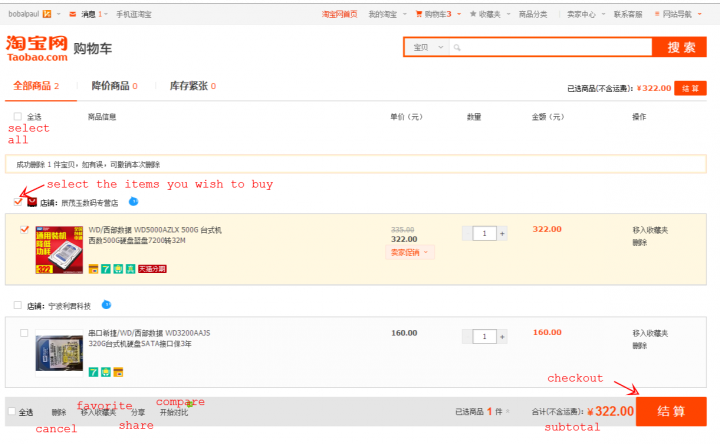 On the shopping cart page, check the boxes next to the items you want to buy. You'll see both Tmall and Taobao items on this page, but you can only buy from one site at a time. For Taobao items, you can also compare the checked items as part of a recently added feature. Product details, ratings, and merchant stats can all be seen side by side.
Click the orange button on the bottom left to proceed to the checkout page. Next, you'll be prompted to enter a bunch of personal information before making your first purchase. Most of this will be kept in the system so you won't have to re-enter it for future transactions.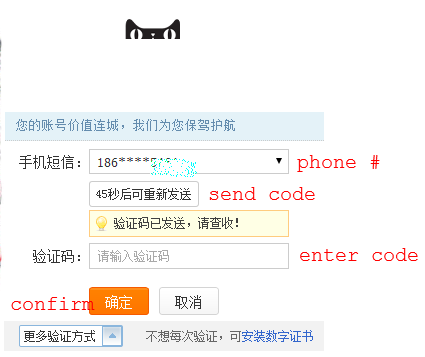 First, select your phone number from the drop down, and send yourself an SMS code. Enter the code and confirm to move onto the next step.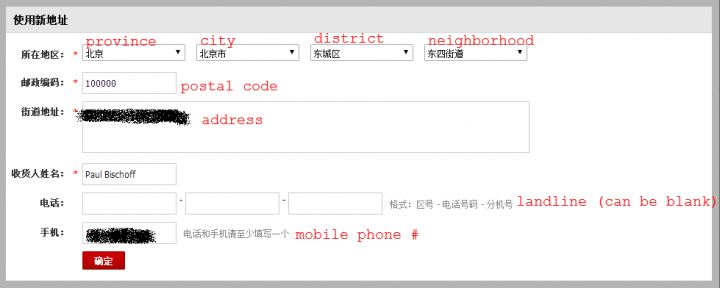 Input your address details and your phone number again. You can leave the landline field blank and just enter your mobile number.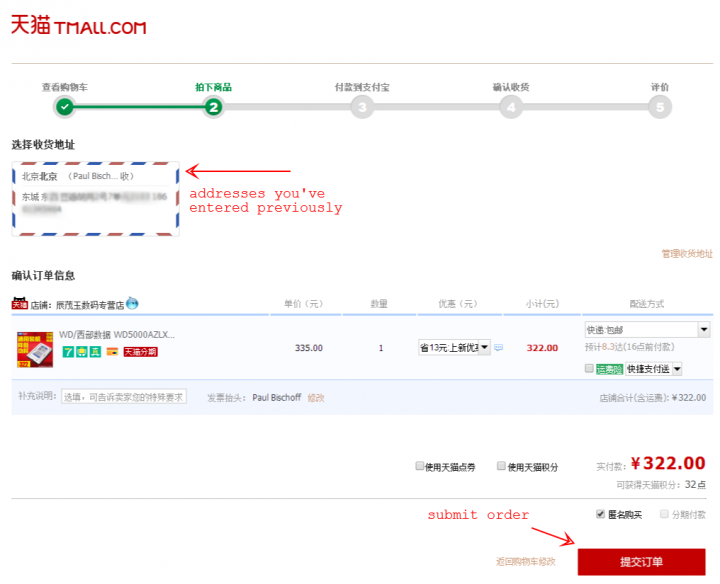 Click the big button on the bottom right corner to submit your order.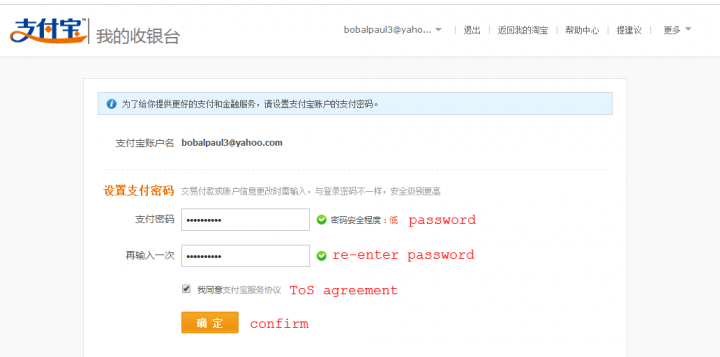 Now it's time to make an Alipay account that will be linked to your new Taobao/Tmall account. Enter and re-enter the password of your choice. It can be the same as your Taobao/Tmall password. Check the terms of service box, and confirm.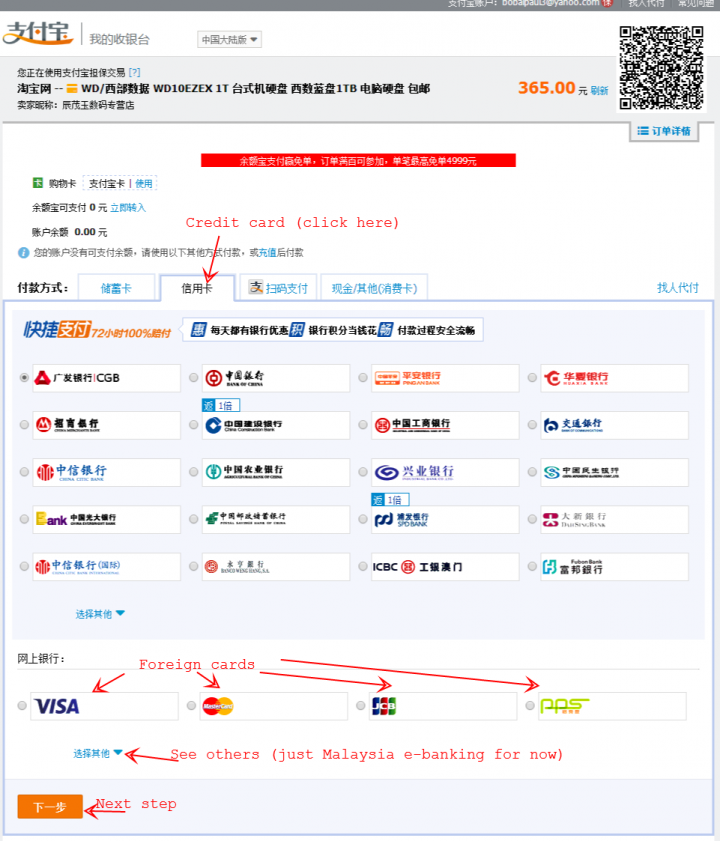 You'll be shown a list of banks that you can link to your Alipay account. Click on the second tab to reveal credit card options, and scroll down to see the foreign cards. Choose yours, and move on to the next step. Using domestic bank cards is not an option because they require you to enter a Chinese citizen ID card number.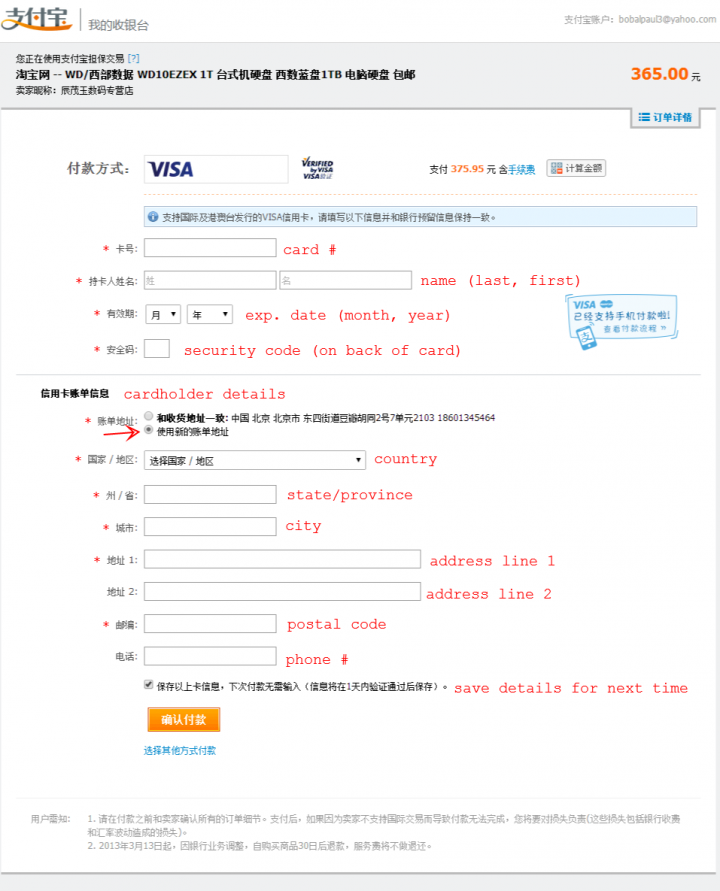 Enter your credit card and card holder details. Be sure to enter your billing address, not your shipping address. Click the orange button at the bottom, and you're done! Take note that a credit card transaction fee might be applied. In this case, it was about RMB 12 (US$2).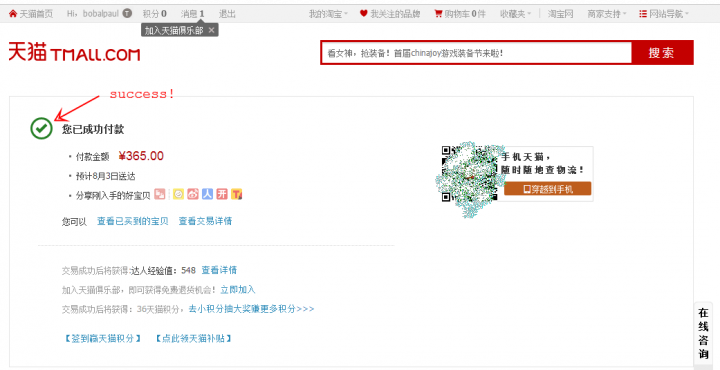 If you don't see that green checkmark, don't try reordering just yet. The transaction might have gone through anyway. Make sure to check your credit card activity on your bank's website first.
Post-purchase
Your items will be shipped soon, and delivery usually only takes one to three days in China. Once it comes, it's good etiquette to confirm payment. If not, this will be done automatically in 10 business days.

To do this, head back to the main Taobao page and click on the "我的淘宝" ("My Taobao") link at the top. This is where you can review your purchase history and check the status of items you've delivered. A gift box means the seller hasn't shipped it yet, a delivery truck means it's on the way, and a checkmark means it's been delivered. Clicking on the button to the right of an order will let you confirm that an item has been delivered and is in good condition. You can also evaluate the item and seller if you please.
If an item never comes or is in poor condition, refunds are usually available if the item page shows the appropriate icon (see the glossary above).
Note: When the courier delivers the item to your door, it's best to open it up and check to make sure it's not broken before you sign for it. If it's not what you want, simply refuse to take it. Otherwise, getting a refund will be extremely difficult.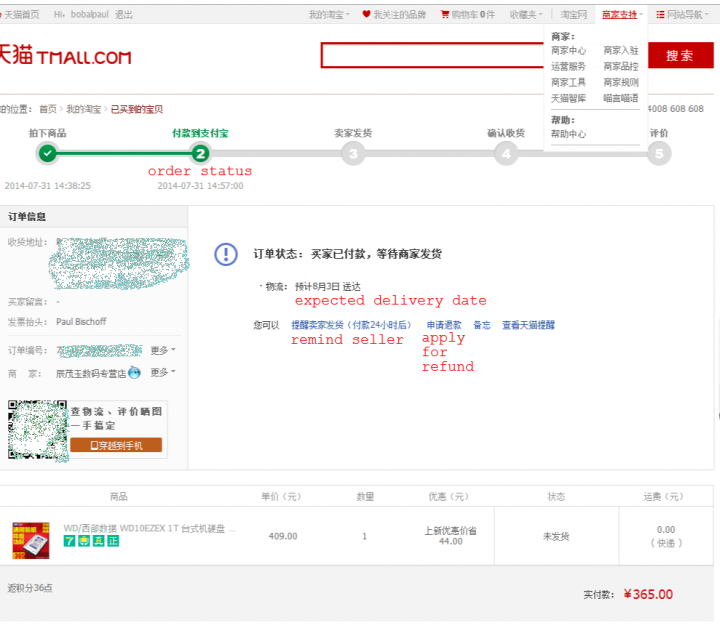 To apply for a refund, click on the item in your order history. You'll be brought to a page full of info about that specific purchase. If the merchant is taking a long time to ship the item, you can give them a nudge using the reminder link. You can use this once per hour.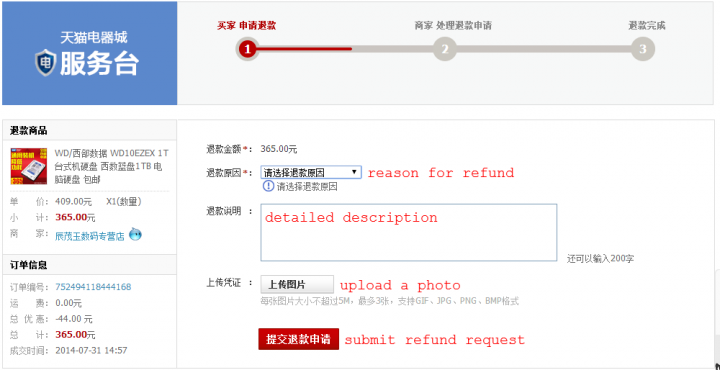 Next to that link is the refund application. Select the reason for your refund from the dropdown menu and enter a few details in the appropriate field (Chinese is best here). You can also upload a photo of a broken or incorrect item.
From the author's experience, refunds are hit and miss. If you don't see a return made in your credit card activity within a week, call your credit card's bank and ask to refute the transaction.
Happy shopping!
Source: techasia