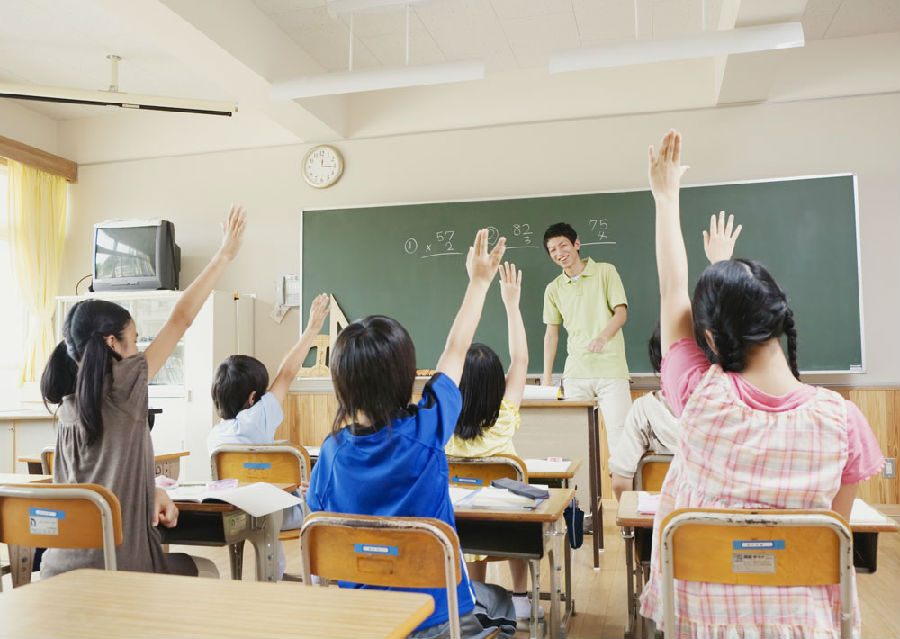 Way in which math is taught in Asia is better than traditional UK classes
亚洲数学教学法优于英国传统教学。
New British research confirms for the first time that children taught math through Chinese-style teaching methods are far ahead of their peers.
英国最新研究首次证实:采用中式教学法教出来的孩子,其表现远远优于同龄人。
The independent study by the University of Oxford says students taught the traditional Asian "mastery" methods do "significantly better".
牛津大学进行的独立研究表明:接受传统亚洲数学教学法的学生表现"明显更好"。
The research looked specifically at the Inspire Maths program, which is widely used in Singapore and through which Shanghai pupils have been shown to excel.
牛津大学针对"启发式数学"课程做了具体研究,该教学课程在新加坡和上海得到广泛施行,其中上海学生在课程学习中表现超群。
Interest in the method was prompted by the success of Shanghai and Singapore in international rankings in 2012. The rankings compare math proficiency in different geographic areas. Shanghai came top, Singapore was second. The UK came in at 26.
2012年上海和新加坡学生在国际成绩排名上的不俗表现,激发了英国对亚洲学习方法的极大兴趣。排名依据各地区学生展现出的数学能力而定。考核结果:上海高居榜首,新加坡位居第二,而英国仅排名26位。
The teaching style calls for classes to be taught as a whole and for children's confidence to gradually be built up. The method introduces core concepts that are broken down into small steps, starting with the use of everyday objects and drawings to help them understand principles.
中式教学法提倡整体教学和循序渐进帮孩子们树立学习信心。该教学法引进节节分拆的核心理念,将学生每日学习目标分拆成小段,逐个攻破,在打牢基础同时帮助学生达到理解所学概念的目的。
The UK has recently begun to shift toward teaching math in a way that is more like the Chinese way.
英国最近开始转变本国的数学教学法,向中式教学法靠拢。
In July, the UK government announced it would spend 41 million pounds during the next four years on supporting 8,000 primary schools in adopting "mastery" techniques.
今年七月份,英国政府声明将在未来四年拨款4100万英镑,资助8000所小学推广采用中式数学教学法。
Minister of State for Schools Nick Gibb said at the time that a China and Shanghai teachers exchange program would continue during the following two years, to strengthen the teaching of math in primary schools.
英国教育大臣尼克·吉布表示:未来两年内,将持续开展上海和英国之间的数学教师交流项目,以此提升本国小学数学教学水平。
James Hall, lead author of the Oxford University study, said: "Overall, we found positive evidence that Inspire Maths benefited children's maths achievement and supported teachers' professional development."
来自牛津大学的项目研究带头人詹姆士·霍尔称:"总的来说,我们发现'启发式数学'教学方法对孩子们的数学成绩大有助益,也对老师们的专业教学大有裨益。"
The study published on Wednesday involved 550 children aged 5 and 6 who were learning math at 12 schools in 2015 and 2016. They were split into two groups. The first took regular lessons for the first term and then used Inspire Maths textbooks. The second group, using the books both terms, made much more progress.
研究结果于周三发布,在2015年和2016年共有550名5、6岁的学数学的孩子参与调查,这些学生分别来自12所不同的学校,他们被分成两组。第一组被要求在第一学期采取常规教学法,第二学期才开始使用"启发式数学"教科书。而第二组,则在两个学期均使用"启发式数学"教科书。结果证明,全程使用中式教学法的学生取得了更大进步。
Source: China Daily