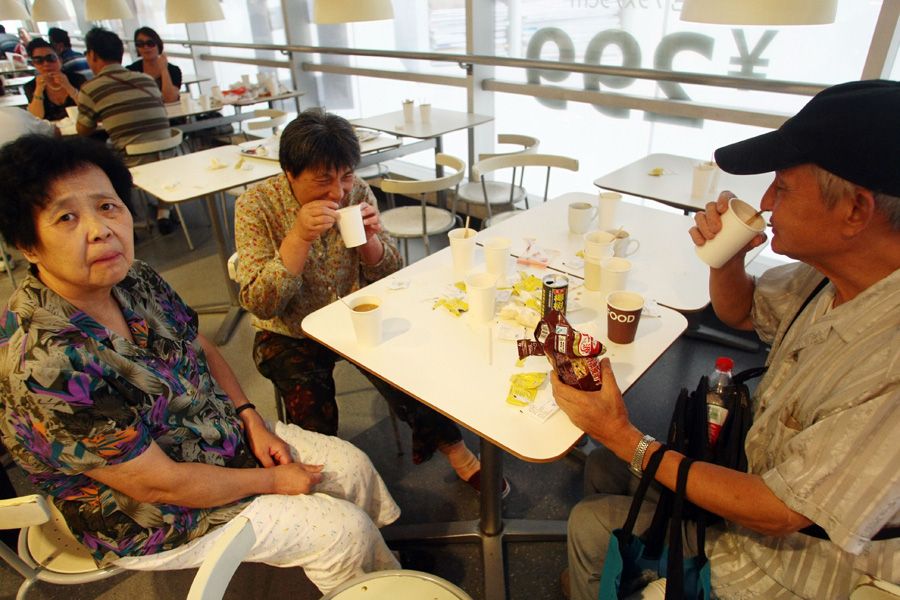 Sad news for elderly lonely hearts in Shanghai: they can no longer look for love in Ikea.
对于孤单的上海老人来说,这可真是一个让人心碎的消息:他们再也不能在宜家约会了。
The Swedish furniture giant's Shanghai store has seen a strange phenomenon of senior citizens descending upon its famed cafeteria to socialise and even find partners.
瑞典巨头宜家家居上海店长期以来有一个奇怪的现象:老年人霸占着这里的餐厅进行社交活动,甚至是找老伴。
Locals said it occurs twice weekly, usually on Tuesdays and Thursdays.
当地人说,通常他们每个周二和周四在这里聚会。
China's state broadcaster CCTV News reported that the elderly patrons would often buy a cup of coffee or some bread and "spend an entire day just chatting with others".
中国国家媒体中央电视台报道称,这些老年人基本就是买上一杯咖啡或者一些面包,就"在那儿坐着聊上一整天"。
They are believed to be part of a dating community, making use of their Ikea membership cards.
他们被认为是属于一个相亲团体,使用他们的会员卡进入。
This week, Ikea put a stop to it by imposing a strict "no food, no seating" rule to discourage senior citizens from occupying canteen seats for "extended periods".
为制止此现象,本周,宜家家居实行了严格的"先购餐,后入座"的模式以限制老年人"超长时间"霸占餐厅座位。
In a notice posted at the entrance of the Ikea Shanghai Restaurant, staff identified an "illegal blind-dating group" and accused it of "uncivilised behaviour".
宜家上海餐厅的入口处张帖了一张告示,称宜家出现了一个"非法相亲团体",并指责这些"不文明行为"。
"The situation has adversely affected the dining experience and security of most of our customers," it said, adding that it had received public complaints about "spitting" and "quarrels and fights".
告示说,"这种情况对就餐环境和大多数顾客的安全产生了不利的影响",并补充称宜家收到了公众对他们 "随地吐痰","吵架以及斗殴"的投诉。
"It is having a negative implication for our canteen's operation. From today, the restaurant will only be for people who purchase their food first."
"这对我们公司的运营产生了负面影响。即日起,餐厅实行先购餐后入座的经营模式。"
The news has attracted attention from netizens on Chinese social media, with many in support of the elderly.
这则新闻引起了中国社交媒体上网友们的关注,许多人都支持这些大叔大妈们。
"They are harmless," wrote Ed Ed Chiu in a reply to a post by CCTV News on the popular Chinese micro-blogging Sina Weibo platform.
在新浪微博CCTV主页上,一位叫 Ed Ed Chiu的网友在博文下留言说,"他们没有恶意。"
Weibo user Lee Xin slammed the move as a "draconian measure" and said it was cruel to elderly patrons.
微博用户Lee Xin抨击此举"太严厉",表示这对老年顾客们太过残忍。
"What wrong are they doing? They are lonely and are probably hoping to find some company again. If anything, the store should practise empathy and at least sympathise with these old people," she said.
她说,"她们做错了什么?他们只是很孤单,可能只是希望找个人陪伴。甚至于,商家应当主动表示出同理心,至少也要同情关心这个群体。"
The move was criticised by some elderly patrons, who spoke to local media outlets.
也有一些老年朋友对此举感到不满,向当地媒体反映此事。
"We've been to fast food outlets like McDonald's – but there are barely any peers there," said an 86-year-old man who went by the name of Qiu.
一位86岁的邱大爷说,"我们也去过麦当劳这样的快餐店——但是没人气啊。"
Mr Qiu told the state-controlled Global Times newspaper: "We feel like aliens – surrounded by youngsters. If there is another place in Shanghai where elderly people can gather, we are more than ready to pay twice as much and travel further."
这位大爷接受国营报纸环球时报采访时说,"我们感觉像是外星人——周围全是年轻人。如果上海有另外一个老年朋友们能聚在一起的地方,我们也更愿意付两倍的价格,走远一点也没关系。"
But others online voiced support for the store's management, praising its efforts in "maintaining store policy".
不过也有一些人支持商家的管理,赞扬这种做法是"维护经营秩序"。
Source: BBC