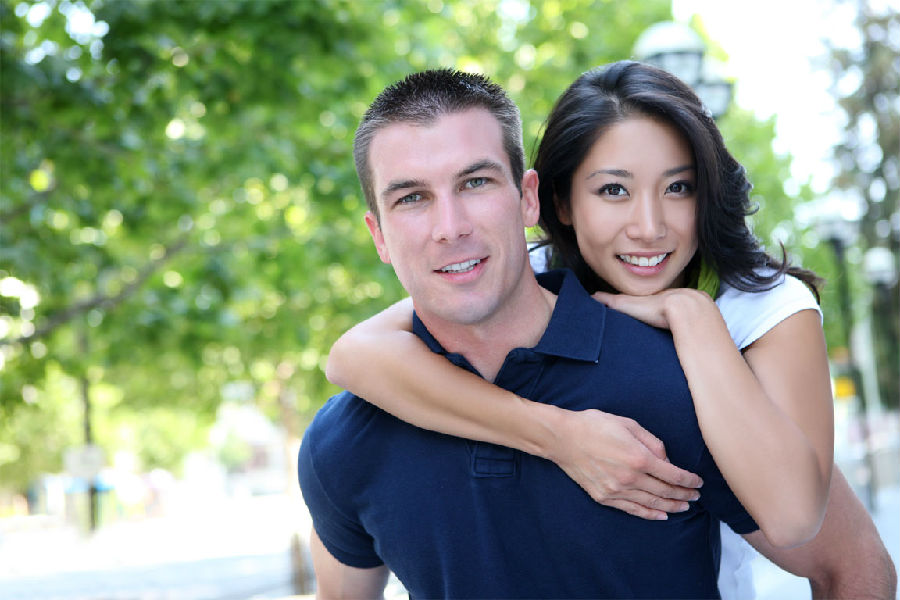 Bruno Dubois, a 29-year-old Frenchman, was not surprised when news broke on October 9 that Chinese pop singer Zhang Liangying's mother strongly opposed her marriage.
10月9日,中国流行歌手张靓颖的妈妈,强烈抗议女儿婚事的新闻曝光,29岁的法国人布鲁诺•杜波依斯一点儿都不觉得奇怪。
Some Chinese parents tend to interfere in their kid's relationships and marriage, he said. "I experienced it myself."
他说:"一些中国家长想要干涉孩子的恋爱和婚姻,我自己也经历过。"
He still remembers the pain he felt when his Chinese ex-girlfriend broke up with him a year ago. Her parents did not want a foreigner for their son-in-law.
一年前,他的中国前女友和他分手,他依然记得那种伤痛的感觉。她的父母不想让外国人当女婿。
He met his Chinese ex-girlfriend, Sophie Li, in 2013 when he was reading for his bachelor's degree at a university in Beijing. From the beginning, Li had always hesitated about whether to tell her parents about him because she was afraid her parents would not be okay with the relationship.
2013年时,他在北京读本科,认识了自己的中国前女友苏菲李。刚开始,李一直犹豫要不要告诉父母关于他的事,因为她害怕她的父母不会看好这段关系。
It took her about two months to muster up enough courage to tell her parents about her foreign boyfriend, and it did not go well.
她大概用了两个月的时间,才鼓起勇气告诉父母,她交了一个外国男朋友,但是结果并不那么理想。
Li's parents commanded her to break up with me immediately, said Dubois.
杜波依斯说:"李的父母建议她马上分手。"
As it is a tradition for Chinese parents to play a part in their kid's relationships and marriage, Dubois is not the only expat in China to encounter interference from them. While there are those, like Dubois, whose romance ended because of interfering parents, there are also others who don't mind it. According to Dubois, when his girlfriend tried to tell her parents about him, they stopped her right there and did not even let her finish.
在中国传统中,中国父母总是在孩子的婚姻和恋爱中扮演一定的角色,杜波依斯并不是第一个在中国遇到干涉的外国人。那些和杜波依斯一样的人,因为父母干涉而终结感情,也有其他一些人对此不介意。据杜波依斯说,当他的女朋友试图告诉父母他的事情时,他们立即打断了她,甚至没让她讲完。
Although he already knew from his girlfriend that it would not be easy for her parents to accept him, he never expected that they would order their daughter to break up with him.
尽管他已经从女朋友那里得知,让她的父母接纳他很不容易,但是他从来没想到,她的父母会命令她和他分手。
In my country, parents may express their opinions concerning their kid's relationship, but they never actually interfere and force their kids to do anything, he said.
他说:"在我的国家,父母可以就孩子的恋爱表达想法,但是,他们从不在实际上干涉和强迫孩子做任何事情。"
Not wanting to make her parents angry and sad, his girlfriend eventually gave in and broke up with him.
为了不想让她的父母生气难过,他的女朋友最终选择妥协,和他分手。
Later, he found out that the main reason her parents did not want a foreign son-in-law was that they had little trust in foreigners.
之后,他发现她的父母不想要外国女婿的主要原因,是因为他们不信任外国人。
Li told him that in her parents' mind, most foreigners do not take marriage seriously and thus could not be relied on.
李告诉他,在她父母眼里,大部分外国人对婚姻都不严肃,因此不可靠。
They believed I would dump their daughter and want a divorce once I fall in love with another woman, which, according to them, is something I will certainly do, he said. "I admit that there are some foreigners who just want to have fun and do not take their relationships seriously, but not me, yet they tagged me from the very beginning."
他说:"他们相信我会甩了他们的女儿,一旦我和另外一个女人相爱了,就会离婚。据他们的理解,我一定会这么做。我承认有些外国人只是想寻乐子,不严肃对待恋爱,但那不是我,他们从一开始就给我贴上了标签。"
Not trusting foreigners also makes some Chinese parents, especially those whose daughters are aged 23 or above, very reluctant to approve foreign suitors. Some even block their kid's cross-cultural relationships because they consider foreigners unreliable and disloyal and thus not husband material. Many Chinese parents expect their daughter to get married or at least meet a prospective husband in their early 20s, said Adam Peter Woodward, a 27-year-old Briton and English teacher in Beijing. He met his Chinese girlfriend three months ago and her parents around three weeks ago.
在北京教书,27岁的亚当•彼得•伍德沃德说,不信任外国人,也让一些中国父母,尤其是那些女儿在23岁以上的中国父母,非常不情愿接纳外国求婚者。一些人甚至阻挡他们孩子的跨文化恋爱关系,因为他们觉得外国人不可靠,不忠诚,不是当丈夫的料。许多中国父母,希望他们的女儿在二十出头的时候就结婚,或者至少遇见一个理想的丈夫。三个月前,他遇见了自己的中国女友,大约三周前,见了她的父母。
The major concern they have is that their daughter is 23, so they constantly ask about marriage plans, he said. "Although my girlfriend's parents haven't really interfered with my relationship with my girlfriend, I'm sure they are incredibly worried, and they will pester her more and more the longer we are together."
他说:"他们主要担心女儿已经23岁了,所以不停的问结婚计划,尽管我女朋友的父母并没有真的干涉我和女朋友的恋爱,但我确信,他们非常担心,我们在一起时间越长,她的父母就会越烦恼。"
Chinese parents also interfere after the couple gets married. Many of them live with their kids and tend to step in to help raise their grandchildren.
即便夫妻结婚以后,中国父母也会干涉。很多父母和孩子住在一起,想要帮助抚养孙子孙女。
For most expats, having their in-laws live with them can make them feel uncomfortable. But for others like Joe Walsh, a 31-year-old American and English teacher in Beijing, living with one's in-laws has its perks.
对很多外国人来说,和岳父岳母住在一起很不舒服。但是对其他人来说,比如31岁的美籍北京英文老师约翰,和岳父岳母住是一种福利。
Walsh married his wife three years ago and has been living with his in-laws since then. He conceded that living together has its drawbacks, like limited personal space and a lot to get accustomed to in daily life. But having survived the initial phase of adaptation, he started to find many benefits to living with his in-laws.
三年前,沃尔什和他的老婆结婚,自那以后,就一直和岳父岳母住在一起。他承认,住在一起有弊端,比如个人空间受限,有很多日常生活中需要习惯的地方。但是度过最初阶段的适应期后,他发现和岳父岳母住有很多好处。
For example, noticing that Walsh talked in a very direct manner and sometimes offended the other person when he was talking with a Chinese, his father-in-law taught him how to express his opinions the Chinese way.
比如,沃尔什提到,自己说话的方式很直接,有时和中国人谈论时,会冒犯到他人,他的岳父会教他怎样用中国人的方式表达自己的观点。
He taught me to speak less directly and to speak in different ways when dealing with different people, said Walsh.
沃尔什说:"他教我怎样不太直接的说话,在和不同人打交道的时候,用不同的方式讲话。"
At first, he thought it was annoying because he felt his way of talking was always being criticized, but then he realized it could be quite helpful.
最初,他觉得这很恼人,因为他觉得自己说话的方式总是会被批评,但是随后,他意识到这很有帮助。
[My father-in-law] helped me better fit into the Chinese society and culture, he said. "I want to have my own company here in the future, and a good understanding of Chinese culture will help me a lot."
他说:"我的岳父教我更好的融入中国社会和文化。未来,我想在这里成立自己的公司,良好理解中国文化对我很有帮助。"
Also, since his wife gave birth to their son last year, his in-laws have been taking good care of the child.
同样,自从他的妻子去年生产以后,他的岳父一直悉心照料孩子。
The load on my wife and me was greatly lightened, said Walsh. "Sometimes we do have disagreements as to how to raise the kid, but we can always communicate and compromise."
沃尔什说:"我和妻子肩上的压力,很大程度上减轻了。有时,我们在如何养育孩子的问题上,确实有分歧,但是我们总会交流并且妥协。"
Source: Global Times