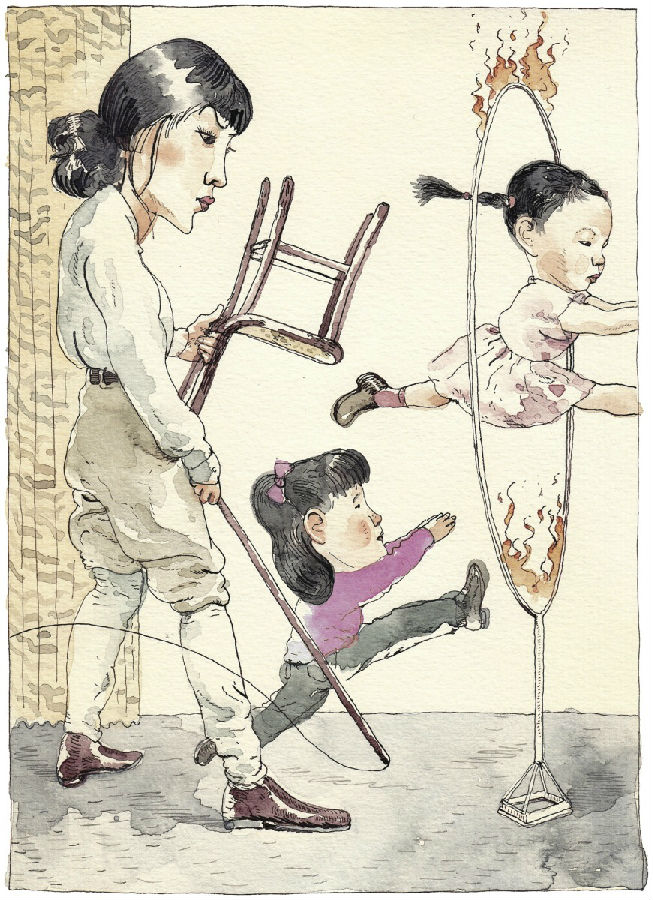 Americans perceive tiger moms to be highly controlling, strict, and severe almost to the point of abuse.
美国人认为,虎妈控制欲极强,对子女严苛到几近虐待。
Amy Chua, the most well known tiger mom, is simply forcing her children toward parentally-defined success, which most believe is unlikely to lead to true happiness in children.
虎妈的代表蔡美儿强迫孩子接受自己定义的成功,很多人认为这种方式不会让子女获得真正的幸福。
In the American media, the tiger mom's strict and harsh style has spurred a controversial conversation surrounding parenting.
虎妈的严厉风格在美国媒体上引发了关于该如何养育子女的争论。
At the center of this controversy lies the question of whether happiness and the pursuit of the child's own dreams and interests are more important than the pursuit of success as defined by the parent.
争论的焦点是:子女追求自己幸福、梦想和兴趣更重要,还是追求父母定义的成功更重要。
There are some characteristics of Chinese parental love, compared with the American counterparts.
Authoritarian
Chinese parents are more authoritarian compared to American parents and expect their children to respect and obey, while American parents tend to see their children more as equals.
跟美国父母相比,中国父母在家里更有权威,他们希望孩子尊重他们,服从他们。而美国父母一般对孩子平等相待。
Too caring
Chinese parents are more likely to think children are vulnerable and dependent. Chinese parents will do everything they can for their children instead of encouraging them to develop independence.
中国父母更容易认为自己的孩子易受伤害,需要依赖他们。中国父母会为子女包办一切可能的事,而不是鼓励他们培养独立性。
Strict
Chinese parents are strict about their children's studies and have high expectations. They expect their children to excel at what they do, American parents prefer their children to enjoy what they do.
中国父母对子女学业要求十分严格,期望很高。他们期待子女各方面都很出色,美国父母则认为,孩子开心就好。
Education
American parents use more compliments and encouragement to help a child develop while it's the opposite for Chinese parents. Chinese mother never says things like, "Congratulations" or "I am proud of you".
美国父母会用表扬和鼓励帮助孩子发展,中国父母则相反。中国式妈妈不会说"祝贺你"、"你是我的骄傲"这类话。
Family comes first
Chinese families are often dominated by Confucian ideas, which means a child has obligations to the entire family. Chinese parents want their children to be successful mainly for their children's own good, but they also want their children to bring honor to the family.
中国家庭受儒家文化影响较深,认为子女对家庭有义务。父母望子成龙,虽然是为子女好,但是也希望他们为家族争面子。
Everything is changing, and people are more open to Chinese way of education. Some internet users have discussed the differences of the Eastern and Western parenting styles.
– I think it has to do with society. From my understanding, eastern cultures place a lot of emphasis on community and family. Western cultures are much more individualistic.
我认为这和社会环境有关。在我看来,东方文化更强调社区和家庭,西方文化更强调个人主义。
– Eastern cultures (from my understanding) are more communal. You help the community progress, and in doing so, you will progress yourself.
东方文化(我个人理解)更注重集体性。你帮助集体取得进步,在这种情况下,你个人也会得到提升。
– I fervently believe that both eastern and western parents expect to be obeyed by their children until they are adults and the means they use to obtain proper decorum, when they demand it, get their children to pick acceptable careers, and who they date may be different, but they all do it to some degree.
我真心觉得不管是东方父母还是西方父母,都希望孩子们在成年以前能听父母的话。但是,可能他们用来获得孩子们的尊重,让孩子选择适当的职业和约会对象的方式是不同的。但东西方父母在某种程度上都这么做。
– From what I understand eastern parents tend to use guilt rather than punishment more often. Some western parents do this as well.
我觉得东方父母倾向于用让孩子感到内疚的手段而非直接惩罚。当然一些西方父母也这么做。
– It is likely true that in general American parents often (but not always) tend to be more liberal and less strict than Eastern parents.
基本上可以确定的一点是,总体来讲美国父母通常(但不总是)更宽容自由,没东方父母那么严格。
– It is also true that in general American offspring are often (but not always) less likely to take care of their parents, financially and personally in their old age.
另一点基本可以确定的是美国年轻人通常(但不总是)在父母上年纪以后无论是经济还是个人方面给到的照顾更少。
– I believe this is about different style of love. Chinese parents are lenient with young children', this is love; westerners force their children to think independently, this is another style of love.
我觉得这是两种不同风格的爱。"中国父母对自己的孩子宽容仁慈"是爱;西方父母强迫自己的孩子去进行独立思考也是爱。
– And things are always changing, nowadays, many Chinese elders want to have their own lives, not to depend on their children.
当然,这个世界总是在发展变化的。如今,很多中国老年人都想要过自己的生活,不想依赖他们的孩子们。
Source: hjenglish