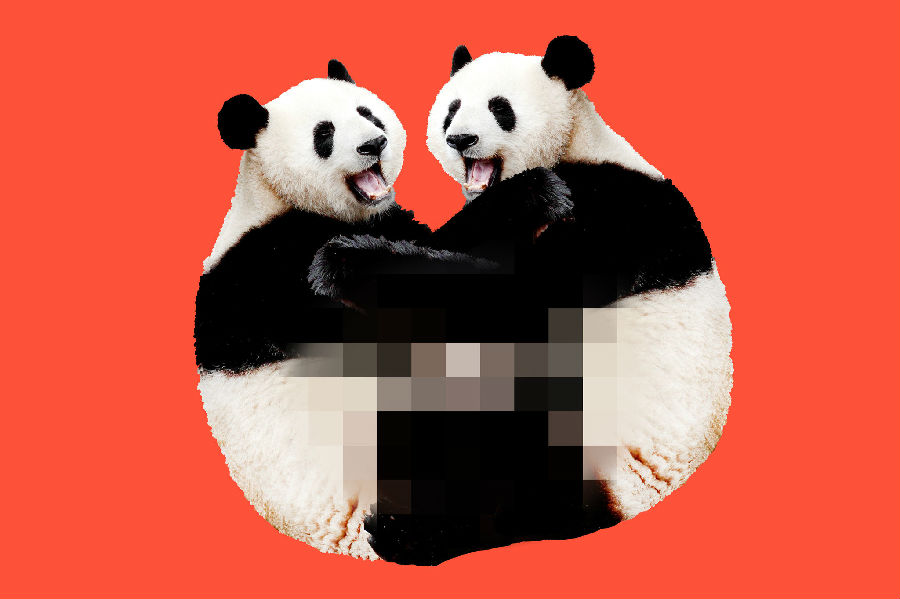 Pandas are cuddly, but not to each other. They muster about as much enthusiasm for sex as a human does for a root canal.
大熊猫十分惹人喜爱,但它们对同类的感情却并不亲密。熊猫对性爱的热情,和人类对待牙科根管手术的积极性差不多。
In part because of those lousy libidos, the world's giant panda population is disturbingly small. A sign at the Chengdu Research Base of Giant Panda Breeding in Sichuan Province says that "saving the giant panda from extinction is of the utmost urgency" — but the urgency isn't felt by the pandas.
大熊猫数量少得可怜,而性欲的缺乏正是其中一部分原因。成都大熊猫繁育研究基地内的一块牌子上写着:"拯救大熊猫是我们的当务之急"。然而,大熊猫们自己却没有对这种"急迫"感同身受。
Panda biology is part of the problem. Females enter estrus only once a year, for a very short time in the spring. They are receptive and fertile for just 24 to 72 hours. A male panda needs to make his move then, or wait for another whole year. "There is perhaps no mammal that is less often in the mood for sex than the female giant panda," Scientific American said in a 2012 article.
它们的生理周期是问题的一部分。雌性大熊猫每年只在春季有一次发情期,而且持续时间很短,可怀孕的状态仅能维持24到72个小时。雄性大熊猫如果此时不采取行动,就又要等上一年。《科学美国人》(Scientific American)一篇发表于2012年的文章写道,"应该没有哪种哺乳动物像雌性大熊猫一样,对交配这么没有兴致。"
Pandas are also picky: They only want to get down when they have really hit it off with a partner, and that rarely happens.
此外,大熊猫还异常挑剔:只有在和伴侣真正合得来的时候,它们才想要交配,而这种情况极少发生。
Captivity is a real mood-killer, too. According to the director of one research center in Sichuan, less than 5 percent of male pandas in captivity can naturally mate. Other researchers say captive female pandas are often unable to enter estrus normally.
圈养也是大熊猫交配率如此低的原因之一。四川省一所研究中心的主任称,只有不到5%的圈养雄性大熊猫可以自然交配。也有研究人员表示,圈养条件下的雌性大熊猫往往无法正常进入发情期。
In response, Chinese scientists have tried to alter the captive pandas' habitats to better simulate life — and libido — in the wild.
为了解决这个问题,中国科学家对圈养大熊猫的生存环境进行了改造,更真实地模拟野外生活环境,从而激发大熊猫的性欲。
And then there's the innocence problem. Panda sex happens so infrequently that the act is almost never witnessed by other pandas, leaving them with very little notion of how to go about it, researchers say. In hopes of cluing them in, scientists have taken to showing them "panda porn."
然而还有一个事关纯洁的难题。研究人员发现,因为交配太少,大熊猫鲜有目睹同类交配行为的机会,这就导致了它们对如何交配几乎一无所知。为了给大熊猫提供指导,科学家采取措施,给它们播放"熊猫成人电影"。
Source: New York Times