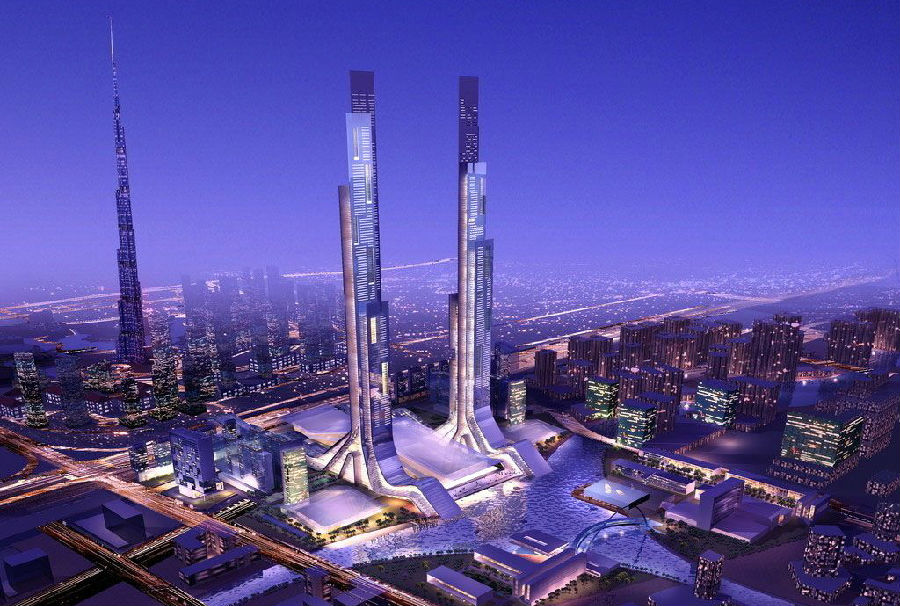 The Shanghai Tower may be the world's second tallest building. But when it comes to speed, it's second to none.
说到高度,上海塔应该是目前世上第二的,但是说到电梯速度,上海塔排第二,没谁能排第一。
The 2,074 feet-tall skyscraper has installed a ground-breaking Mitsubishi elevator that travels at an incredible 20.5 meters per second (67 ft/s) — faster than Usain Bolt can run (40 ft/s), but slightly slower than a cheetah (95 ft/s).
这栋631米高的摩天楼里安装的是一部颇具开创性的三菱电梯,这部电梯的速度令人咋舌,能达到20.5米/秒,超过了博尔特(12米/秒),略低于猎豹的速度(28米/秒)。
No elevator in the world is faster
世界上最快的电梯
Visitors are whisked up to the building's viewing tower by the lightning fast elevator, from where they have unrivaled views of the Bund.
这部快如闪电的电梯能带着游客从楼底疾速攀升,到达楼顶的观景塔,在这里,上海外滩的美景可以一览无余。
Close race
旗鼓相当的速度之争
The Shanghai Tower is not alone in its need for speed. In the Southern Chinese city of Guangzhou, home to 8.25 million, Hitachi this summer unveiled its fastest elevator in Guangzhou's tallest tower, the CTF, which stands at 1,739 feet tall.
不仅仅只有上海塔对速度有所要求。今年夏天,在广州这座人口达825万人的中国南方城市,日立公司在广州最高楼–530米高的广州CTF塔楼推出了该公司最快的电梯。
Its lift zooms from floors zero to 95 in an incredible 45 seconds — or 20 meters per second (65 ft/s).
该电梯从地面快速升到95楼只需要短短45秒—也就是说,它的速度是20米/秒(65英尺/秒)。
"We wanted it to be fast, but the current speed was not anticipated," says David Ho, head of design at New World Development, who was involved in the development of the CTF Tower."But the 'fastest' title will be gone soon."
新世界发展有限公司的设计总监,参与广州CTF塔楼建设工作的福思·巴格莱说:"我们想要很快的电梯,虽然目前的速度尚未达到我们的预期,但是,相信不久之后,'最快'的称号必将易主。"
The terracotta warrior
陶土巨人
The CTF Tower isn't just the tallest skyscraper in Guangzhou — it's the tallest terracotta building in the world.
广州CTF塔楼并不仅仅是广州第一高楼—它还是世上第一高的陶土建筑。
"That in itself was a huge technical challenge for us," Forth Bagley, principal architect at KPF, which designed the building, tells CNN of working with this unique material. "The client wanted a material that recalled the (historic) ceramics (trade) of the region."
"对我们来说,这座楼本身的构造就是一个技术方面的巨大挑战,"广州CTF塔楼设计方,KPF建筑师事务所首席建筑师福思·巴格莱说, "客户想要在建筑上使用某种材料来纪念该地区的陶器贸易历史。"
The result is an elegant skyscraper with a daily footfall of 25,000 people, zipping between the building's hotel, office and residential space.
最终敲定的设计方案是一幢造型优雅、日常客流量25000人的摩天大楼,其间划分为酒店、写字楼和住宅区。
"The elevatoring strategy required us to bring in high volumes of people … and the client made a huge investment to try to make sure that happened quickly," Forth says.
"根据电梯载客策略的要求,电梯的客容量非常大,…客户也投入了很大一笔资金来确保这样的电梯能早日建成",福斯说。
Inside the cabin an indicator shows passengers how fast they are going — perhaps to prove that they aren't being cheated.
电梯内部有一个显示仪,上面显示电梯行进时的速度–也许是为了向乘客证明,电梯的确有那么快,他们没有被忽悠。
A high-tech air pressure adjustment system that protects ears from popping and blocks any uncomfortable G-force backlash means this lift is so smooth it's hard to believe it's the world's second fastest.
电梯内还设有一个高科技气压调节系统,可以防止乘客产生耳鸣并消除超重或失重引起的不适。所以电梯运行时相当平稳,人们甚至很难相信它是世上第二快的电梯。
Source: CNN