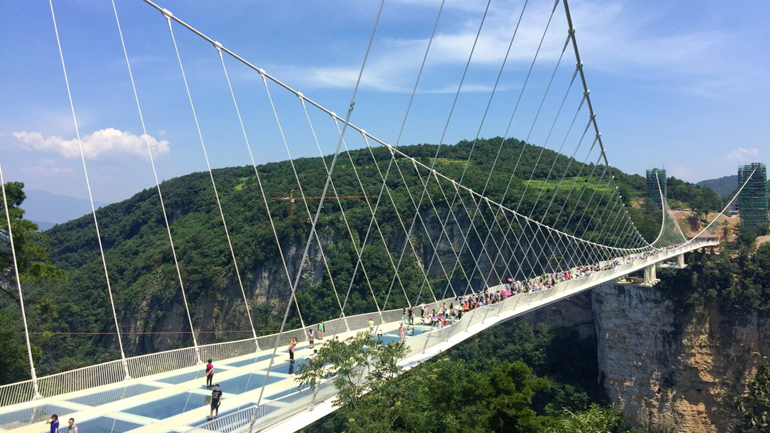 The world's longest and highest glass bridge, Zhangjiajie Grand Canyon Glass Bridge reopened to the public on Friday with a capacity of holding 10,000 people a day.
世界上最长、最高的玻璃桥,张家界大峡谷玻璃桥于周五重新向公众开放,每天接待游客10000人。
The glass bridge started a trial operation in late August this year, but was closed 12 days later due to overwhelming demand.
玻璃桥于今年八月下旬开始试运行,但由于巨大的需求,玻璃桥在开放十二日后关闭。
Glass bridge was not closed for safety reasons, it had passed security inspection and its construction was up to standard.
玻璃桥不是出于安全原因而关闭的,它已经通过了安全检查,建设也达到标准。
"We want to be responsible to the tourists, the local government and the scenic resorts. We thought we should perfect its surrounding facilities and environment, and tackle the problems we discovered in the trial period," local Cili county magistrate Gao Jingsheng said.
"我们要对游客,当地政府和风景区负责。我们认为我们应该完善其周边设施和环境,解决我们在试运期内发现的问题," 当地慈利县县长高靖生说。
There had been some deficiencies of the soft and hard facilities during the trial period and that was why the officials decided to close the operation and upgrade the facilities.
试运期间,软件和硬件设施方面有一些不足,这就是官员决定关闭运营和升级设施的原因。
The upgraded services are more convenient and intelligent. Visitors can book their tickets on the scenic resort's official website.
升级后的服务更方便、更智能。游客可以在官方网站上预订风景区的门票。
To avoid traffic congestion, visitors who drive private cars to the bridge must park in a certain area and transfer to the visitor center by a free sightseeing bus.
为了避免交通拥堵,驾驶私家车到玻璃桥的游客必须把车停放在某一区域内,转乘免费观光巴士到游客中心。
Designed by architect Haim Dotan, the 430-metre-long bridge is believed to be the world's longest and tallest glass pedestrian bridge. It offers a way to enjoy the panoramic view of the Zhangjiajie Grand Canyon.
这座由建筑师哈伊姆多坦设计、长430米的桥被认为是世界上最长、最高的玻璃人行桥。它提供了一种观赏张家界大峡谷全景的方式。
During its trial operation the bridge held no more than 800 people at a time. Each day, 8,000 visitors had the opportunity to walk on the bridge. Entrance tickets can only be obtained by reservation.
在试运期间,玻璃桥单次容量不超过800人。每天有8000名游客有机会走在桥上。门票只能预订获得。
Source: people.cn