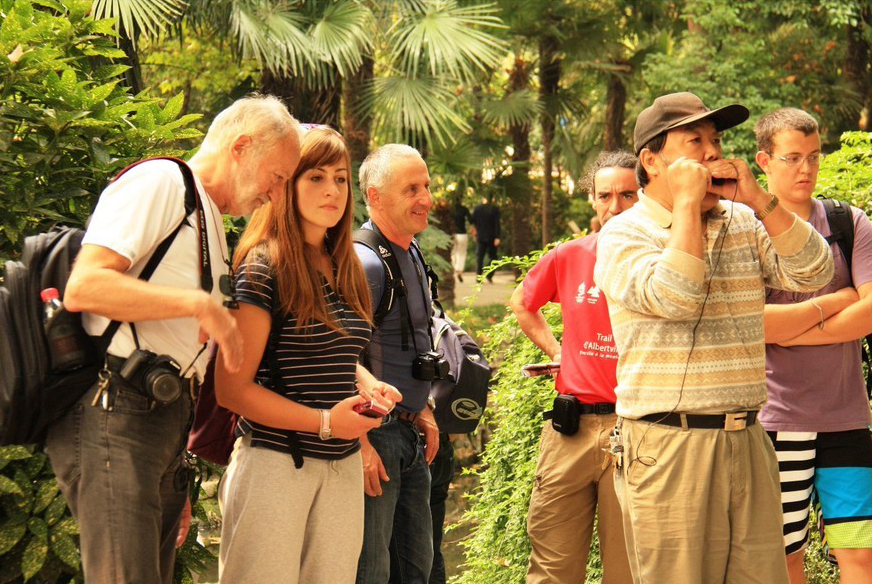 If you've ever wondered what class of person you are, move to China and find out.
如果想知道自己属于什么阶层,来中国找答案吧。

Starting Nov. 1, the government will begin sorting foreigners into three categories: A, B and C. It is part of a new nationwide work permit systemthat aims to build an innovation-driven economy by "encouraging the top, controlling the middle and limiting the bottom" of foreigners in China, the state news media reported.
从10月1日开始,中国政府将开始把在华外国人分成A、B、C三类。官方新闻媒体报道,这是一个全国性的工作许可制度的一部分,旨在通过"鼓励高端、控制一般、限制低端"来建设以创新为驱动的经济。
"It aims to better serve overseas talent coming to work in China," said Zhang Jianguo, the leader of the State Administration of Foreign Experts, which will run the system that is to go nationwide on April 1 after being tested in nine cities or provinces, including Beijing and Shanghai.
将负责实施该制度的中国国家外国专家局的局长张建国称,此举的目的是"提高外国人才管理服务水平"。结束包括北京和上海在内的九个省市的试点后,这一制度将于明年4月1日开始在全国实施。
The planned change is creating a buzz among foreigners working here who are keen to know: How will the government classify me?
规划中的改革引起了在这里工作的外国人的热议。他们迫切地想知道:政府会把我归为哪一类?
According to the most recent official figures, in the 2010 census, about 200,000 foreigners worked legally in China and an additional 400,000 were family dependents.
距今最近的官方数据显示,在2010年的人口普查中,有大约20万名外国人在中国合法就业,另有40万名家属。
The number seems low. In an email interview, Eric Liu, a consultant atForeign HR, a human resources company based in Beijing, estimated that there were about two million in total in 2015, with up to 300,000 more working illegally, usually on tourist visas. China needs many more foreign workers, but it is often hard for them to receive visas, he said.
这个数字看上去并不高。通过电子邮件接受采访时,在总部位于北京的人力资源公司福瑞恩担任顾问的埃里克·刘(Eric Liu)估计,2015年中国总共有大约200万外国人,其中有高达30万的非法就业者,这些人拿的通常是旅游签证。他说,中国需要更多外国员工,但他们常常很难拿到签证。
"Companies of every type need foreign workers for economic development, whether big state-owned enterprises or private companies," he said.
"各种公司的经济发展都需要外国人,不管是大国企还是私企,"他说。
The prospect of being classified is disconcerting to some. James, a former high school instructor in Wyoming who teaches kindergarten in Beijing, wondered how teachers would be defined. He asked to be identified only by his first name to avoid drawing negative attention from his employer.
可能会被分类让一些人感到不安。詹姆斯(James)曾是怀俄明州的一名高中老师,现在北京一家幼儿园任教。他想知道政府会怎么定义老师。他要求只公开自己的名字,以避免引起雇主的负面关注。
"They haven't released how the scoring system is going to work," he said in an interview. "That's a worry to me. I'd like to know how I can become an asset to China, and exactly where I stand."
"他们还没公布这个评分制度会怎么运作,"他在接受采访时说。"这让我感到担心。我想知道怎么样才能成为对中国有价值的人,以及我所处的具体位置。"
Teachers would probably be classified as Bs, said Mr. Liu, who has studied the sparse information available.
在研究了仅有的一点信息后,埃里克·刘说,老师可能会被归为B类。
James agreed. "Initially I had a very negative reaction to being Class B," he said. He likened the feeling to "now I'm just a Class B foreign worker!"
詹姆斯同意他的观点。"一开始我对被归为B类非常反感,"他说。他把这种感觉比作"现在我只是一名B类外国员工!"
Still, the new system, which will be computerized and linked with a photo ID and number for each worker — the old system was mostly paper-based — could bring benefits: "If it's going to create more transparency and accountability, I think it's going to be a good thing," James said.
但新制度可能会带来一些好处:"如果能带来更多透明和责任心的话,我认为会是一件好事,"詹姆斯说。新制度将通过计算机实施,并与每个来华工作人员的带照片身份证件和号码绑定。旧制度的实施主要基于纸质材料。
The China Organization Personnel Newspaper, a publication under the Ministry of Human Resources and Social Services, gave a few more details than most.
中国人力资源和社会保障部下属的《中国组织人事报》给出了更多细节。
Class A will include top professional, innovative and creative talent, the newspaper said, without offering concrete examples.
该报称,A类包括高端专业人才和创新创业人才,但未给出具体的例子。
Class B will include other professionals who fit with China's economic development plans and could fill short-term gaps, especially in management and technical areas, it said. There will be limits in international trade, sports, culture and education.
该报表示,B类包括属于中国经济社会发展急需短缺的其他外国专业人才,特别是管理和技术领域的专业人才。从事国际贸易、体育、文化和教育工作的外国人会受到限制。
Class C will include unskilled or service industry workers. These should be "strictly limited," the paper said.
C类包括非技术性或服务性领域的工作人员。该报称,对这类外国人要"严格限制"。
Points will be assigned according to salary, education level, Chinese-language skills and age, among other things, with at least 85 points needed to qualify as an A, at least 60 for B and fewer than 60 for C, the paper said.
评分将参照工资、受教育水平、汉语水平和年龄等标准。达到A类至少需要85分,B类至少60分,60分以下为C类。
Source: New York Times