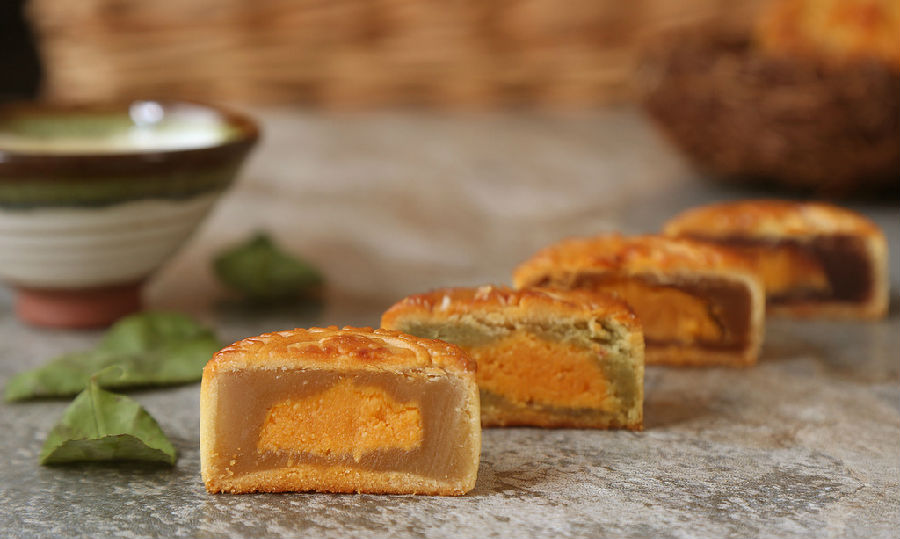 Mooncakes are traditional Chinese pastries that are made during the Mid-Autumn Festival, which is celebrated in China and some other Asian countries. Mooncakes are usually round, made in a special mooncake mold, and contain a sweet filling, with the most common one being lotus seed paste or red bean paste. This recipe should make 12 mooncakes.
月饼是中秋节的传统点心,中国和一些亚洲国家庆祝中秋时要吃月饼。月饼一般是圆的,用特制的模具印出形状和花纹。里面有甜馅料,最常见的是莲蓉或红豆沙。以下食谱可做出12个月饼。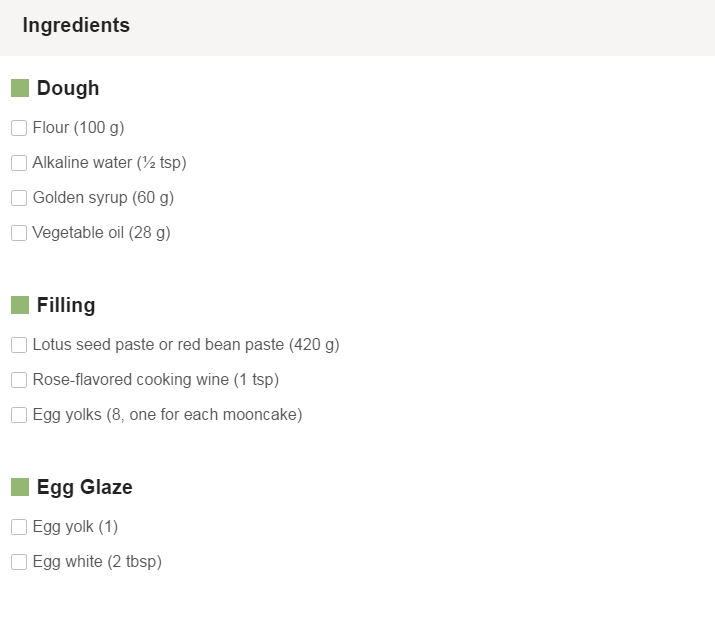 1. Mix together the ingredients for the dough. Stir together the alkaline water, golden syrup, and vegetable oil, and sift in the flour more slowly. When mixed together, these ingredients should form a dough. Cover the dough with saran wrap and set it aside for at least 3 hours.

将碱水、糖浆和植物油一起搅拌,慢慢撒入面粉做成面团。用砂轮包装膜包起来,放置3小时。
2. Prepare the salted egg yolks. Separate the egg yolks from the egg whites. Put the yolks in a pan and steam them for about 10 minutes on a low to medium heat. Salt the yolks. Set them aside to cool down. Make sure that they have cooled off before you proceed in making the mooncakes. Cut each egg in half.
准备蛋黄。将蛋黄和蛋白分开,把蛋黄放在平底锅,用小火或中火蒸约10分钟。加盐。放着冷却。确保在做月饼前蛋黄已完全冷却。对半切蛋黄。
3. Preheat the oven to 350 degrees Fahrenheit (180 degrees Celsius). While the oven is preheating, separate the lotus or red bean paste into 12 equal parts. Roll each of these into a ball.
烤箱预热至180度。同时,把莲蓉或豆沙平均分成12份。把每份揉成一团。
4. Separate the dough into 12 equal parts. Roll each of those into a ball, as well. Flatten each piece of dough into a small disk.
把面团平均分成12份。把每份揉成一团。再把每个面团擀成小的面皮。
5. Assemble your mooncake. Each mooncake consists of a ball of dough, one ball of lotus or red bean paste, and one half of a salted egg yolk. Make a hole in a ball of lotus or bean paste, and put the egg yolk inside. Make the lotus or red bean paste into a ball that covers the egg yolk entirely.
包月饼。每个月饼含一个面团,一团莲蓉或豆沙,半个咸鸭蛋。把莲蓉或豆沙压出一个凹处,放入蛋黄。将莲蓉或豆沙揉成团,完全覆盖蛋黄。

6. Spray your mooncake mold with nonstick spray. Press each mooncake lightly into the mold. Take the mooncake out of the mold, and put it onto a baking sheet. Put all 12 mooncakes into the oven, and wait 10-12 minutes.
给模具喷点油,以免月饼黏住。将月饼放入模具轻轻按压。取出月饼,放在烤盘里。将12个月饼放入烤箱,烤10-12分钟。
Source: Wikihow; Chinlingo