Tourist sites in China can often be busier than a train at peak time thanks to the country's huge population.

因为中国庞大的人口,中国的旅游景点经常会比高峰期的列车还要热闹。
But the landscapes are always varied but they have one thing in common – they make you feel like you're the only person who has discovered these beautiful sceneries.
不过,风景总是多种多样的,但它们却有一个共同点,那就是会让你觉得自己是唯一一个发现这些美景的人。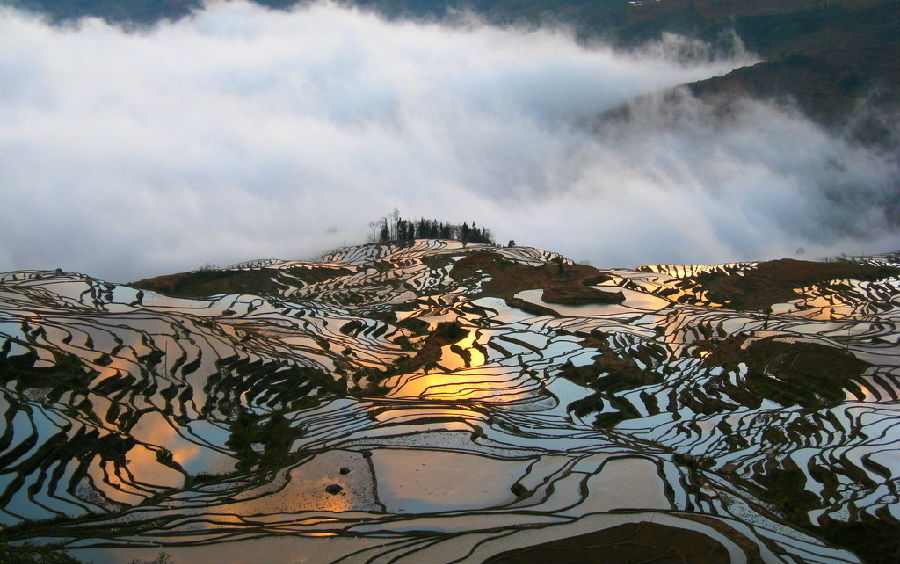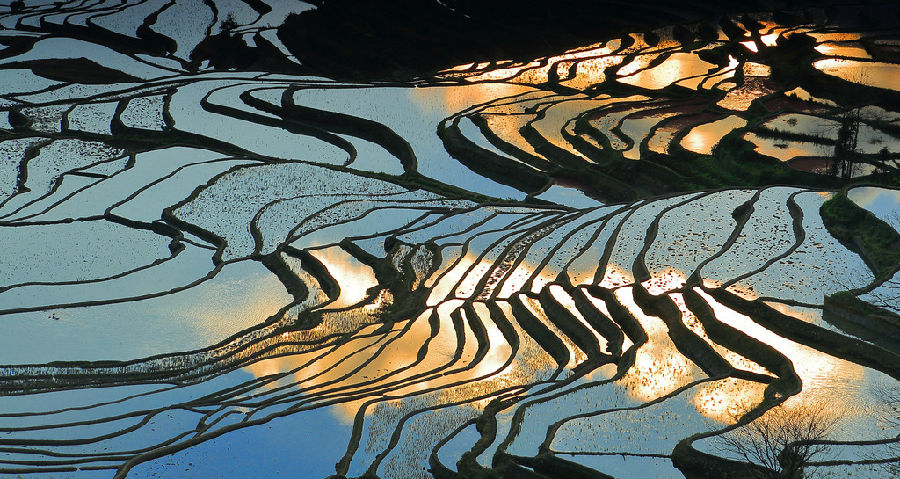 The Laohuzui Rice Terraces in Yuanyang are listed as a Unesco Heritage Site and have been carved from the landscape by the Hani people over thousands of years.
元阳县的老虎嘴水稻梯田被列入世界文化遗产名录,该梯田是哈尼族人历经数千年雕刻而成的风景画。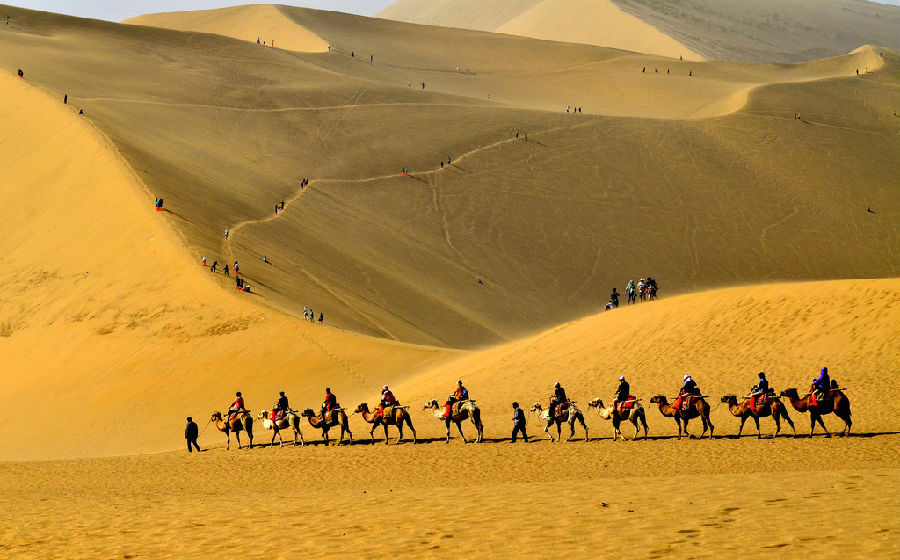 Travelers are making their way across the deserts near Dunhuang.
一位独行的旅客正努力穿越敦煌附近的沙漠。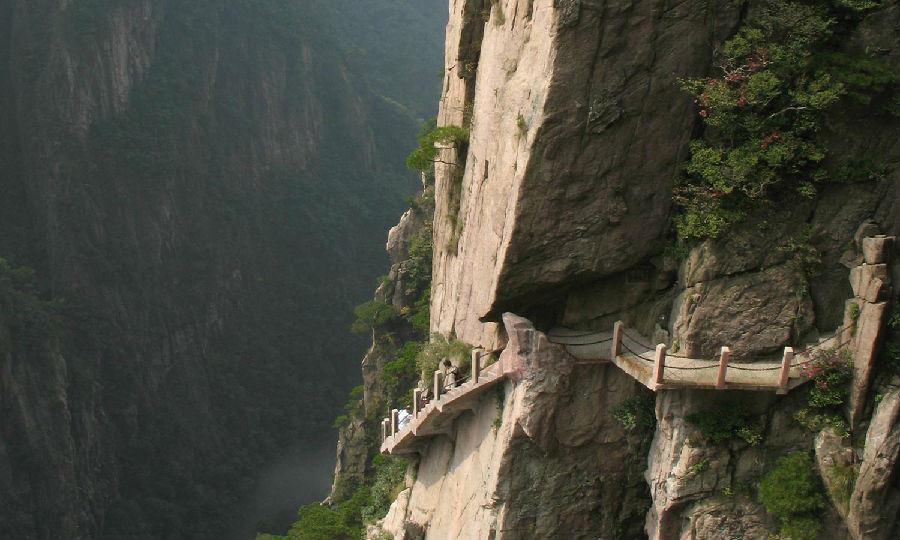 A wooden walkway winds along the cliffs of the Huangshan mountain range.
一条木质走道顺着黄山峭壁蜿蜒而上。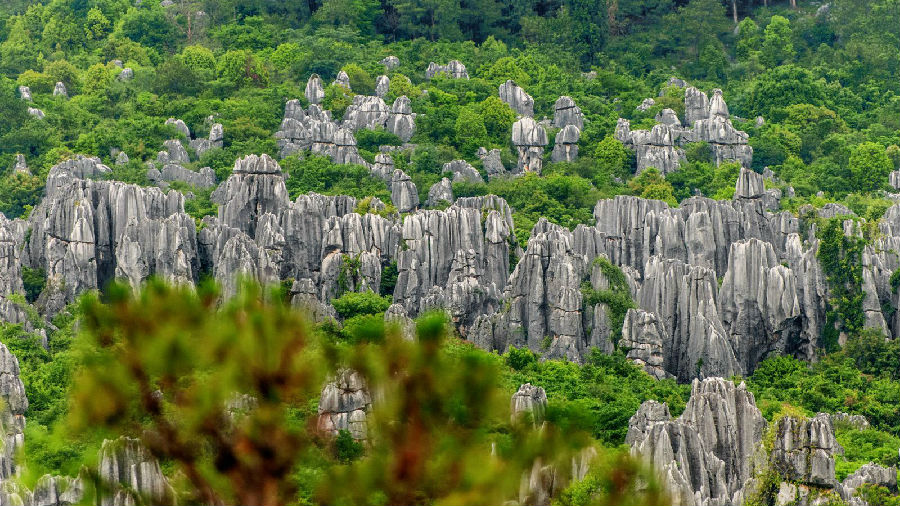 The limestone formations in south west China's Shilin Yi Autonomous County. The rocks resemble fossilized trees, giving the attraction the moniker of Stone Forest.
中国西南地区石林彝族自治县的石灰岩层。这些岩石就像变成化石的树,因此该旅游胜地也被称为石林。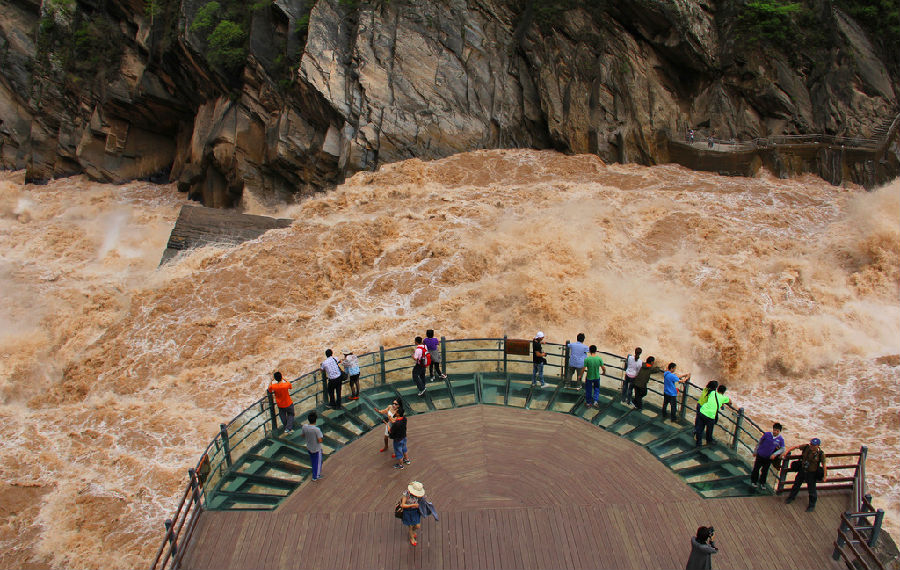 Tourists are watching the flooded Jinsha River at Tiger Leaping Gorge in Diqing Tibetan Autonomous Region. Heavy rainfall in south west China created the dramatic scenes.
游客们正注视着迪庆藏族自治区虎跳峡处滔滔不绝的金沙江。中国西南地区的暴雨创造了这一引人注目的景色。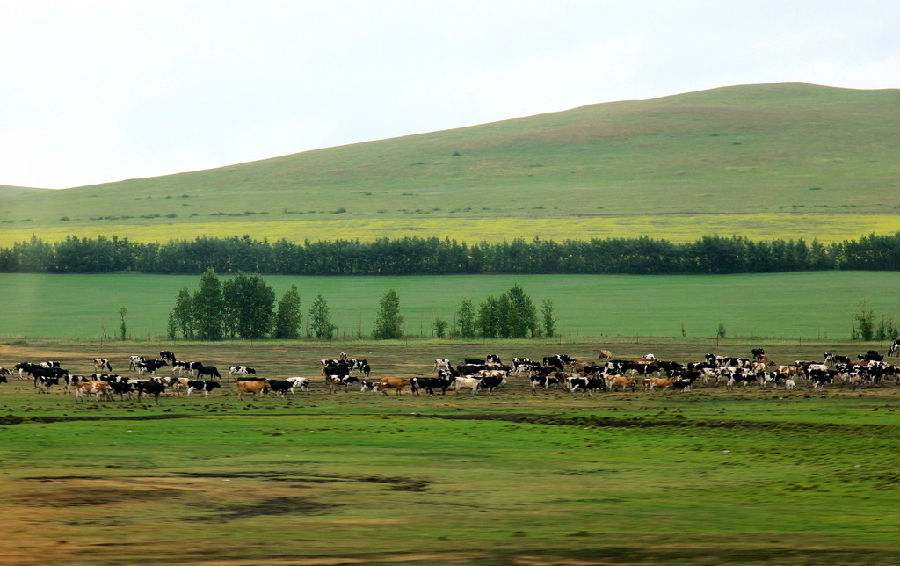 A herd of cattle is travelling across the Altay grassland during the seasonal livestock migration in Xinjiang Uygur Autonomous Region.
在牲畜季节性迁徙的时节,一群牛在新疆维吾尔自治区的阿尔泰草原上行进。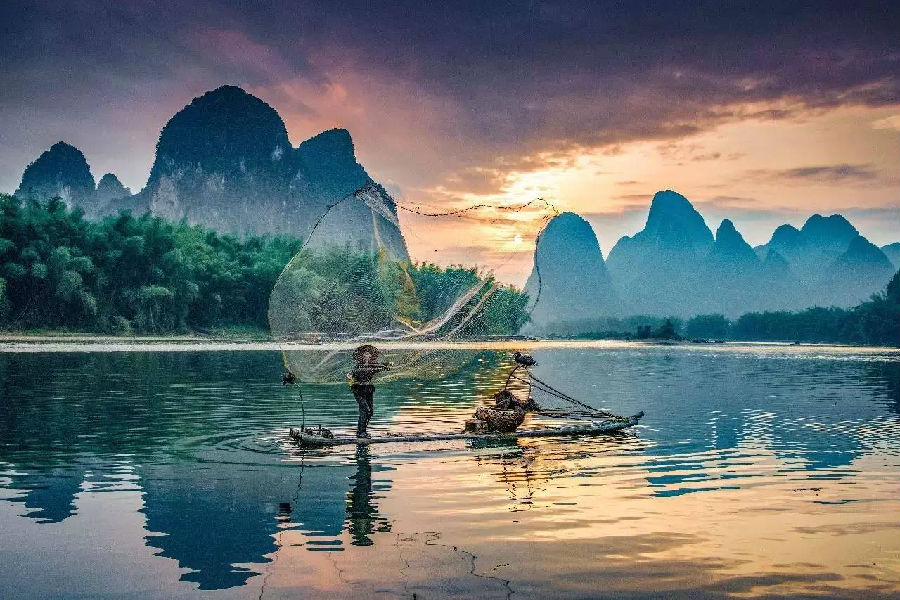 An old fisherman, wearing the traditional outfit, is throwing his net out over the water from his bamboo raft on the Li River. Next to him is a cormorant, an aquatic bird that helps him to catch fish.
漓江上,一位穿着传统服饰的渔翁正从他的竹筏上把网抛进水中。在他旁边有一只鸬鹚,这只水鸟在帮他捕鱼。
Peakcock Lake in Jiuzhaigou is pictured here. The crystals lining the bottom of the lake naturally reflect the gorgeous colors.
图中展示的是九寨沟的孔雀湖。衬砌在湖底的水晶自然地反映着斑斓的色彩。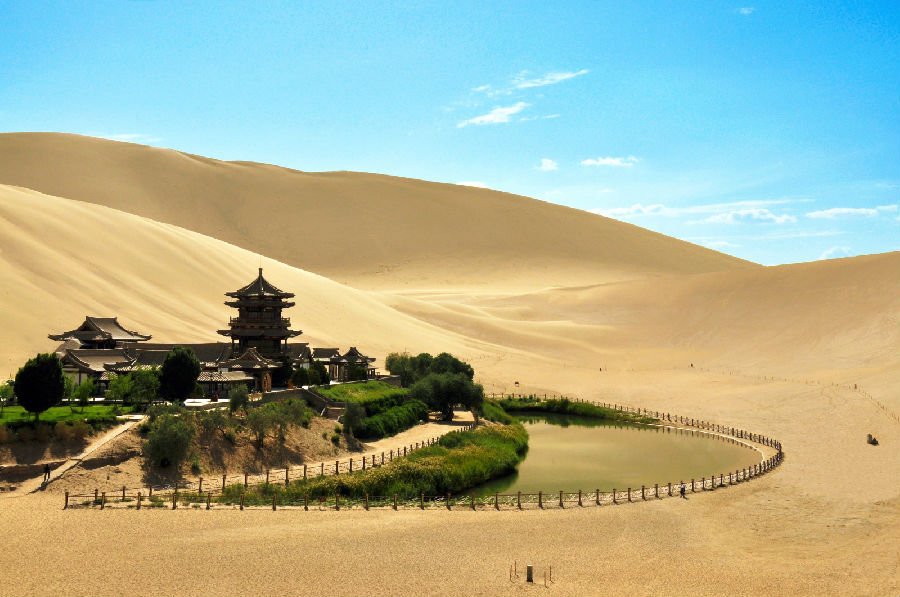 Crescent Lake (Yueyaquan) is a crescent moon-shaped lake in an oasis near Dunhuang.
月牙泉是敦煌附近的一片绿洲,形状宛如新月。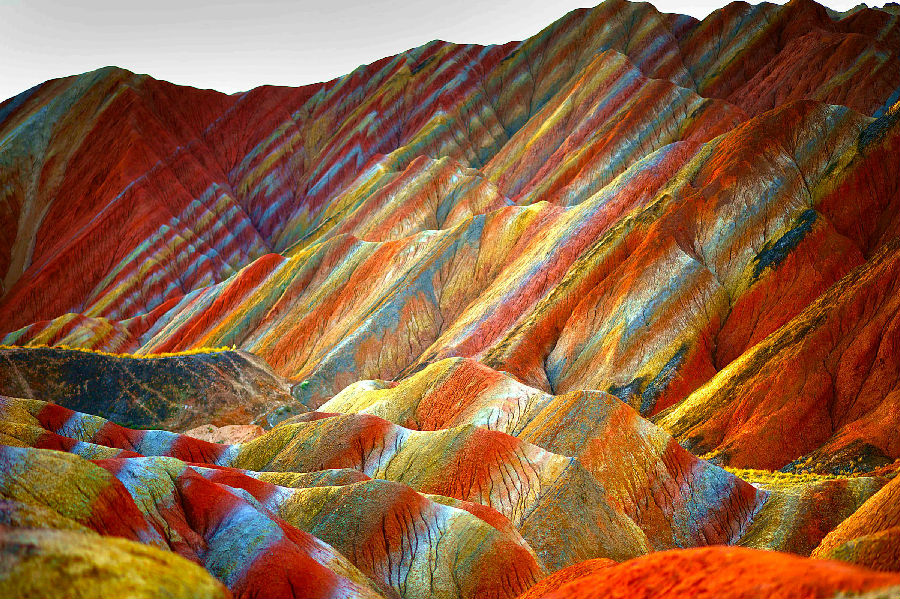 Danxia Landform is known for it crayon-like colours, which are created through layers of sandstone and sedimentary rock.
丹霞地貌因其蜡笔画似的色彩而闻名遐迩,该地貌是由砂岩和沉积岩堆积而成。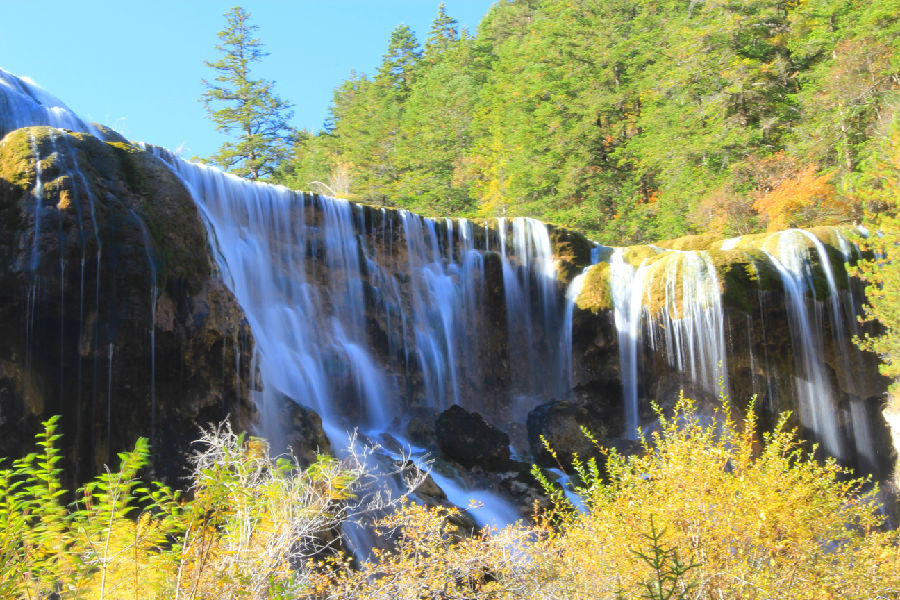 The Pearl Shoal Waterfall in Jiuzhaigou is one of the biggest and most spectacular ones in the national park.
珍珠滩瀑布是九寨沟风景区最大、最壮观的瀑布之一。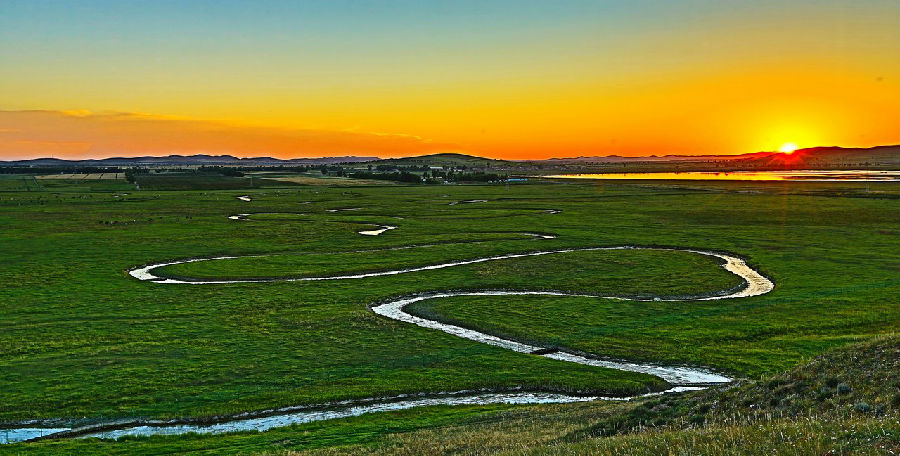 The Bashang Grassland in Hebei.
河北的坝山草原。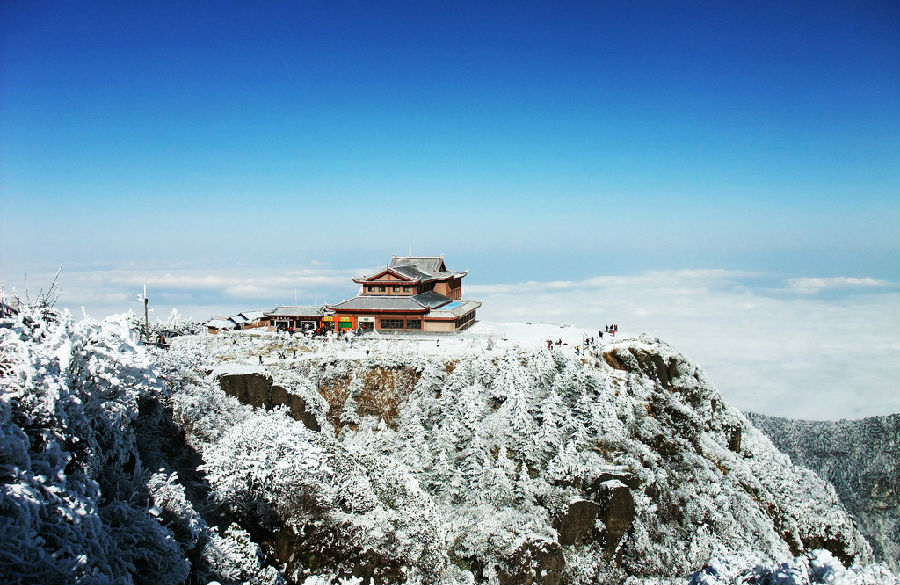 Woyun Nunnery is one of two temples on the Golden Summit (Jin Ding) of Mount Emei. Behind it, a sea of clouds can be seen.
卧云庵是峨眉山金顶上的两座寺庙之一。从图中可以看到其后方的云海。
Source: Daily Mail