Last week, the host of NBC's Running Wild With Bear Grylls began reaching out to some of China's biggest celebrities over Weibo, China's Twitter-like social media platform, where he's amassed nearly 2 million followers.
Grylls has a new Chinese series in the works, titled "Absolute Wild," featuring what is looking like a star-studded cast.
The British adventurer's first target was Robin Li, the billionaire founder and CEO of search giant Baidu, often described as China's Google. He followed with public invites to former NBA star Yao Ming and Olympic swimmer Fu Yuanhui, whose out-of-pool antics made her China's most-buzzed-about personality of the Rio Games.
The first celebrity that Grylls invited on Weibo was Baidu CEO Robin Li on August 24th, first praising Li for his success, wit and charm:
"I understand that you always look positively at all challenges, which you take as motivations for all of life progressions. But the wilderness is something that I love and would like to help you explore!
Myself and director Gan Chao sincerely invite you to travel with us to this unknown world full of passion, challenges and glory. I ensure that this will be the most difficult and most unforgettable journey you have ever had in your life. Will you accept my challenge and invitation! Hope to see you soon!"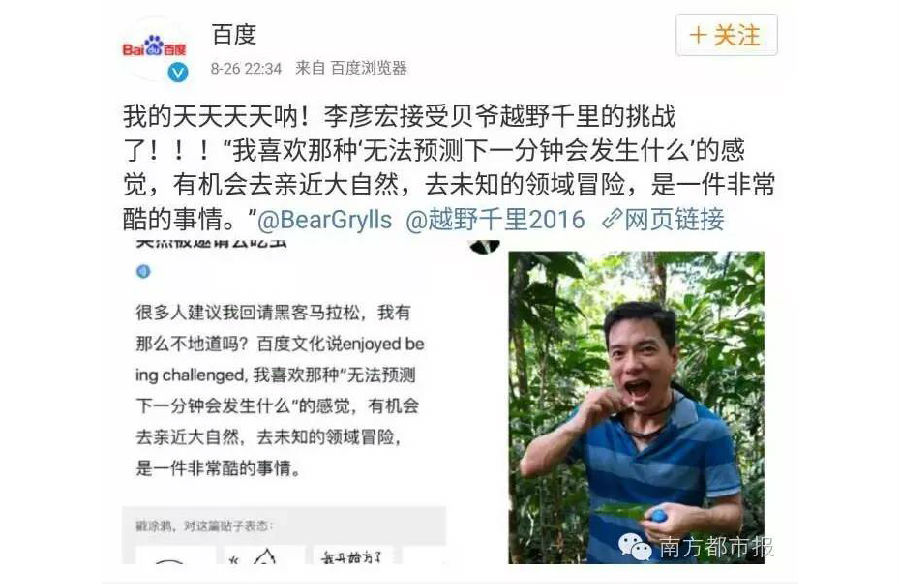 Two days later, the 47-year-old billionaire accepted the challenge, responding with a picture of himself eating some kind of grub. Save some room for the show, Robin:
"I like this kind of feeling that you won't be able to predict what is going to happen in the next minute, and it is a super cool thing to have a chance to get close to Mother Nature and to have an adventure in unknown areas," Li wrote.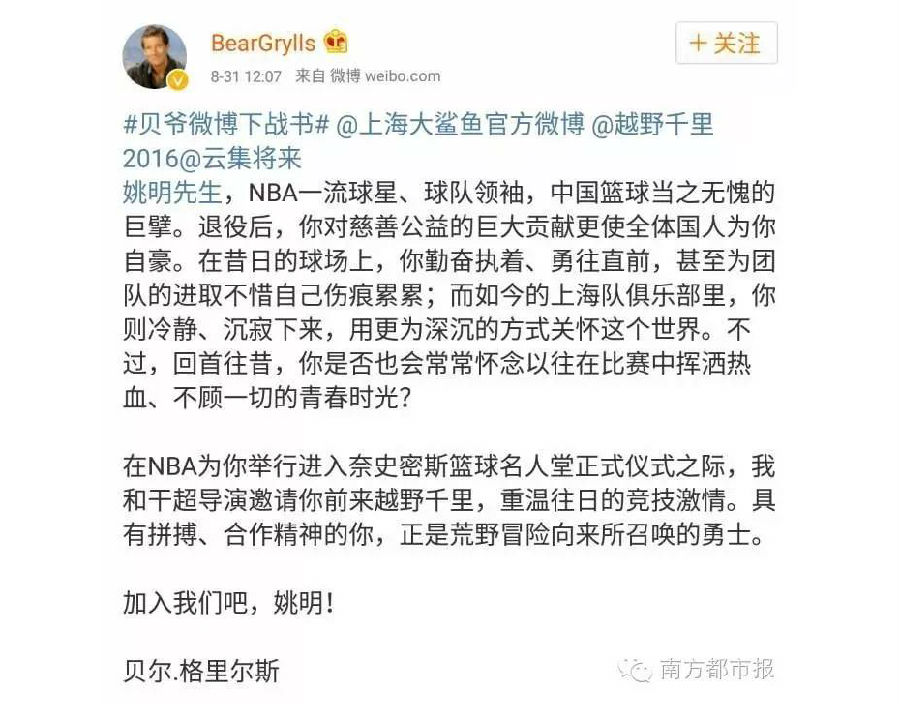 Grylls also asked Yao Ming, the former NBA player:
"Back in time, you dedicated your diligence and backbone on the battlefield, while nobody knows how many wounds you had to lick alone; now at the Shanghai basketball club, you are using a calmer and deeper way to care about the world. Looking back on it, do you miss the hot-blooded fearless youth?
At this time when you are about to be inducted into the Naismith Memorial Basketball Hall of Fame, myself and director Gan Chao sincerely invite you to travel with us into the Absolute Wild and pick up the passionate memories. With the spirit of combatant and cooperation, you are the exact warrior whom the wild adventure always tries to call."
Via the Shanghai Sharks Weibo account, Yao quickly accepted the challenge. The 7'6'' basketball superstar who has taken part in a number of animal rights campaigns over the years, also gave an interesting reason why he was joining the show: "We are all so small in front of Mother Nature, so we need to rediscover our instincts and let our offspring learn how to coexist in harmony with nature and animals."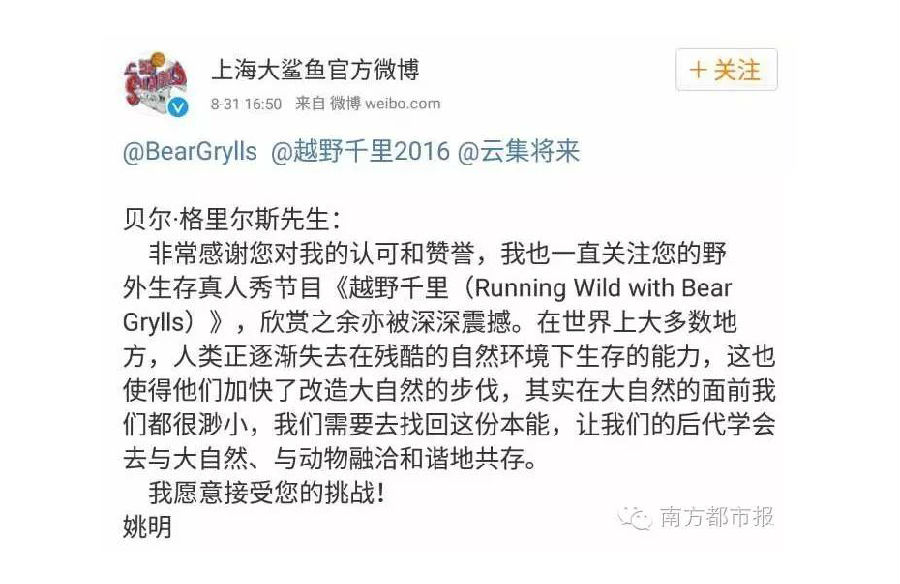 Perhaps the brightest star is China's Olympic darling, Fu Yuanhui, who skyrocketed to overnight fame thanks to her charmingly goofy personality at Rio.
Over Weibo, where he has nearly 2 million followers, Grylls said he was impressed by the Olympic bronze medalist's performance and attitude and invited her to be on his show: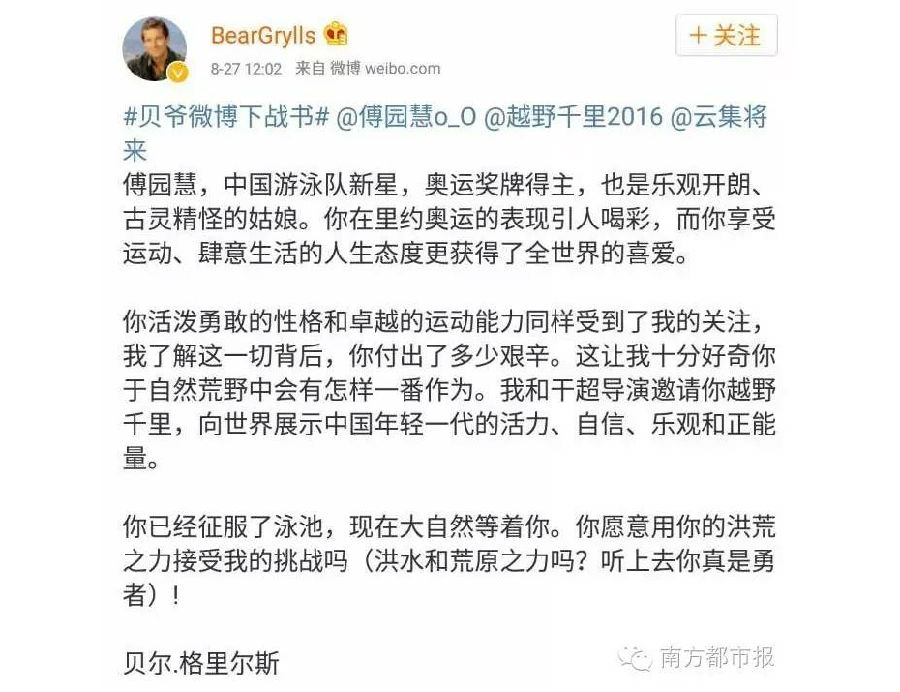 "Your bravery and open minded personality as well as your outstanding physical capability have caught my attention. I know you endured incredible hardship. I'm curious how you might perform in the wilderness. Myself and director Gan Chao would like to invite you to explore the Absolute Wild with us and show the world the vitality, self-confidence, optimism, positivity of China's new generation.
You have conquered the pool, now nature awaits! Will you accept the challenge with your Hong Huang Zhi Li ("power of flood and wilderness"? It sounds that you are truly a fighter)!"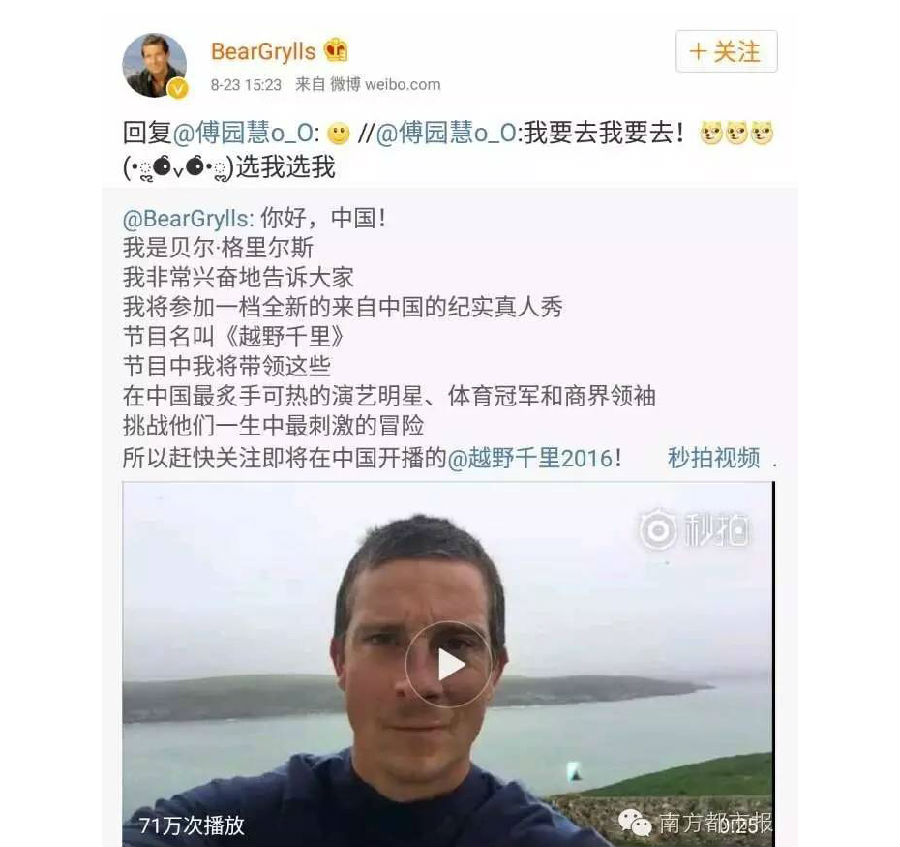 Fu Yuanhui soon replied under the message "wow, cool," but did not immediately accept the request. Her many online fans urged the swimmer to join and the production team of "Absolute Wild" has since confirmed that Fu will be taking part in the show.
Grylls also reached out to 33-year-old Taiwanese actress Ivy Chen (Chen Yihan):
"Chen Yihan, I have heard your name for a while. Yes, your best friend, also a friend of mine, Junjun, has told me a lot about your 'heroic' stories. You are passionate about traveling and sports. You love the experiences that life has to offer- you've done hand stands to see the world from a different angle, jumped in to the ocean and naked swam to celebrate your 30th birthday. All of that is awesome! The delight and warmness in your heart, as well as your frank attitude to the world is stunning to me!

All the girls are afraid of aging, but in the wild, we go towards youth. That's because we confront the world with a new face every day, and drop the baggage we carry as mortals. We become our true selves again, what's more to be proud of?"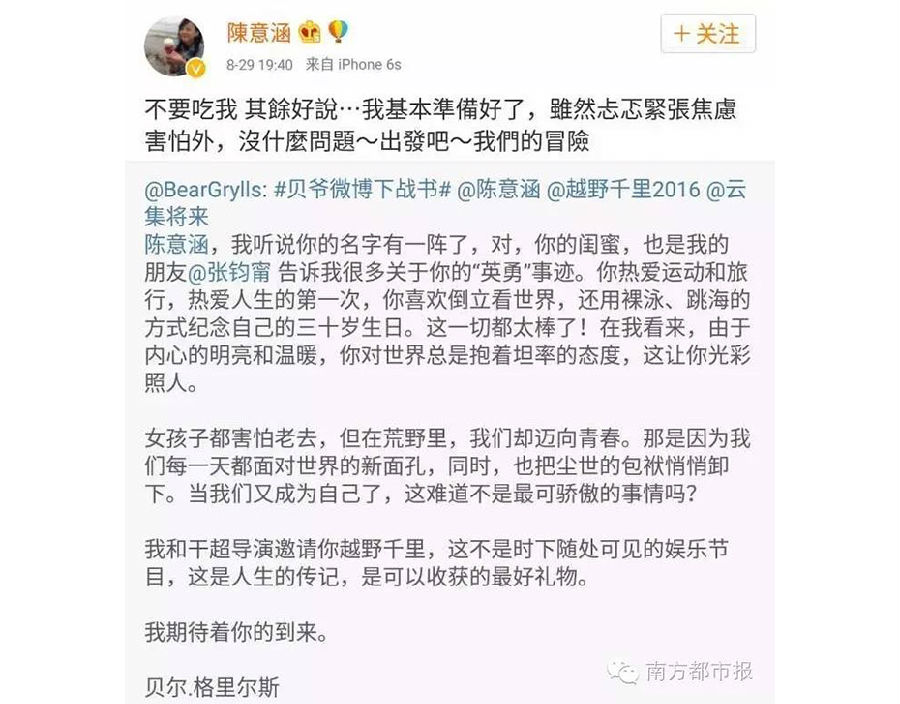 Chen has also accepted the invitation.
Source: Shanghaiist and Hollywood Reporter