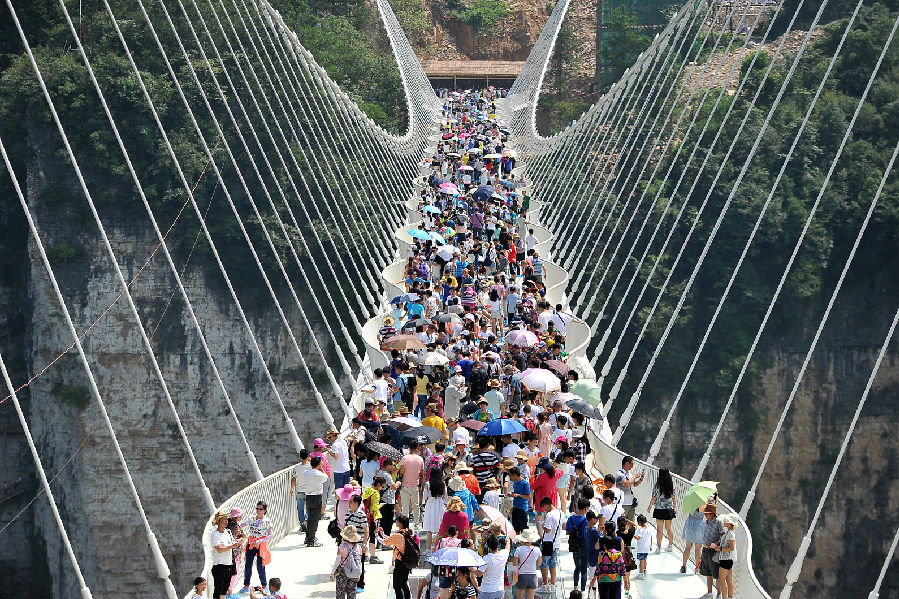 Visitors hoping to walk on the world's highest and longest glass-bottomed bridge will have to hold their breath.
The record-breaking structure hanging over China's Zhangjiajie Grand Canyon closed last Friday, just 13 days after it opened to the public on August 20.
Spanning two cliffs high above the majestic natural feature, the bridge stretches 1,410 feet long, measures 20 feet wide, and towers 984-feet above the ground below. By comparison, the Grand Canyon Skywalk in Arizona is just 69 feet long and hovers about 718 feet above the canyon floor. Canada's Glacier Skywalk in Alberta, which opened last year, extends 115 feet from the cliff and is just under 984 feet tall.
"We're overwhelmed by the volume of visitors," a spokesperson from the Zhangjiajie Grand Canyon's marketing and sales department told CNN, explaining that the bridge was the main draw of the canyon.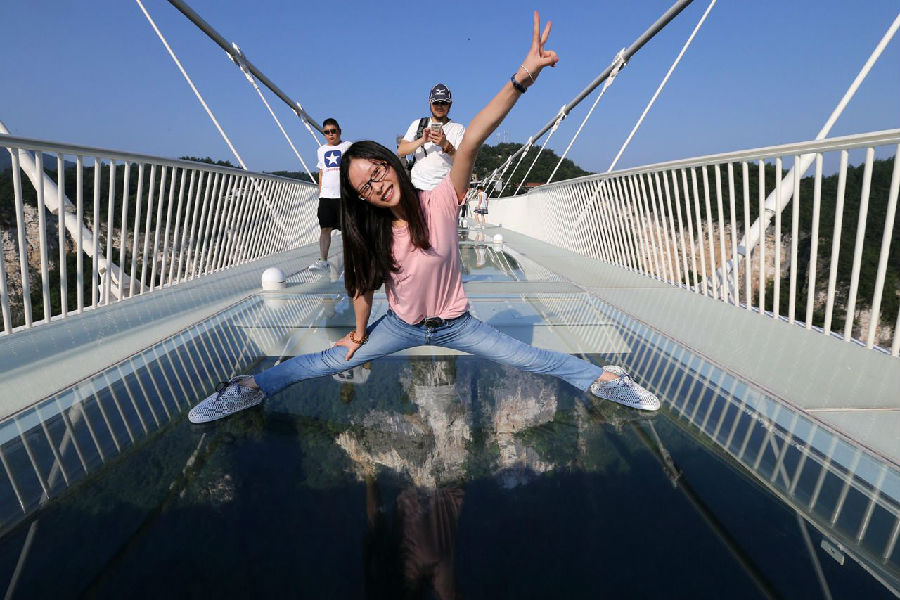 He added that the capacity of the glass bridge was limited to 8,000 visitors per day, but total demand was ten times as much.
The famous bridge also brought renewed interest to other scenic spots in the area.
When asked if the bridge was cracked or broken, the spokesperson said "there was no problem." He also confirmed there have been no accidents.
The six-meter-wide bridge stretches 430 meters over a 300-meter-deep valley between two cliffs in the stunning Zhangjiajie Park, said to have inspired the scenery for the sci-fi movie "Avatar."
The attraction's management made the announcement Thursday on its official Weibo account, a Chinese microblogging site.
It didn't say when it might reopen and apologized for the inconvenience caused.
The Weibo statement says that due to the "urgency to improve and update" the facility, the government decided to suspend operations on September 2.
The park officials had suggested September 5 as a closing date, to accommodate travel agencies who "have already included the Grand Canyon and the glass bridge into their itineraries."
But visitors are not happy about the closure.
"I have booked everything and now you are saying you are closed… Are you kidding me?" wrote Weibo user XiaoMOMOYa in response to the official statement.
"The Scenic Area is deficient. There's trash everywhere and no bottled water for sale. It's right to reopen only after they've cleaned up the place," wrote another user, Fashiwanying.
During the suspension, Zhangjiajie Grand Canyon plans to improve not only its infrastructure, including parking lots, but also its ticket-booking system, customer service and other areas.