1. Lake living

湖畔生活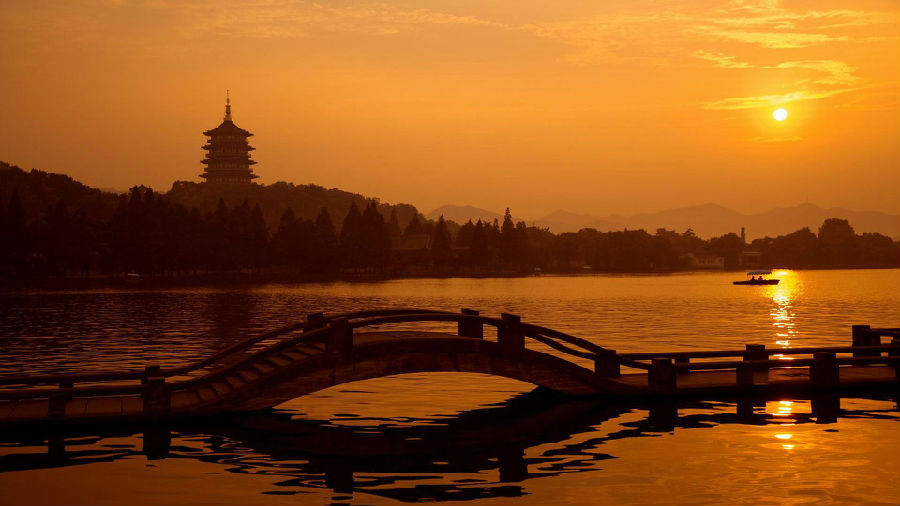 As you gaze upon Hangzhou's West Lake and its surrounding lush hillsides, you'll understand immediately why it's been a great source of inspiration for artists, poets and philosophers throughout Chinese history.
当你凝望杭州西湖及其周围的青翠山坡,就会立刻明白杭州为什么能成为中国历史上无数艺术家、诗人与哲学家的灵感源泉。
The mountain-fringed West Lake grounds are speckled with pagodas, pavilions, temples and gardens.
青山环绕的西湖一带,散落着宝塔、楼阁、寺庙和园林。
To best experience the lake's charms, hike up to the hills in the early morning or at sunset.
于清晨或日落时分登上山峰,最能领略西湖的魅力。
2. Bike-sharing
公共自行车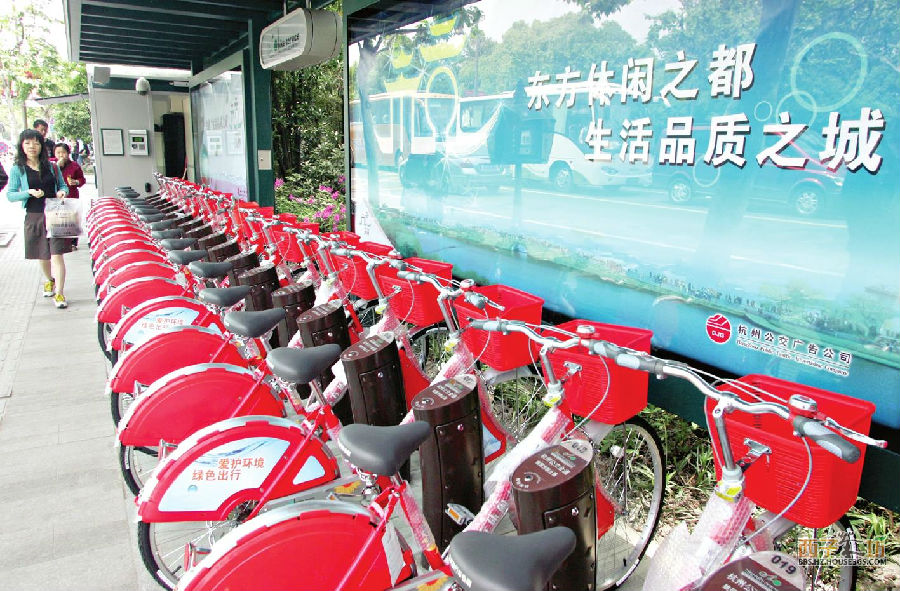 While the rest of the country is moving from two wheels to four, cycling culture is thriving in Hangzhou.
当中国其他城市的交通工具正由自行车转为汽车,骑行文化却在杭州兴起。
The city developed China's first bike-sharing system in 2008 in an effort to alleviate traffic congestion.
杭州2008年建立了全国首个公共自行车系统,希望能缓解交通拥堵。
It's since grown into the world's biggest — and one of the world's best — public bike systems.
如今,它已发展为全世界最大的公共自行车系统,同时也是其中最佳之一。
You can hardly go a kilometer without passing a bike-sharing station.
每隔不到一公里,你就会遇见一个公共自行车站点。
Hangzhou residents have access to over 84,000 bikes scattered across 3,300 service spots. The bikes have taken more than 600 million trips in the past seven years.
杭州市民可以使用超过84000辆自行车,分布在3300个服务点。过去七年里,这些自行车的使用次数超过6亿次。
Want to get in on the action?
想尝试一下骑行?
You'll need a "Transportation Smart Card Z," which is designed for visitors. They're available at the Smart Card Center at 25 Ding'an Lu, open from 8 a.m. to 5 p.m. daily.
你需要有一张游客专用的"交通智能卡Z卡" ,可在定安路25号的卡务中心办理。中心的工作时间是每天早八点至晚五点。
Show your ID and put in a deposit of 300 yuan and you're all set.
提供你的身份证并充值300元即可。
Bikes can be dropped off at any station any time of the day.
自行车可在任意时间停放在任意站点。
It costs 1 yuan ($0.15) for the first hour, 2 yuan for 2-3 hours and 3 yuan/hour if you use the bike longer than three hours.
使用一个小时花费1元(0.15美元),使用2-3小时花费2元,如果使用时间超过3小时,则是每小时3元。
3. Longjing tea
龙井茶
Hangzhou grows some of China's finest and most expensive green tea — Longjing.
杭州出产中国最好最贵的一种绿茶——龙井。
Every spring, before the traditional Qingming Festival, tea lovers from all over the country come to Longjing, a village just south of West Lake, for the first cut of top-quality tea.
每年春天,传统节日清明到来之前,爱茶者们会从全国各地奔赴西湖南面的龙井村,只为赶上最优质茶叶的初次采摘。
As for how to brew it, Longjing leaves are delicate so the water can't be too hot — around 90 C.

那如何泡茶呢?龙井茶叶娇贵,水不能过烫,在90摄氏度左右就好。
Freshly brewed Longjing tea has a yellow-greenish color and an aroma of chestnuts and cut grass.
刚泡好的龙井茶呈黄绿色,有栗子和割下的青草的香气。
Among the top places to experience the region's tea culture is Longjing Imperial Garden at the rear of the village.
体验当地茶文化最好的地方之一是村后的龙井御茶园。
The compound houses a classic Hangzhou garden where you can sip tea and dine.
院落中有一座典型的杭州园林,你可以在那里品茶用餐。
Meanwhile, the National Tea Museum offers displays highlighting the history and techniques of tea making, as well as tea ceremonies.
还有中国茶叶博物馆向你展示制茶的历史、工艺与茶道。
4. Hangbang cuisine
杭帮滋味
Unlike dishes from northern China, which are heavy in sauces and spices, Hangzhou cuisine is mild but flavorful with a focus on fresh ingredients.
与中国北方浓酱重辣的菜肴不同,杭州菜味道温和而可口,注重食材的新鲜。
You can't leave Hangzhou without trying its signature dish, Longjing shrimp, which combines the city's famous green tea with freshwater shrimp from local rivers.
离开杭州前,绝不能错过招牌菜龙井虾仁。它将当地有名的绿茶和河里捕捞的淡水虾完美结合。
The shrimps are peeled, seasoned, drained and marinated. Green tea leaves are quickly blanched in oil to bring out a hint of flavor, then the shrimps are fried in a wok.
将虾去壳、调味,沥干后用卤汁浸泡。茶叶快速过油,带出香味,然后将虾仁入锅翻炒。
When the shrimps are nearly done, a spoonful of boiled green tea is ladled into the wok to enhance the aroma.
虾仁快炒熟时,加入一匙煮过的绿茶增加香味。
Among the best places to try this dish is restaurant 28 Hubin Road.
品尝此菜的最佳地点之一是湖滨路28号餐厅。
Another celebrated restaurant serving local Hangbang cai dishes is Longjing Manor. Surrounded by tea plantations, it gained fame internationally when profiled by the New Yorker in 2008.
另一家有名的杭帮菜餐厅是位于茶园中的龙井草堂。它因2008年《纽约客》的评论文章而蜚声国际。
5. Mountain getaways
山间隐地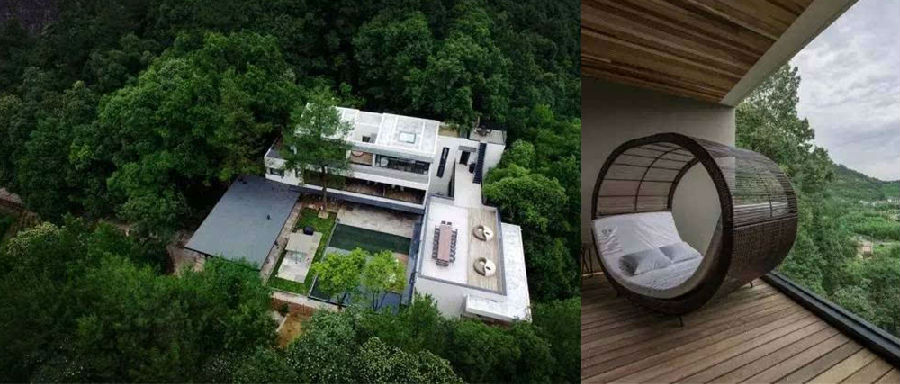 Looking for a quick city escape?
寻找快速逃离城市喧嚣的去处?
About 40 kilometers away from Hangzhou's city center, Qiandai Resort sits on Jing Mountain — another tea-growing center.
千岱度假酒店位于距杭州市中心约40公里的径山——又一个茶叶种植中心。
With only 10 rooms, the resort isn't grand or luxurious but every detail has been thoughtfully designed.
酒店只有10个房间,既不恢弘也不奢华,但每一处细节都经过精心设计。
Built by local architecture firms, the sustainable resort harmoniously merges into the surrounding environment.
这家秉承可持续发展理念的酒店由当地建筑公司修建,与周围环境和谐相融。
Rustic yet delicate, original but imaginative, the minimalist architecture is tasteful.
纯朴又雅致,独创又充满想象力,其简约的建筑颇有品味。
All the wooden furniture, frames and ornaments were made from locally sourced timber or abandoned furniture.
所有木制的家具、房屋骨架和装饰皆由当地出产的木材或废弃家具做成。
The hotel can arrange pick-ups and drop-offs to and from Hangzhou's airport and railway station. There's no website yet but staff speak English so foreign guests can call for reservations.

酒店提供杭州机场和火车站的接送服务。虽然尚未建立网站,但酒店员工可用英语交流,外国游客可通过电话预定。
6. Silk
丝绸之都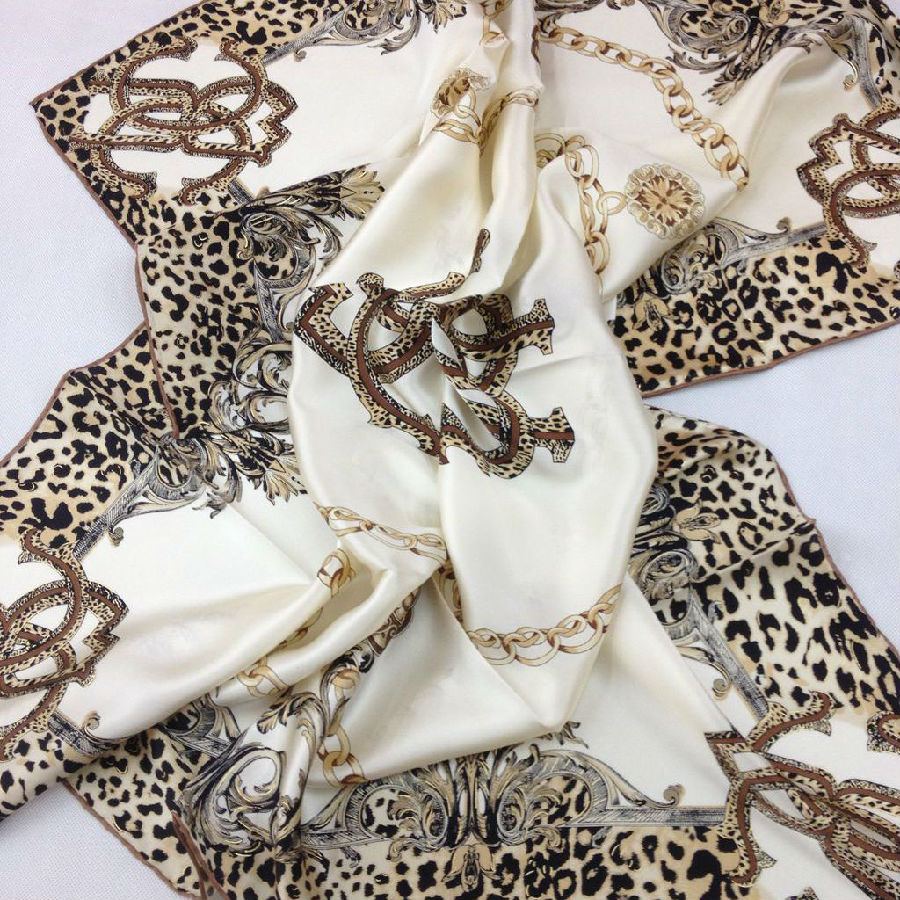 Hangzhou is the city of silk.
杭州是丝绸之城。
Its exquisite silk products have been sold domestically and internationally throughout its long history and have even been recognized by UNESCO.
精美的丝绸产品历史悠久,一直远销海内外,并得到了联合国教科文组织的认可。
Scarves are the city's most popular silk souvenir, highlighting its cutting-edge dyeing techniques.
丝巾作为杭州最热门的丝绸类纪念品,突出了其先进的染色工艺。
The industry leader is Wensli, a homegrown silk brand that's determined to become China's Hermes.
本土丝绸品牌万事利是该产业的佼佼者,志在成为中国的爱马仕。
The company has already purchased renowned French silk company Marc Rozier and hired a former Hermes executive as its CEO.
该公司已经收购了法国著名丝绸公司马克•罗茜,并聘请前爱马仕高管担任首席执行官。
National and international leaders and dignities have worn the company's products on various occasions.
国内外领导人和名流显贵们都曾在众多场合身着该公司的服饰。
You can also get a tailored dress or suit from Wansli's flagship store in Hangzhou Tower, a shopping center dominated by Western luxury brands.
你还可以在万事利的旗舰店定制长裙或套装。店铺位于杭州大厦购物中心,那里云集了众多西方奢侈品牌。
Hangzhou is also home to China's National Silk Museum.
中国丝绸博物馆也坐落于杭州。
7. E-commerce
电子商务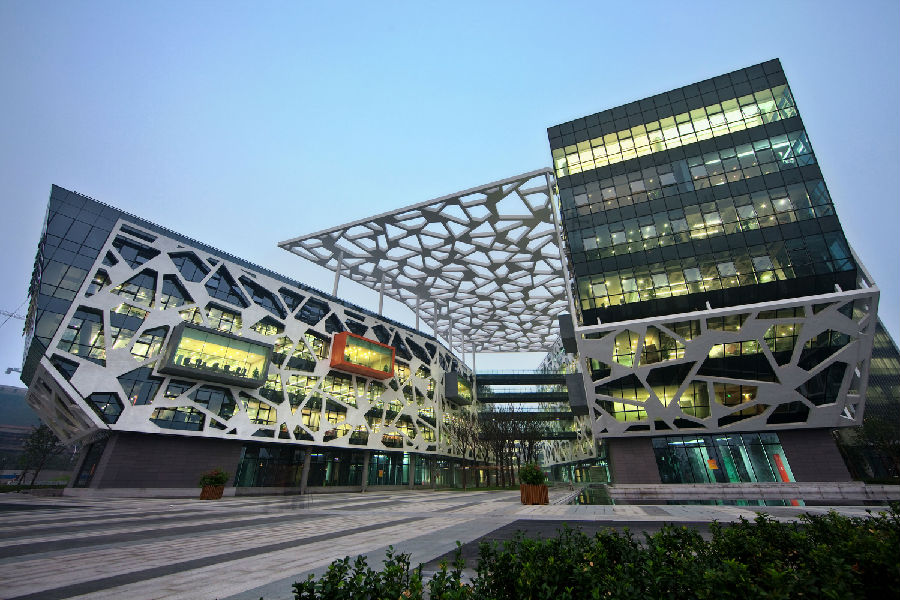 Alibaba, the world's leading e-commerce group, is headquartered in founder Jack Ma's hometown, Hangzhou.
全球领先的电子商务集团阿里巴巴,总部就位于其创始人马云的家乡杭州。
It's single-handedly reshaped the city, once known for little more than natural scenery and cultural heritage.
阿里巴巴一手改变了这座从前仅以自然景观和文化遗产而知名的城市。
Following Alibaba's lead, Hangzhou has morphed into a high-tech metropolis, leading some to call it China's Silicon Valley.
在阿里巴巴的带领下,杭州已转变为一座高科技都市,有人称其为中国的硅谷。
Hangzhou residents can easily get by without a wallet as the app allows them to pay bills with a simple swipe of their smart phones — even at the smallest street restaurants and vegetable vendors.
杭州人民可以不带钱包,轻松出门。有了支付宝,用手机简单一扫就可付款,即使在最小的街头餐馆和蔬菜摊贩那儿也不例外。
8. Zen
禅意悠悠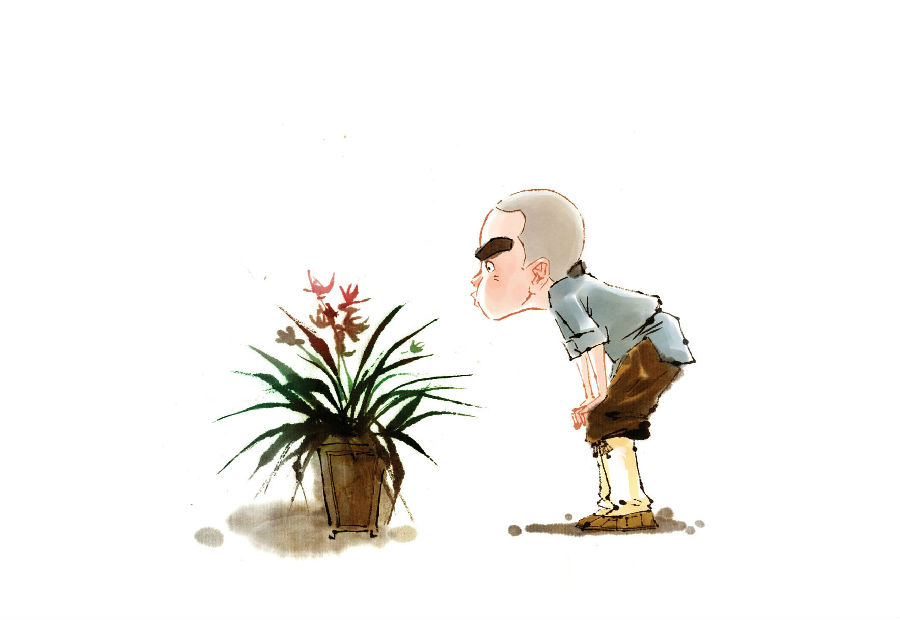 Hangzhou is a major center of Chan Buddhism in southern China and a popular destination for pilgrimages.
杭州是中国南方佛教禅宗的主要中心和热门朝圣地。
Among the top spots for Zen-seekers is Lingyin — which means "soul's retreat." It's one of the country's oldest and most important Buddhist monasteries.
禅宗信徒最爱探访的地方当属灵隐寺——"灵隐"意为"仙灵之归隐"。这是中国最古老最重要的佛寺之一。
Even if you're not interested in the religion, the pagodas and pavilions, bridges and statues offer a sense of how Buddhism is woven into the landscape.
即使你对禅宗不感兴趣,你也可以从这里的宝塔、楼阁、小桥和雕塑感受到佛教文化与地方景观的融合。
9. Hand fans
精致杭扇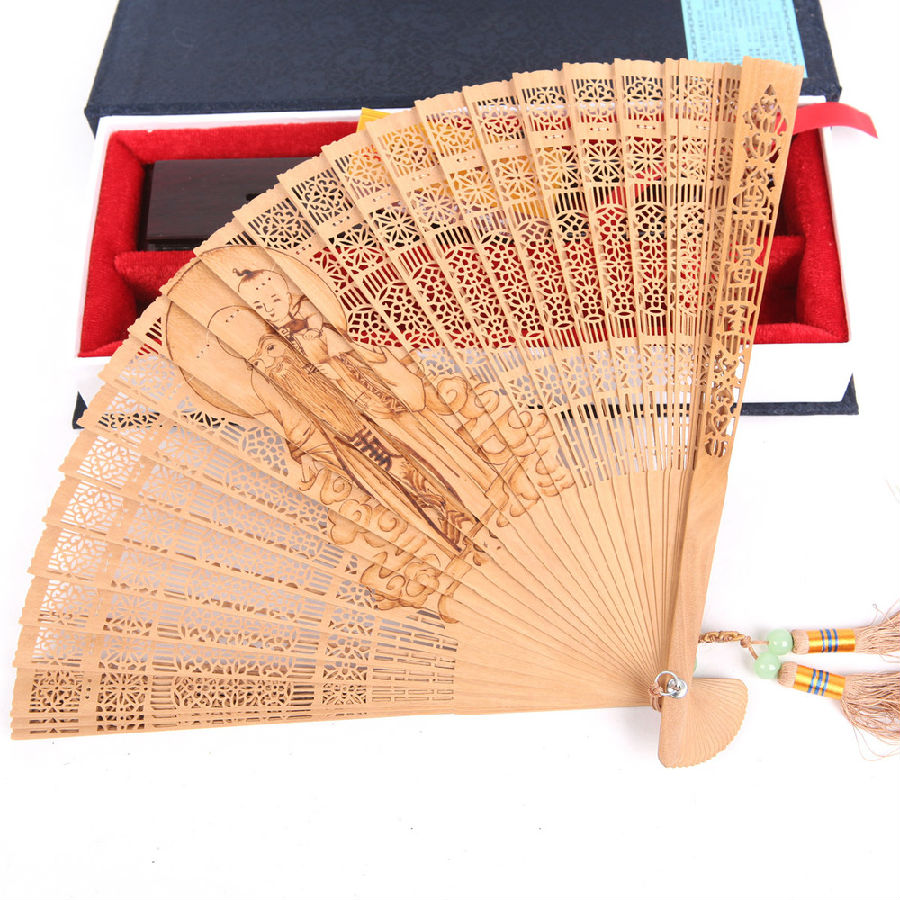 It's said that tea, silk and hand fans are Hangzhou's three unparalleled gifts.

龙井、丝绸和扇子乃杭州三绝。
The most iconic fans are by Wang Xing Ji.
最具代表性的扇子出自王星记。
Established in 1875, this time-honored brand has charmed tourists and locals alike with its intricately designed fans.
这家老字号创于1875年,其设计精巧的扇子令游客和当地人心醉神迷。
Sandalwood and black-paper styles are the most popular.
檀香扇和黑纸扇最受欢迎。
The black-paper fans were once used as imperial tributes. It takes more than 80 procedures to make each one.
黑纸扇曾为皇家贡品,其制作需经过80多道工序。
10. Art and architecture
艺术建筑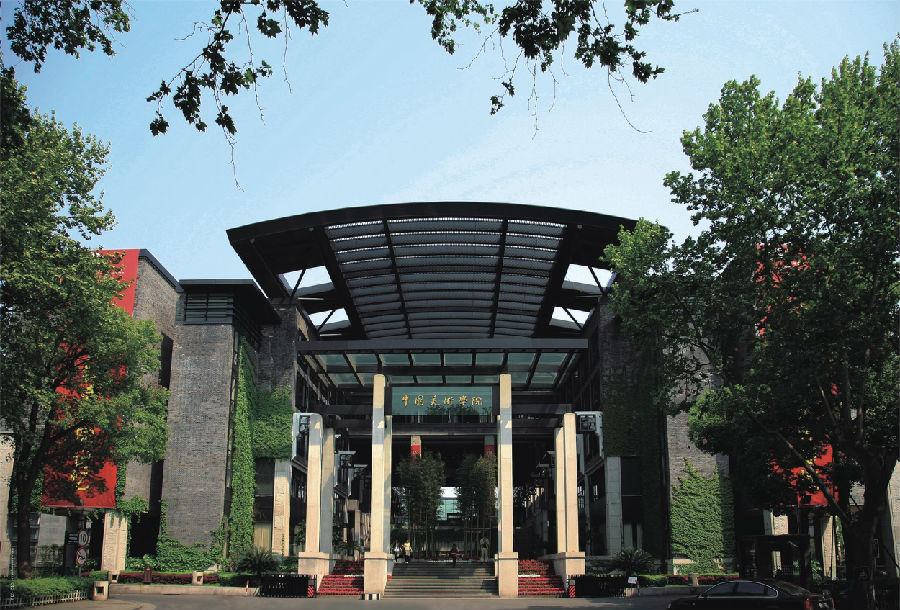 Located on French sycamore-covered Nanshan Road, China Art Academy is one of the country's most prestigious fine art institutions.
南山路的法国梧桐浓荫蔽日,中国美术学院就坐落于此。它是中国最具盛名的美术院校。
The Art Academy was established by some of China's most celebrated painters and educators near West Lake in 1928.
1928年,国内最著名的一些画家和教育家在西湖畔建立了中国美院。
Its students and graduates have made a massive contribution to Hangzhou's robust cultural creative industry.
其在校生和毕业生为杭州繁荣的文化创意产业做出了巨大贡献。
For tourists, the Academy's campus architecture is the biggest draw.
对游客而言,美院的校园建筑最具吸引力。
Dotted with students and instructors' artwork, it's elegant and minimalist, modern but classic.
点缀着师生艺术作品的校园优雅又简约,融通现代与古典。
The open campus is integrated into the West Lake surroundings.
开放式的校园环境与西湖风景合为一体。
Its enclosed modern courtyards and gardens offer a hint of traditional Chinese landscape art.
而其封闭式的现代庭院则体现了中国传统园林艺术。
Wang Shu, the Academy's head of the Architecture School who participated in campus designs, brought home China's first Pritzker Architecture Prize in 2012.
中国美院建筑艺术学院的院长王澍也参与了校园设计。他于2012年获得普利兹克建筑奖,成为第一位获得该奖(也称为"建筑界诺贝尔奖")的中国人。