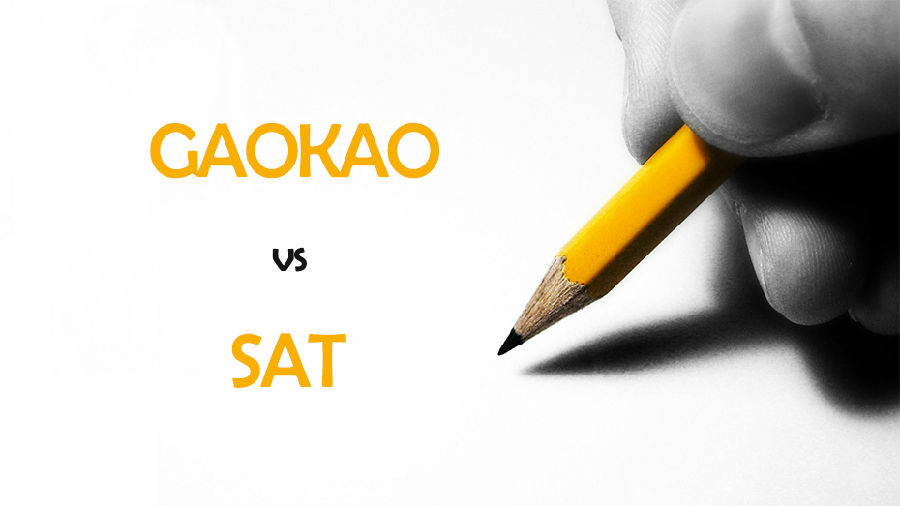 Around 9.4 million Chinese students took possibly the most important exam of their lives. As it's the only way to get into college, gaokao (the annual National College Entrance Examination) is regarded as a make-or-break challenge for Chinese high school students, especially those from poor families.
However, the number of gaokao takers has reduced by 20,000 this year, compared with the number of last year. The data also showed that more and more Chinese students opt for the Scholastic Assessment Test instead; a college entrance exam most commonly required by colleges in America.
To our surprise, the gaokao failures are possibly admitted into Harvard, one of the top universities in the United States. While a top scorer in science from China may be rejected by the 11 elite colleges in America. All these make us wonder about the differences between gaokao and SAT? Why do more and more Chinese students head to the American universities?
The number of the examinees
The number of Chinese gaokao takers was 10.5 million in 2008, reaching a record high, but it decreased by thousands every year. Unlike the situation in China, there is a steady increase in the number of Chinese students who take the SAT in recent years.
Test forms and contents
Gaokao is annually conducted and consists of three major subjects (Chinese, English, Math) and another two integrated subjects: Science (Physics, Chemistry, Biology) or Arts (Geography, History, Politics). In comparison, SAT is more flexible as it offers 5 test opportunities per year and various test forms, from which the test takers can select four or five courses as their testing subjects.
Degrees of recognition of candidates' performance
The candidates' performance in gaokao is only authoritative in Mainland China, Hong Kong, Australia, France and Singapore. But if the students take the SAT, their scores will be recognized in more than 120 countries, except for China.
Tuition and scholarship
It costs about 70-100 thousand yuan for the four-year university life in China, which is relatively cheap. And the scholarship is about 20-100 thousand yuan. In this perspective, American college tuition is much higher, which is about 0.5-1.3million yuan, with scholarships ranging about 0.2-1 million yuan. Obviously, higher education is much more expensive in the U.S.
Application conditions
In China, a student must go back to the place indicated in the household registration booklet to take gaokao tests. Unlike gaokao, the SAT is open to all students of different races or districts.
Life styles in high school time
Without or with few extracurricular activities, Chinese high school students must spare no efforts to study academic courses to fully prepare for the college entrance exam. But for those students preparing for the SAT tests, the situation is considerably different. They start learning foreign courses, taking part in social activities and developing interests in the first year of high school. In the second year, they should take various tests, such as TOEFL, IELTS, SAT, and apply for universities, as well as participate in social activities and cultivate interests. In the third year, they just need to complete the remaining courses to get the remaining credits if they have been admitted into the universities in the U.S., while those who haven't been admitted into universities will continue their working hard.
Life styles in university
For Chinese university students, they indulge themselves in entertainments from the day they start university life, as they've accomplished the mission to pass the most important and challenging exam – gaokao. On the contrary, the engaged life just starts for those students in American universities. They select courses, socialize and practice outside, and also enjoy entertainments during the university life.
Different salaries after graduation
The average salary of Chinese undergraduates is about 2,700 yuan per month, while their American counterparts can earn $3,000 per month. For the overseas returnees, they can get an average salary of 7,000 yuan per month in the first year after graduation, and 26,000 yuan per month from the fifth year.
Note: the digits in this article are from sohu.
The article is translated and editted by Chinlingo. Please indicate the source for any use, reproduction or transfer.
本文由Chinlingo编译后发布,如需转载,请标明来源。