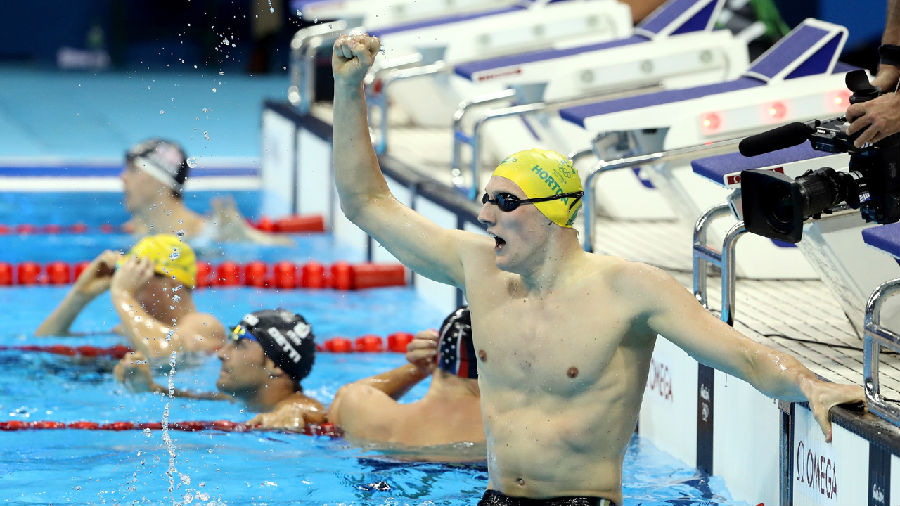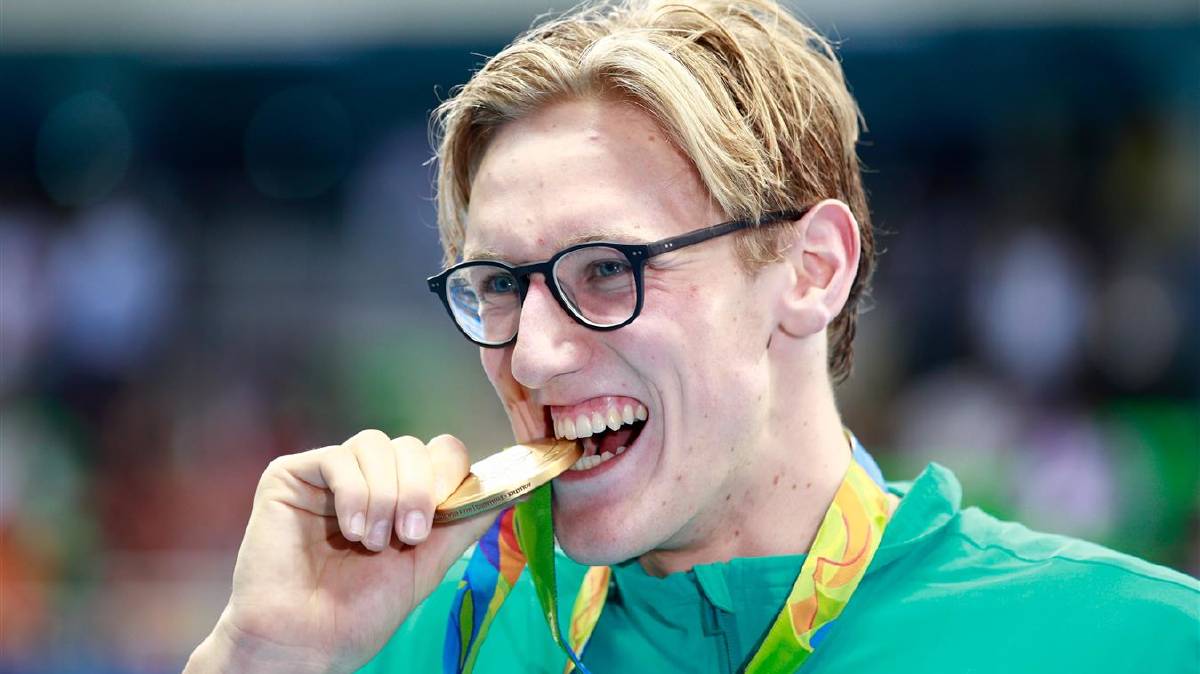 On Day 1 of Rio Olympics, Australian swimmer Mack Horton (3:41.55) beat the Chinese rival Sun Yang (3:41.68) by a very narrow margin and became the 400m freestyle gold medalist. But he soon came under fire for calling out "drug cheat" Sun Yang.
It's not the point where the feud begins. The two have history.
Before the Olympics began, Horton seems to have been perturbed by Sun, first for Sun's 3-month doping ban in 2014, second for splashing Horton in the face during a training session in Rio. Actually, Sun had been suffering from chest pains, and he received a medication containing trimetazidine, but he didn't know it's a doping then.
"I just have a problem with athletes who have tested positive and are still competing," Horton said. He also explained why he ignored Sun's splashing water to say hello in his lane, saying"It kind of got played up in the media. He just kind of splashed me but I ignored him because I don't have time or respect for drug cheats. He wasn't too happy about that so he kept splashing me. I just got in and did my thing."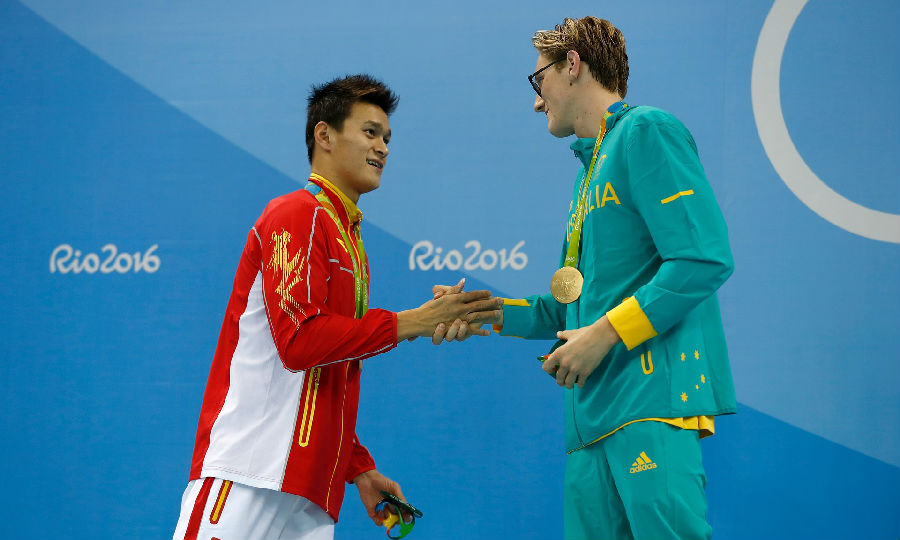 Chinese internet users are also irritated about Horton snubbing Sun's attempt to shake hands after his victory.
At the post-race press conference, Horton again called Sun a "drug cheat", ignoring the fact that Sun was sitting next to him.
Soon, Sun hit back, "That is just the gimmick of the Aussie swimmer," he said. "Every athlete deserved to be respected on the competition stage, and there's no need to use cheap tricks to affect each other." Yang also defended himself, "I don't care too much what the Australian athlete says … I'm clean; I've done everything it takes to prove I'm clean," he said.
Footage of Sun bursting into tears while attempting to give an interview in the media mixed zone immediately after the race went viral on Chinese social media. The top-trending hashtag "Sun Yang Don't Cry" (#孙杨不哭) had more than 47 million views on China's Twitter-like Weibo within hours. While Horton's Facebook, Twitter and Instagram accounts have been flooded with comments from Sun's fans, demanding an apology to Sun Yang.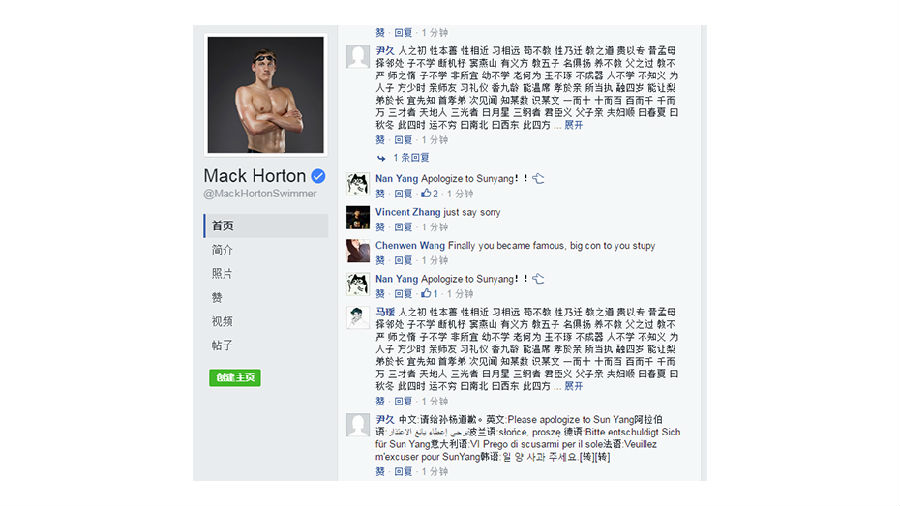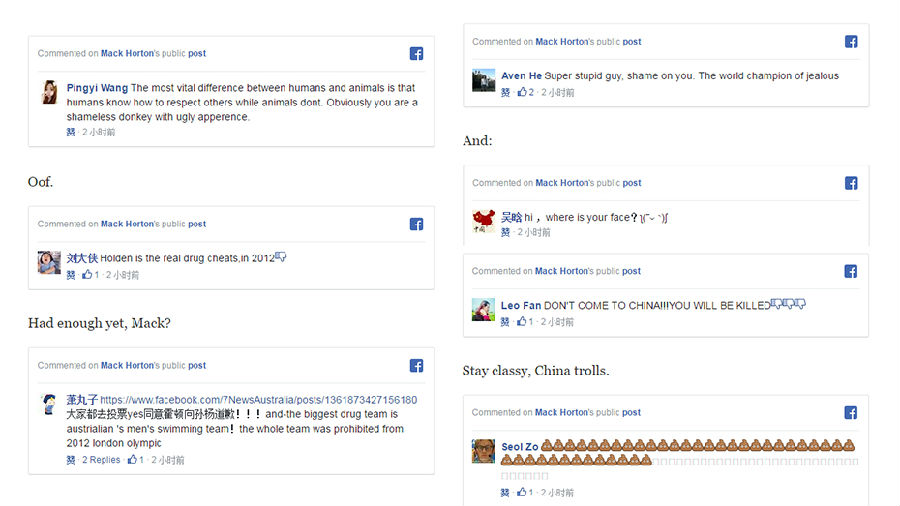 The Chinese Swimming Association then issued an official statement, urging Horton to apologize for his malicious personal attack on Sun Yang.
"We have been noticing what has been said in the past two days by Horton, who launched a malicious personal attack," team manager Xu Qi told Xinhua news agency.
"We think his inappropriate words greatly hurt the feelings between Chinese and Australian swimmers. It is proof of a lack of good manners and upbringing.
"We strongly demand an apology from this swimmer."
The Australian Olympic Committee made a quick response, standing behind their swimmer:
"Mack is entitled to express his point of view. Under the team values, ASPIRE, the 'E' stands for express yourself; that is his right.
"He has spoken out in support of clean athletes. This is something he feels strongly about and good luck to him."
So Horton was provided a high horse, and he climbed directly on it.
"Definitely a win for the good guys," Horton said. "I don't know if it's a rivalry between me and him, just me and athletes who have tested positive."
This feud isn't over, either.
Sun Yang said on Sunday: "in 1,500, I am the king", saying he was "no friend" of the Australian. It's true. Sun is now the world record holder and defending gold medalist in the 1,500 free. Horton has the second-fastest time in the world this year. Let's stay tuned for the race Saturday.
The article is editted by Chinlingo. Please indicate the source for any use, reproduction or transfer.
本文由Chinlingo编辑后发布,如需转载,请标明来源。