Futuristic and cool? But it's a real bus undergoing a test run in Qinhuangdao, China.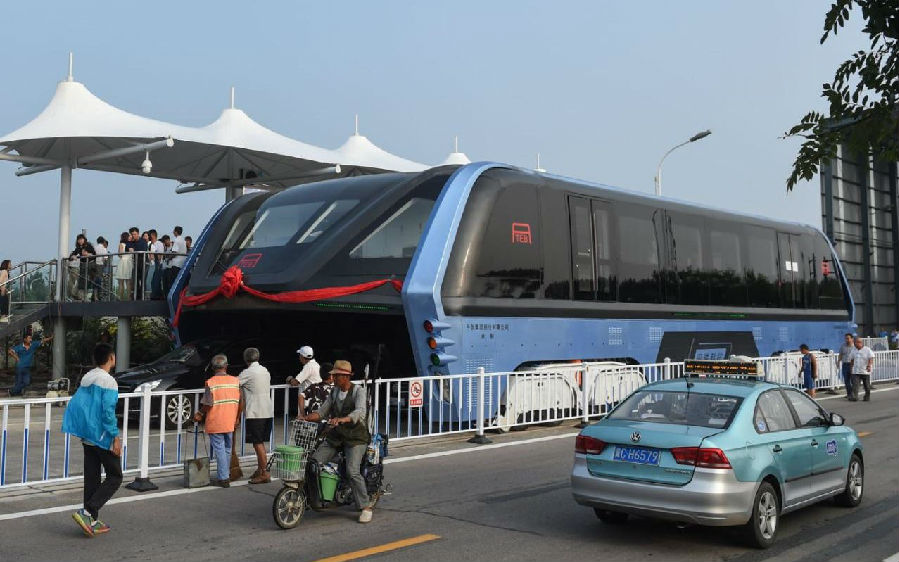 Firstly unveiled in 2010, the straddling bus, officially named Transit Elevated Bus or Transit Explore Bus (TEB), was dreamed up as a solution to the severe traffic problems in China's major cities. The bus, purely powered by electricity, allows commuters to soar over the tops of cars on the increasingly congested roads. Different from the cars, the TEB runs on 16 tired wheels and is guided by pairs of rail wheels laid along the roadside, more like a cross between a tram and a bus.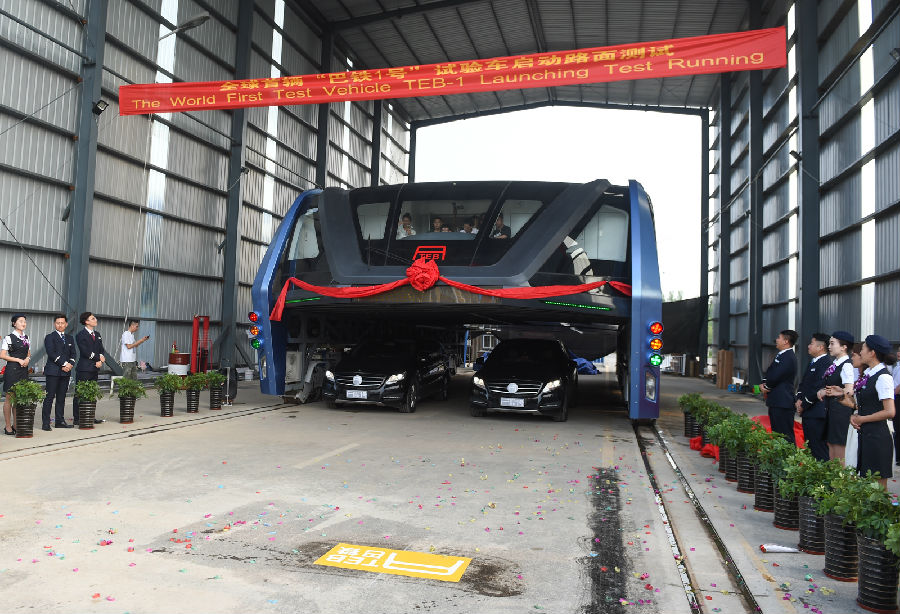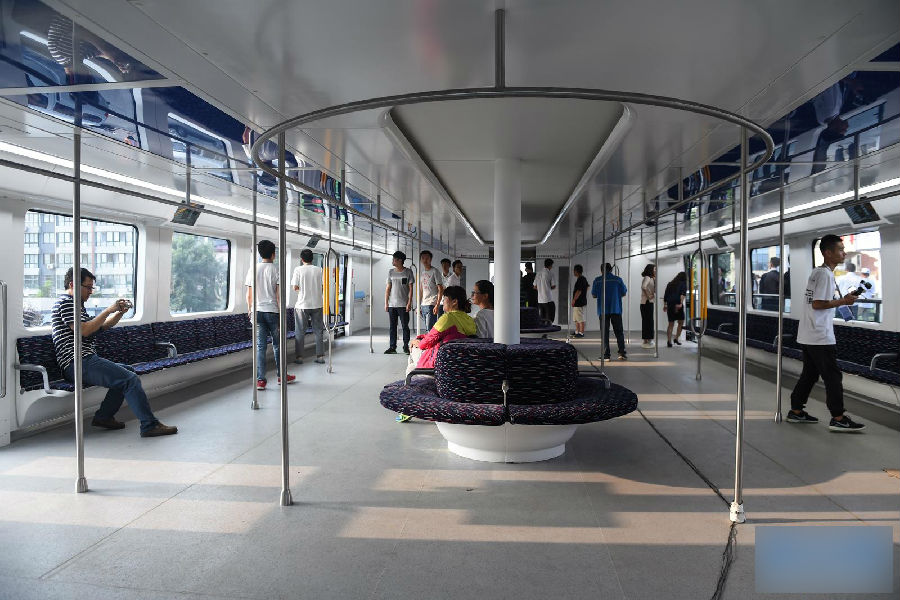 The test run of the TEB scale model was carried out on a 300-meter-long controlled track. Each bus is 22 meters long, 7.8 meters wide and 4.8 meters tall, and can carry up to 300 passengers each time at the speed of 40-50km/h. Cars can pass underneath the bus, moving or stationary. It's spacious inside, a bit like an enlarged subway train as opposed to having long rows of seats like a ferry. The bus is estimated to reduce traffic jams as much as 30%, for it can save lots of road space.
Song Youzhou, the inventor and chief engineer of TEB, says prototypes are being constructed, and that five cities — Nanyang, Qinhuangdao, Shenyang, Tianjin and Zhoukou — have signed contracts for pilot projects. The TEB has also attracted interest from governments in Brazil, France, India and Indonesia
Take a look at how people think about it:
FlanCaster, London, United Kingdom
I can't believe they bothered to build this; it assumes that all other traffic forms in neat, orderly, straight lines that leave enough space for the bus' tracks to pass through. Have the inventors never seen a road in use?
他们为什么要造这个?不可思议。还要让所有车辆整齐有序排成直线让TEB有足够的空间行使,不至于轨道被占用。难道发明人就注意到路面情况吗?
Nixliberalis, Newtown, United States
If adopted, watch some genius with insufficient top clearance try to drive under it and get stuck, like what happens here with some low railroad trestles.
如果被采用,我倒要看看这些天才怎么被卡在下面,就像这边的一些比较低的铁路高架桥。
globalnicky87, Kuantan, Malaysia
Best invention ever. Will do nothing but good to traffic. Should have this everywhere. Fraction of the cost of a monorail.
有史以来最好的发明!对交通很有利。所有地方都应该有这种车辆,造价相比单轨电车真是小巫见大巫。
kenjohnson, Foobar, United Kingdom
It's a tracked vehicle, just like the Bennie Railplane, q. v., built in 1921!
有轨汽车而已,就像1921年制造的Bennie导轨刨。
Chinese:
Funny…I guess it will be battered underneath in two days.
好搞笑。。。。我估计开不了两天下面就会被撞成稀巴烂。。。
It's more likely to cause traffic accidents. If the TEB collides with cars, all rides will be postponed.
交通事故会明显上升的!而且影响会比较大!你这空中汽车跟小汽车发生碰撞后边的所有班次都会被延误。
It's the first time an idea has come true so quickly. I remember I just saw the concept not long ago.
第一次如此快地实现了,明明不久前才看的设计理念。
Awesome! You fools get shut up! It's just a test run, and the disadvantages need to be overcome. What are you complaining about?
太牛逼了。喷子闭嘴,这是在实验中,没有上路,不足的地方肯定要慢慢改进的,叫个屁。
The invention of the new bus will change the traffic rules in some way. The subway is being constructed, but I'm also longing for this new bus in place.
的确这种新车型的出现,会一定程度上改写道路交通制度。尽管家乡的地铁还在建,也很期待这种新型公交。
It's something like a big fish swallowing little fishes.
有种大鱼吃小鱼的感觉。
The article is translated and editted by Chinlingo. Please indicate the source for any use, reproduction or transfer.
本文由Chinlingo编译后发布,如需转载,请标明来源。