It seems hard for Taylor Swift to shake off bad luck. Recently, Taylor has been involved in the feud with Kanye West and his wife Kim Kardashian, and the feud may now be more "Famous" than the song itself.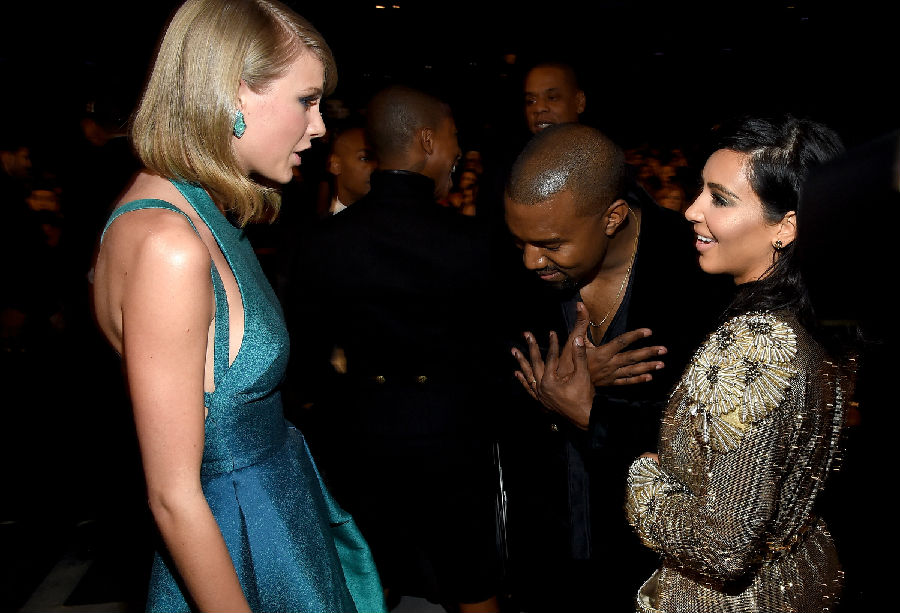 Recently, Kim Kardashian released her Snapchat video featuring Kanye's phone conversation with Taylor Swift over the lyrics to his song "Famous", to show Taylor Swift approving the song. One part of the song goes: "I feel like me and Taylor might still have sex. Why? I made that bitch famous."
Swift hit back that she never approved being called a "bitch" and that the video being secretly recorded and then released into the world is a violation of California law. The internet is now explosive with this celebrity slugfest.
To win over the Chinese internet, Taylor posted an official statement on her Weibo account: "That moment when Kanye West secretly records your phone call, then Kim posts it on the Internet. 当坎耶•维斯特偷偷地录下了和你的通话,然后金•卡戴珊把它发在了网上。"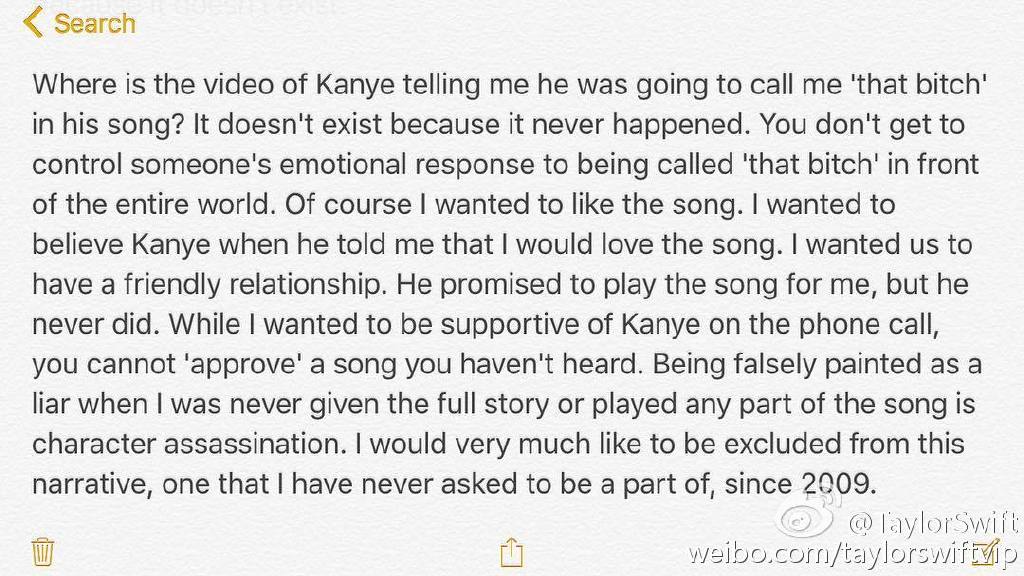 The post has received over 27,000 likes on Weibo along with over 11,000 comments. And most of the comments are firmly in support of the pop princess:
Meimei, always support you. Don't care about what others say, let's Shake It Off! Come on! (Sorry, my English isn't very good).
"霉霉,永远支持你,不要在乎别人怎么说,远离这些言论!加油!(不好意思,我的英语不是很好)。"
Why would any sane person record a phone call when you're talking with your friend? If he's not plotting against her, I don't know what he's doing. As for her statement, I honestly have no idea why people hate her so much. What's wrong with her defending herself when the world turns against her?
作为一个正常人,为什么要把你和朋友的通话录下来呢?如果他不是有意的,我不知道他在做什么。对于霉霉的解释,真心不知道大家为什么这么讨厌她。她被人攻击后维护自己,何错之有?
I have two questions: why did he record the phone call in the first place? And why didn't she get upset when she heard the phrase 'I think me and Taylor might still have sex?' Meh, Hollywood is really complicated.
我有两个疑问:为什么他一开始就要录下通话内容?为什么卡戴珊听到"I think me and Taylor might still have sex?"的时候居然不会生气?哎,好莱坞确实好复杂!
I love Taylor Swift and I will never insult her in the way haters do. If some fans want to leave her because of this video, so be it. I will always support her no matter what happens.
我喜欢霉霉,我永远不会像嫉恨她的那些人一样去侮辱她。如果有粉丝因为这个视频就不喜欢她,那就随他去吧。不管发生什么,我永远支持她。
My English is not that good but what I want to say is: Life it is never easy especially when you are kind and famous. I love your song so so so much! And I hope you will make more song tomorrow and I will buy your Music Album forever. And I love you ~ (posted in English!)
更有一位铁粉用英文评论,意思是:我的英文不太好,但我想说的是:生活不易,特别是你这么善良这么出名。我太太太喜欢你的歌了!希望你将来创作更多优秀的歌曲,我永远都会买你的专辑。爱你!
How do you think about the feud between them? Which side do you take?
Why is Taylor Swift called 霉霉 by Chinese?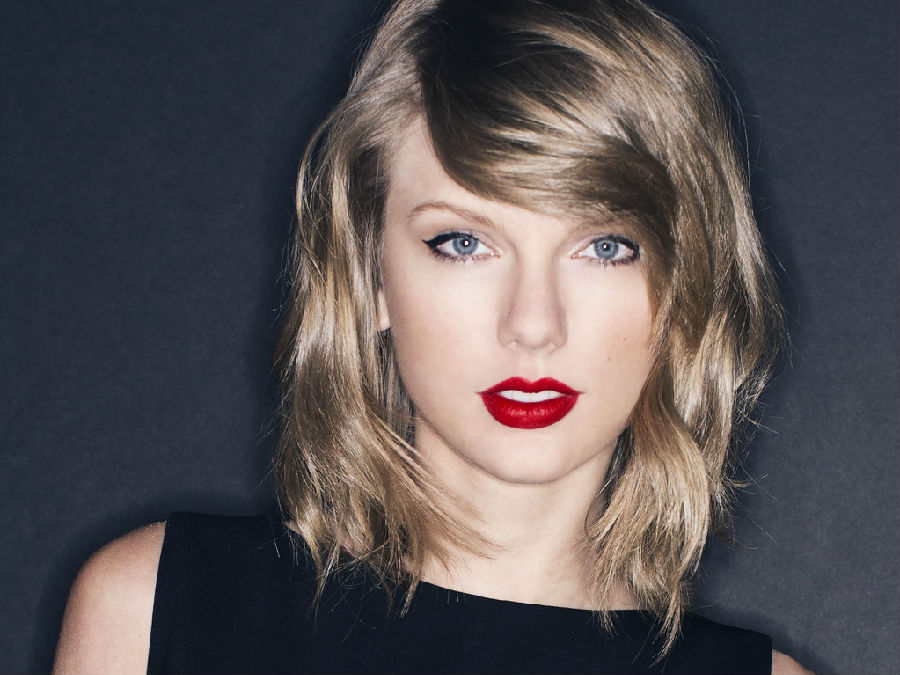 Pretty much every Western celebrity gets a Chinese nickname. For example, Katy Perry is "Fruit Sister", Benedict Cumberbatch is "Curly Blessing" and Taylor Swift is "Meimei" in China, with a literal meaning of "moldy" and "unlucky."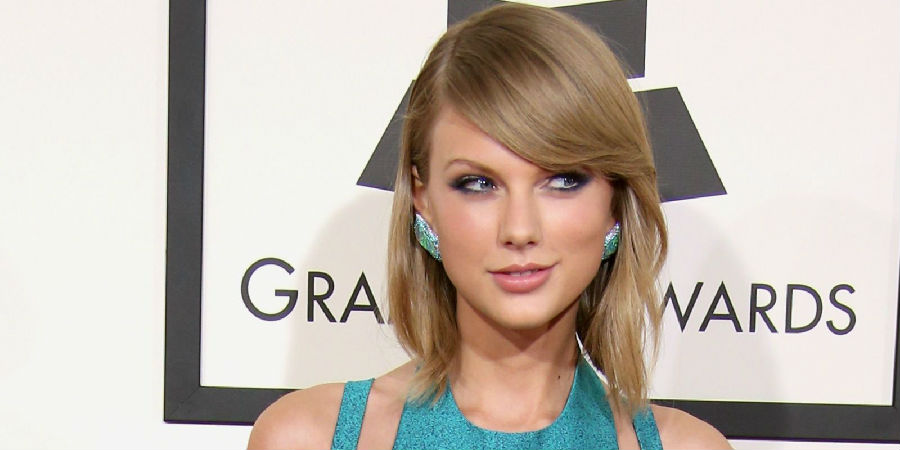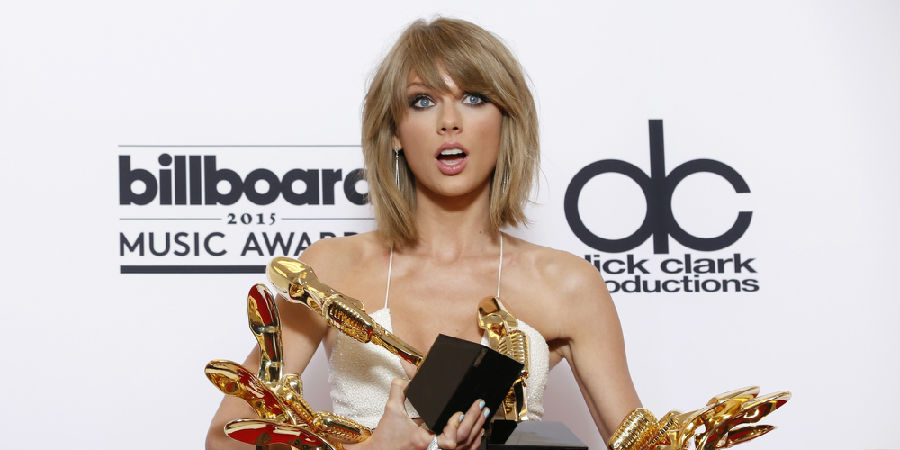 Why "Meimei"? In the eyes of the Chinese fans, Taylor is a beauty, and "beauty" (美眉- měi méi) in Chinese is pronounced almost in the same way as "moldy" or "unlucky" (霉霉 – méi méi). It's a nickname Chinese fans give Taylor Swift to console her for losing several Grammys to her competitors. Every time Taylor debuts a strong single aiming at crowning the Billboard Top 100 ranking, she bumps into different 'evildoers' and has to be stopped as a runner-up. The nickname is "unlucky", but in a loving way.
The article is translated and editted by Chinlingo. Please indicate the source for any use, reproduction or transfer.
本文由Chinlingo编译后发布,如需转载,请标明来源。