‍‍
Wu Hongyu, 20, a student at Guangdong University of Technology in China, saw a classmate's motorcycle being stolen on campus and hopped onto his bike to chase down the thief, but was severely injured when the two bikes collided; he died in a hospital shortly after on 23 May, one day before Overwatch was released. The police eventually arrested the thief, and the government of Guangzhou gave Wu a "Courageous Citizen" award for his bravery.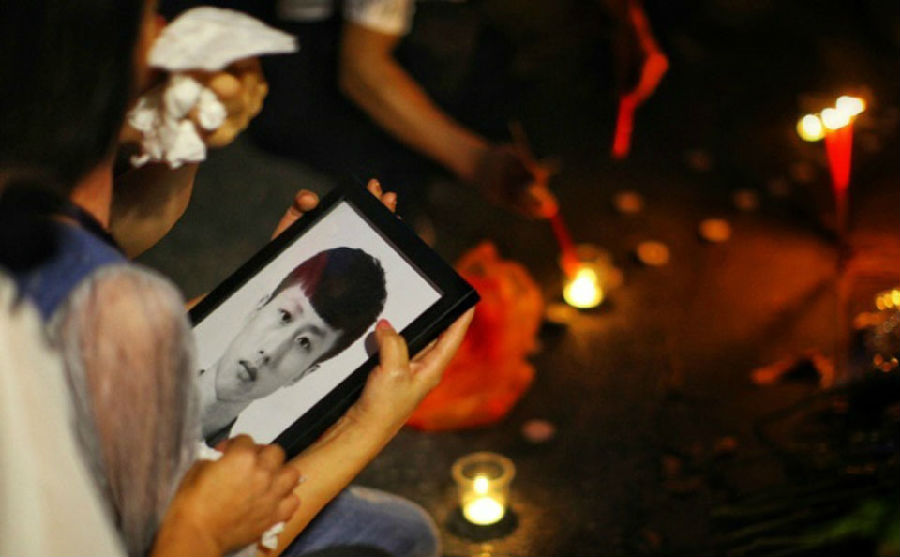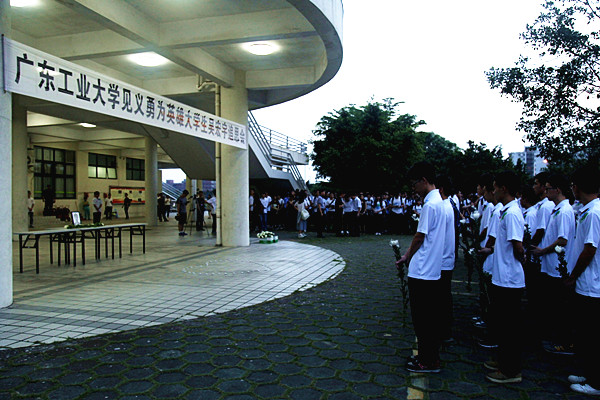 According to his last words posted on a group chat, Wu was very excited about the launch of Overwatch in China. "Is anyone else waiting for the launch tomorrow?" Wu asked.
A Internet user wrote an email to Blizzard, hoping they can do something for him.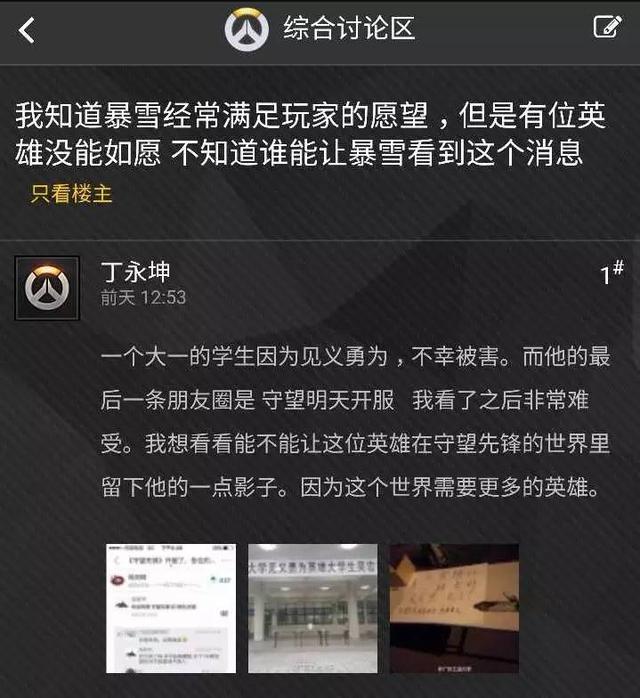 Then to honour the young hero, Blizzard added the name Hongyu in Chinese to one of the spacesuits in the Overwatch map Lijiang Tower. They also emblazoned the phrase "heroes never die" in Chinese on the red banner behind the suit as well.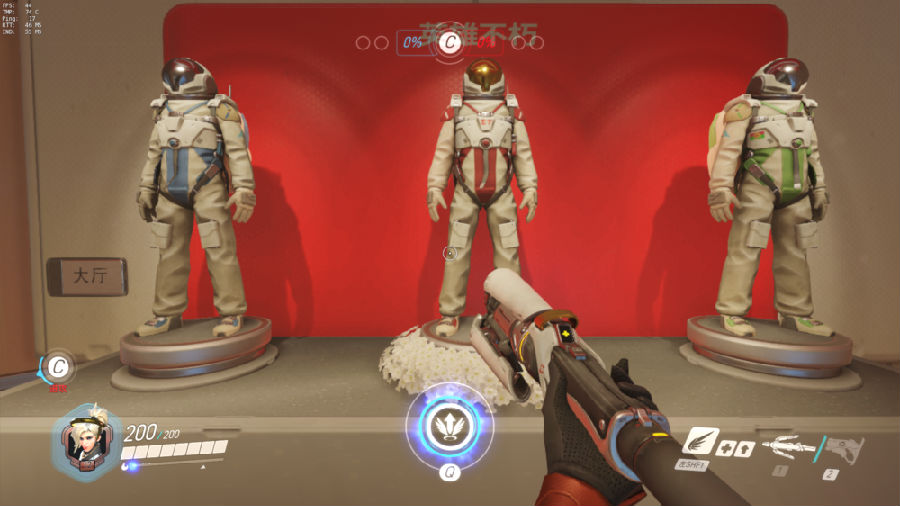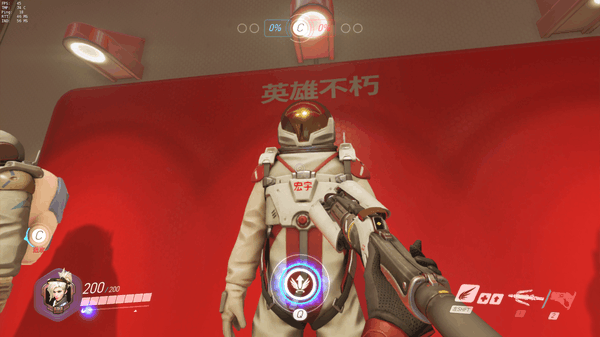 The Overwatch community also advocated the fans to take some time to lay flowers to that hero when battling in Lijiang Tower.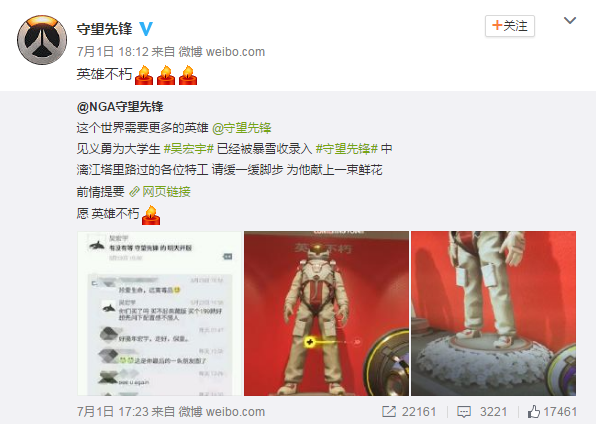 Lots of game players were touched by this move of Blizzard:
However, there were still some oversea netizens having different opinions: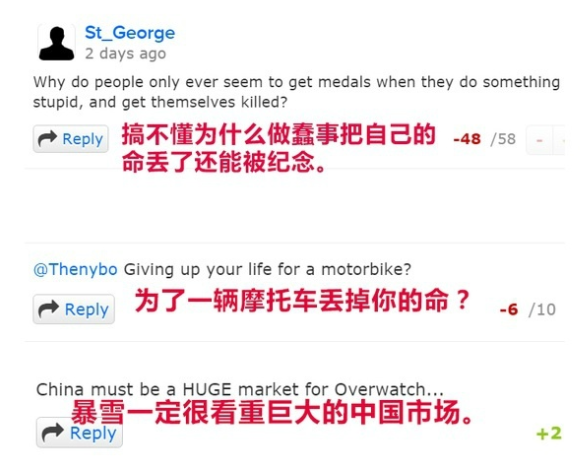 But there were more people respecting Wu's behavior and backing for him with the following words: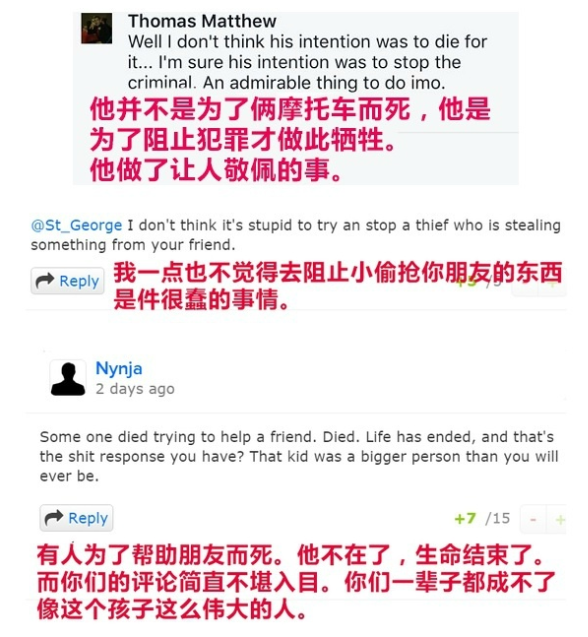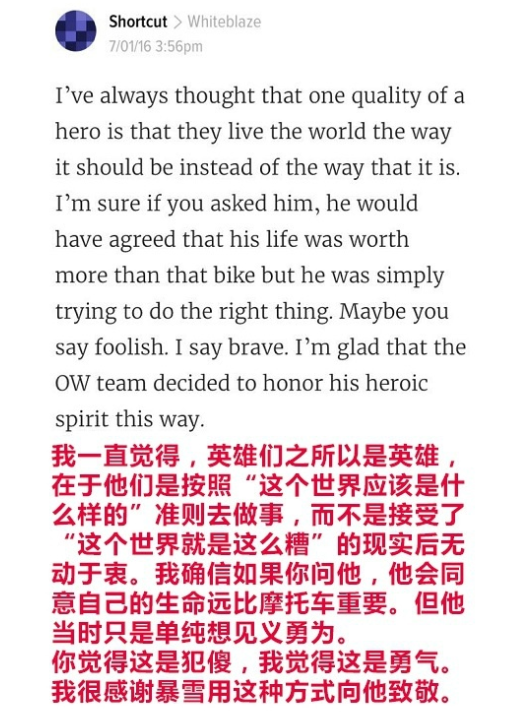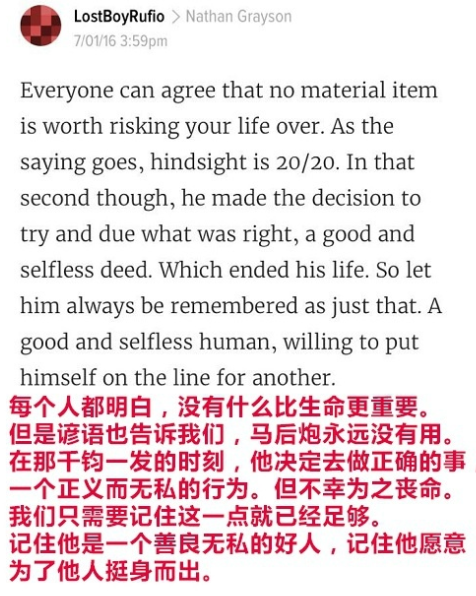 And then others said they might need a moment for crying: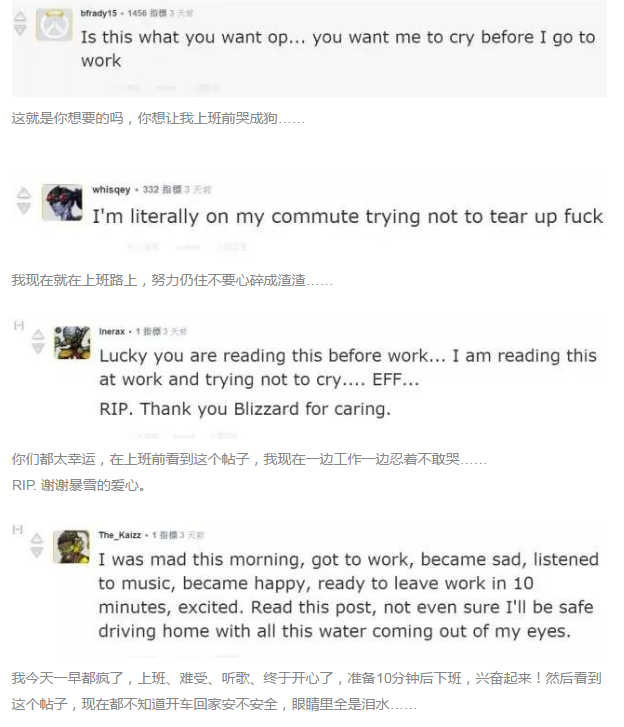 What's more, many foreign media have reported this touching news.
Here was what the gaming website Polygon said: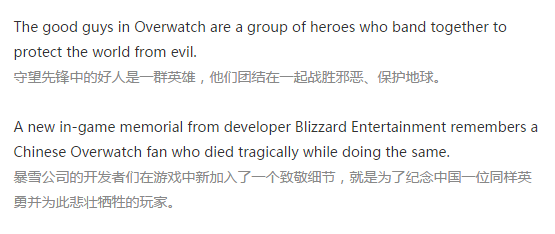 And GameSpot: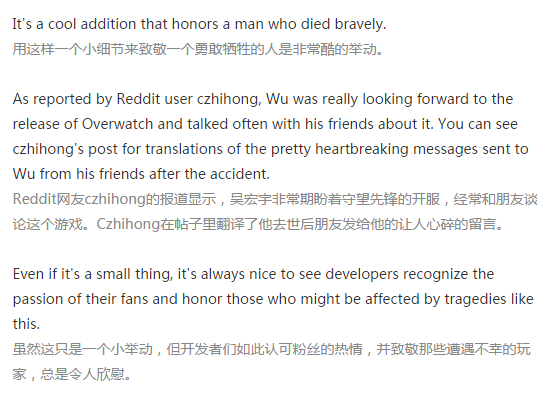 A Blizzard representative confirmed the tribute to Polygon, saying, "We added that in remembrance of a brave member of our community."
In fact, this isn't the first time Blizzard has done something like this. World of Warcraft is filled with tributes to players who have died over the years, in the form of shrines, quests and nonplayer characters. For example:
Owen's wishing well was made in commemoration of a young man named Brian Owen Wicks who was diagnosed with Osteosarcoma and died at the age of 16.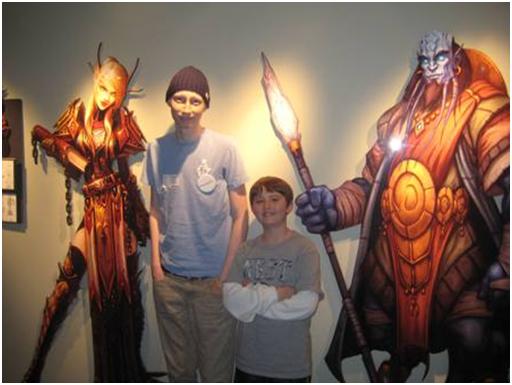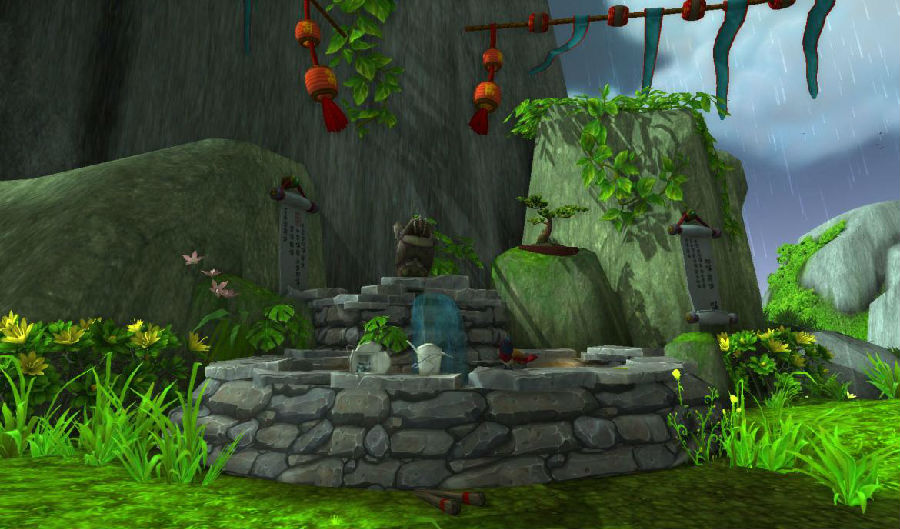 Ezra Chatterton, a brain cancer patient from California, was a fan of Warcraft. He visited Blizzard's offices in 2007 but died the next year. The character "‍‍Elder Ezra Wheathoof" in ‍‍Warcraft was designed to commemorate him.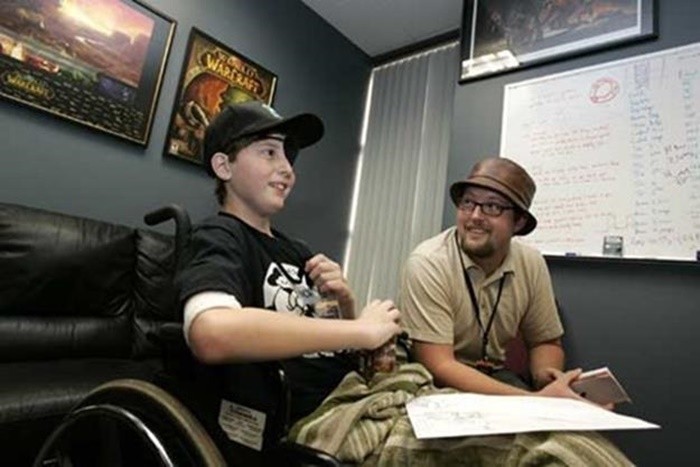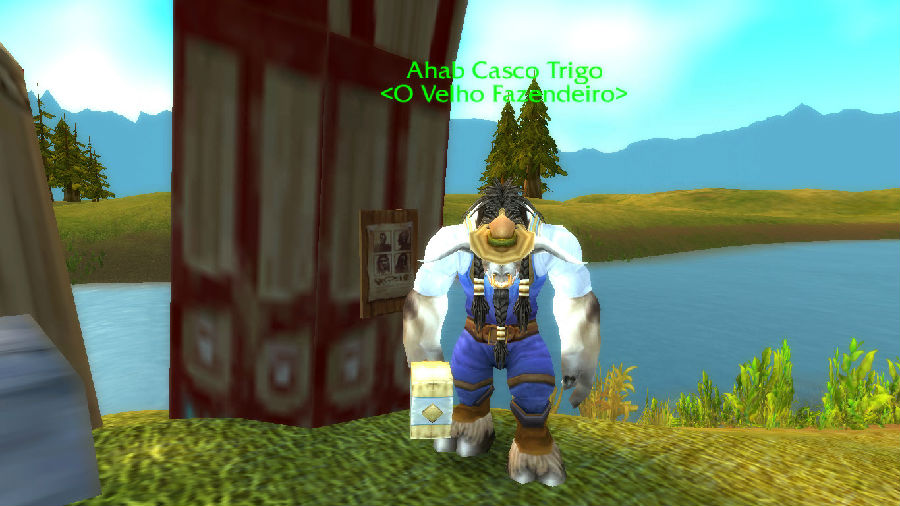 Scribe Chi-Yuan, a NPC located in Ashran's Alliance hub Stormshield, was based on a Chinese player named Cao Zhiyuan who fought with bone cancer for years but died at 22 in 2014.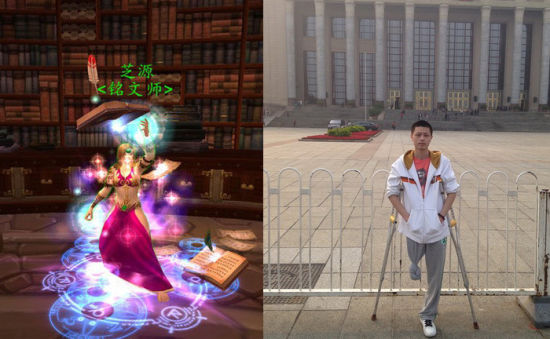 Finally, let's end the story with a poem said by a NPC in Warcraft:
Do not stand at my grave and weep,
不要在我的墓碑前哭泣,
I am not there, I do not sleep.
我不在那里,我没有长眠。
I am in a thousand winds that blow,
我是凛冽的寒风,
across Northrend's bright and shining snow.
掠过诺森德的雪原。
I am the gentle showers of rain,
我是温柔的春雨,
on Westfall's fields of golden grain.
滋润着西部荒野的麦田。
I am in the morning hush,
我是清幽的黎明,
of Stranglethorn's jungle, green and lush.
弥漫在荆棘谷的林间。
I am in the drums loud and grand,
我是雄浑的鼓声,
the thunderous hooves across Nagrand.
飞越纳格兰的云端。
I am the stars warmly gleaming,
我是温暖的群星,
over Darnassus softly dreaming.
点缀达纳苏斯的夜晚。
I am in the birds that sing,
我是高歌的飞鸟,
I am in each lovely thing.
留存于美好的人间。
Do not stand at my grave and cry,
不要在我的墓碑前哭泣,
I am not there. I do not die.
我不在那里,我从未长眠。
Any kind of heroes should be honored and remembered in our heart, right? Have you ever encounted those characters in the game? Any thoughts about those heroes?‍‍