‍‍
Whether you're in Hong Kong or Shanghai, get ready to drink lots of tea. And when a server fills your cup, show your appreciation the way the locals do. Instead of saying thank you, quietly tap your fingers on the table during the pour.
不论是在香港还是在上海都要做好喝各种茶的准备。当服务员给你倒满茶时,要用当地人的方式表达你的谢意。你要做的不是说谢谢,而是在服务员倒茶时用手指轻轻敲敲桌子。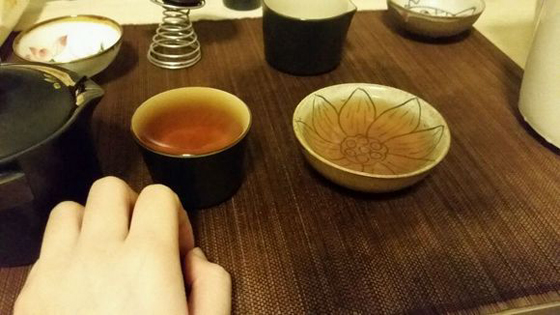 Legend traces this etiquette back to a Chinese emperor who liked to travel the countryside incognito. When he refilled his companions' cups, they would tap their fingers rather than bow before him, so as not to blow his cover. The practice endures both in Hong Kong and the mainland, but with variations. In Hong Kong, people tend to tap two fingers — the pointer and middle finger. In Shanghai, they usually add the ring finger in as well.
据传,这项礼节可追溯至中国的一位皇帝,这位皇帝喜欢微服出访。当他给同行者续茶时,他们就会用手指轻轻敲几下,不是叩头谢恩,为的是不暴露身份。这种做法在香港和中国内地流传下来,但两地的做法也有所不同。在香港,人们一般用两个手指——食指和中指。而在上海,人们通常还会用无名指。
At one restaurant in Hong Kong, a waitress tells me I should be tapping only with my pointer. But the manager insists two fingers was right.
在香港一家餐馆,一名女服务员说应该只用食指敲桌子。但餐馆经理坚持认为用两个手指敲桌子是正确的。
This isn't the only link between tea and fingers. Around Shanghai, the most prized tea is picked early in the season by young girls with delicate fingers.
这还不是茶与手指之间的唯一联系。在上海,茶中的珍品都是年轻女子在初春季节用纤纤细手采摘下来的。
One final piece of finger etiquette: When visiting temples, pointing is considered disrespectful.
还有一项有关手指的礼节:在参观寺庙时,用手指指佛像被认为是一种失礼。‍‍
Watch this video for more details:
看看下面的视频了解更多吧:
The article is translated and editted by Chinlingo. Please indicate the source for any use, reproduction or transfer.
本文由Chinlingo编译后发布,如需转载,请标明来源。