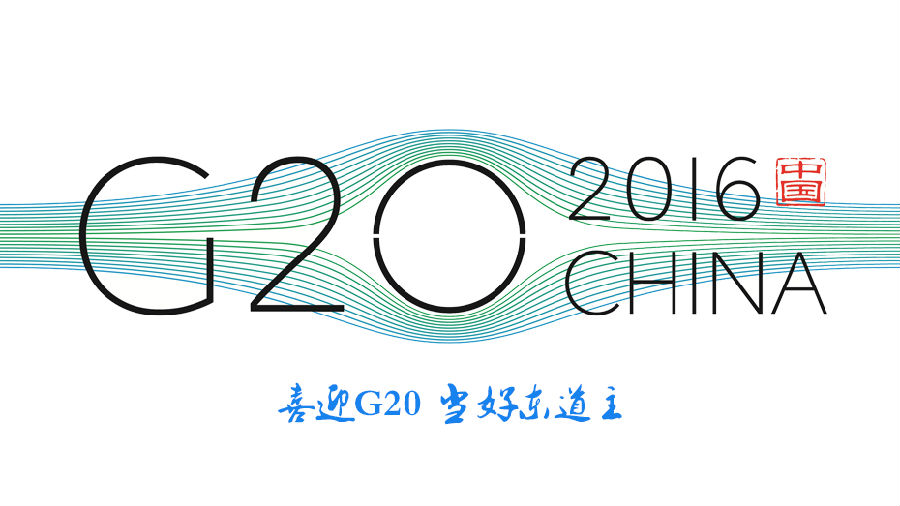 The 2016 G20 Summit will be held in Hangzhou this September. To impress the guests with hospitality, Hangzhou has published a brochure called Fast Learning: 100 English Sentences for the locals to receive foreign guests and introduce this picturesque city to them.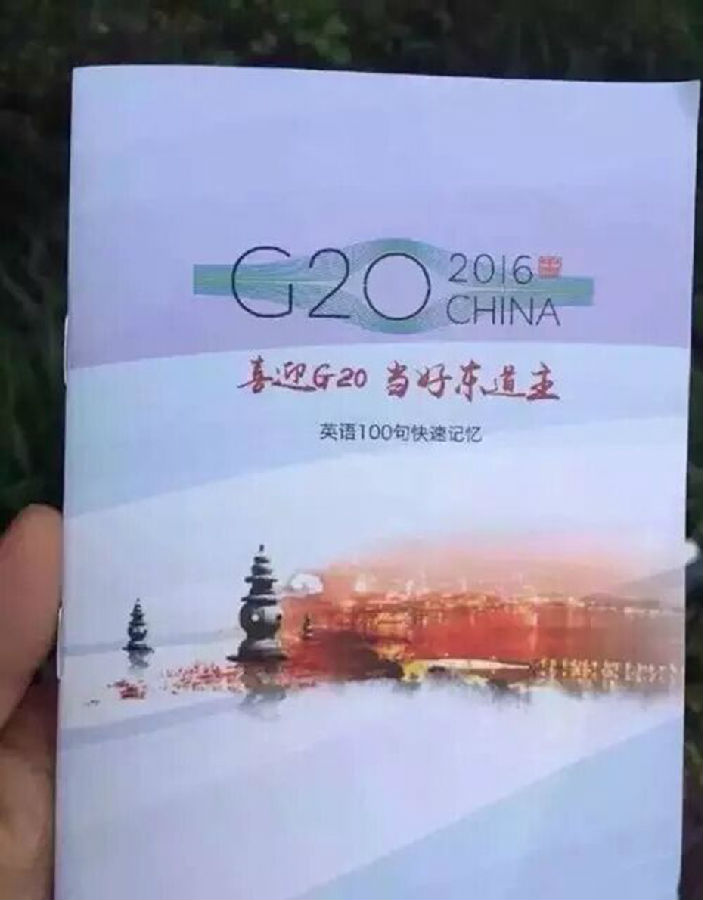 Supposed to be a useful language learning brochure, it has gone viral and become a laughingstock for the broken Chinese annotations. Let's take a look: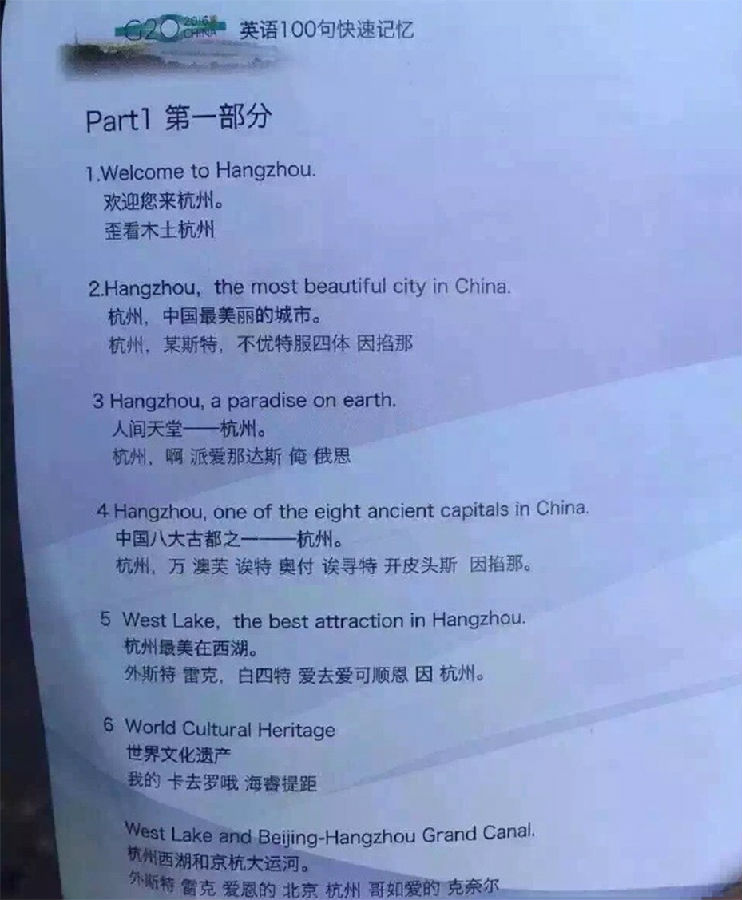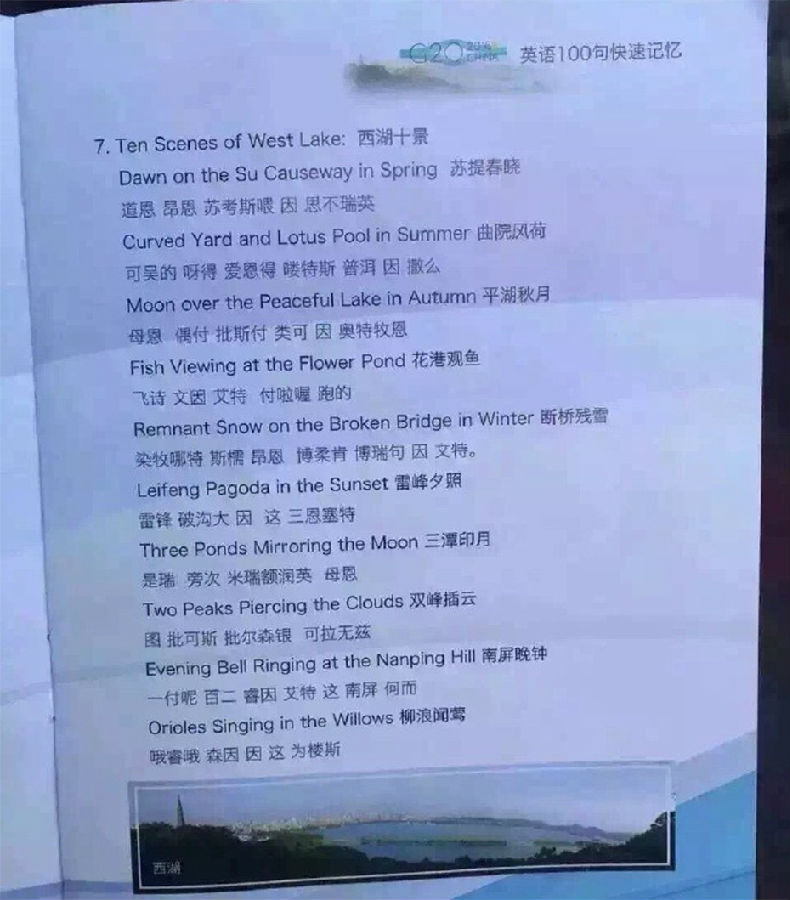 Welcome to Hangzhou.
歪看木土杭州。
Hangzhou, the most beautiful city in China.
杭州,某斯特,不优特服四体 因掐那
Hangzhou, a paradise on earth.
杭州,啊 派爱那达斯 俺 俄思
Dawn on the Su Causeway in Spring
道恩 昂恩 苏考斯喂 因 思不瑞英
Three Ponds Mirroring the Moon
是瑞 旁次 米瑞额润英 母恩
Puzzled? Funny? Ridiculous? What on earth is that?!
However, Zhang Feng, a local government official, recently claimed that the brochure was not the real official version. But the Chinese netizens won't let go of any chance to ridicule funny things.
Let's see how the brilliant Chinese netizens respond.
Shi Yue Jiang Nan posted on Weibo: "To be honest, as a Hangzhou native, I find the pronunciation is absolutely correct if I read it in Hangzhou dialect."
十月江南:"不骗人,杭州人。带杭州方言读,发音完全正确!"
Xiao Yaonv: "My mom won't be worried about my English any longer. Hah hah, I want to be a qualified Hangzhou resident to receive foreign visitors during the 2016 G20 Summit. "
小妖女:"妈妈再也不用担心我的英语了!哈哈,我要做一个合格的G20杭州市民。"
Bei Zi: "Hangzhou residents are so cute!"
杯子:"杭州好可爱。"
Xue Wu: "It's not a good idea. Chinese is such an extensive and profound language that we should vigorously promote Chinese learning among foreigners. So, they can speak Chinese next time. Sounds great, right?"
雪舞:"这个不好,汉字学问博大精深,应大力弘扬让洋人多接触汉语,下次再来开会就方便了!"
Da Lou Lou: "Many elderly people haven't learnt English. With this English handbook annotated in Chinese characters, they might have the opportunity to talk with foreigners as well."
大娄娄:"又不是人人懂英文,那么多大爷大妈不懂英文,给个中文注释,让大爷大妈们能说说不是挺好。"
Sui Feng Piao: "I don't think the foreigners can understand what these residents said, if they speak English based on the similar pronunciations of Chinese characters. It's nonsense. "
随风飘:"用中文标注说英文将成为无人能懂的'外星语',对与外宾交流毫无帮助。"
Kong Bai: "Be careful! Foreigners might be 'scared away' by this horrible handbook."
空白:"小心把老外吓回去。"
Though the online opinions vary, Xu Dongxu, the Secretary of Youth League Committee of Shuangpu Town, Xihu District, Hangzhou, seemed to support it, "In my opinion, it's the most effective way to help residents to master some basic spoken English." He tried to popularize simple spoken English in similar way in Hangzhou. "It seems a little ridiculous for those proficient in English, but for our villagers, who know nothing about English, it really helps develop their language sense in a short time. Just like that we can roughly understand what a foreigner said in Chinese, even though he didn't pronounce correctly." He added.
尽管网友意见各一,但杭州西湖区双浦镇团委书记徐旭东似乎还挺支持这种做法的,"我个人认为这已是短期内帮助居民们掌握基本英语口语最有效的方法了。"他本人也曾以类似方法在杭州当地普及简单英语口语。他还说道,"对有英语底子的人来说,这样的做法可能有些滑稽,但对零基础的村民来说,读起来其实蛮有感觉的,短期内就能见效。就像我们有时听外国人说中文,即便不标准,也能大概听懂。"
Actually, some foreigners also adopt this method in Chinese learning. Look, how well they did it!
其实,不止中国人民"有才",外国朋友们在学习中文时也这么干过。瞧瞧,这道行绝不亚于我们啊!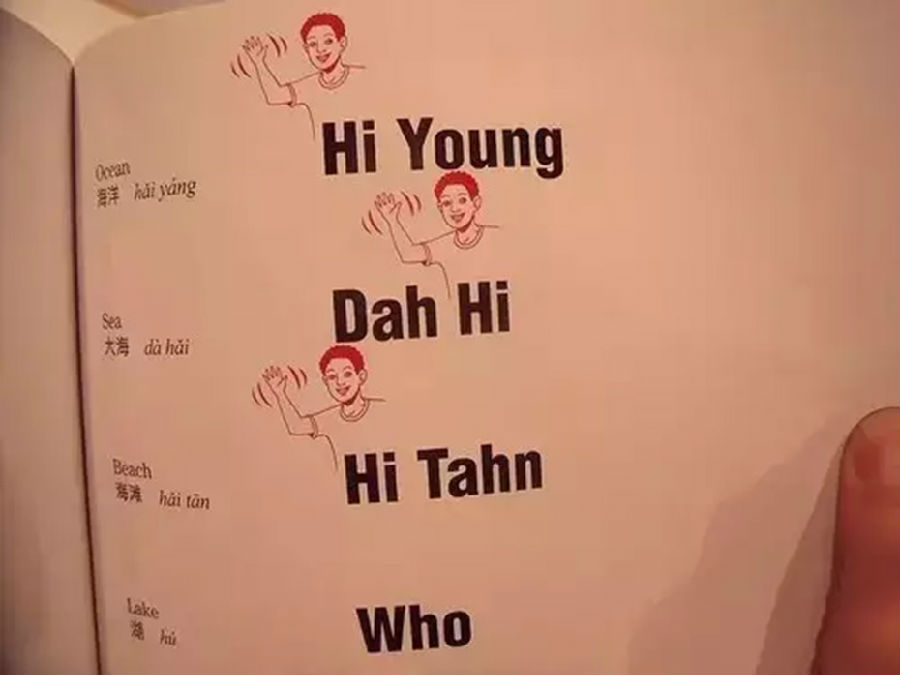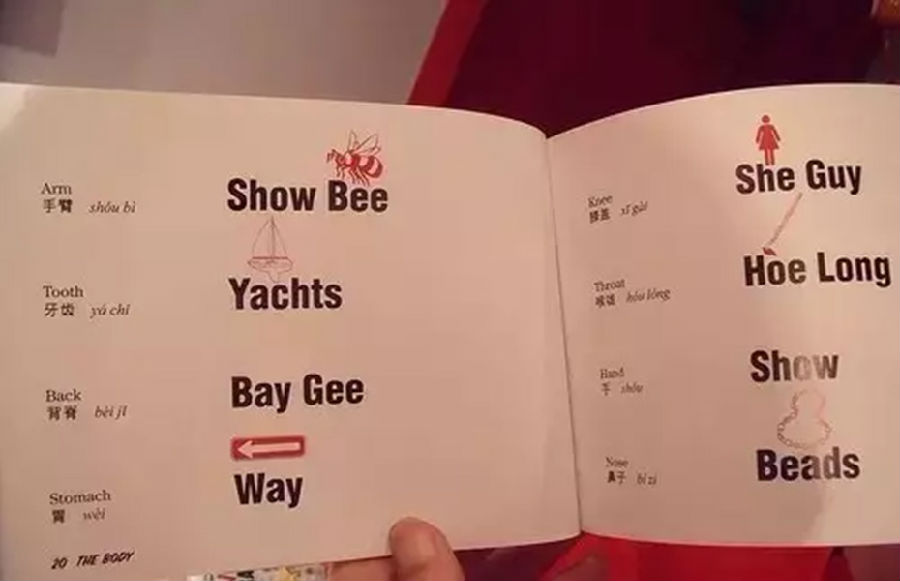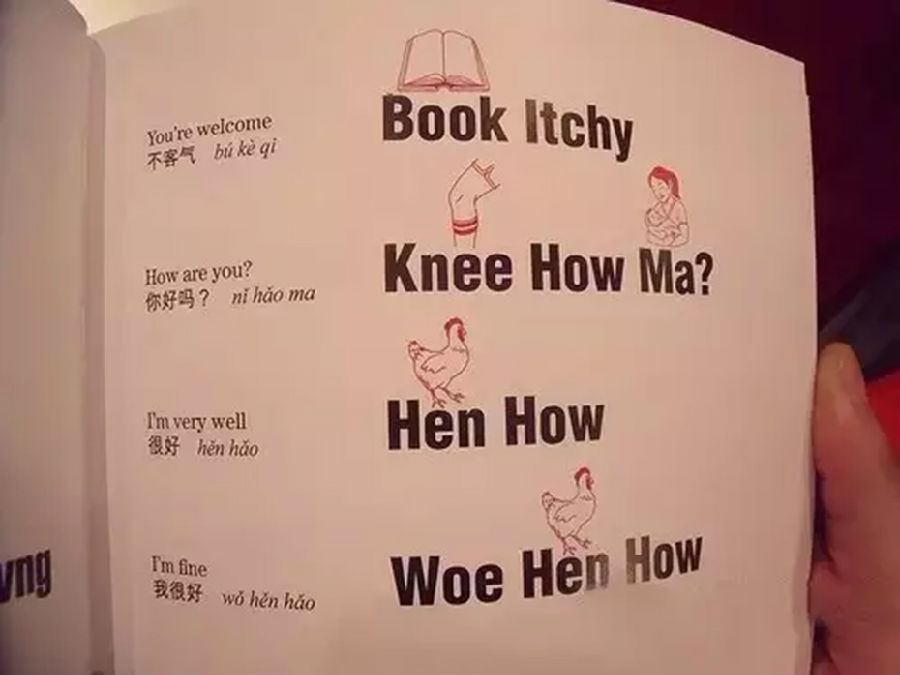 It seems that the same difficulty in learning a foreign language has brought all these learners together to some degree. It should be so-called "a bosom friend afar brings distant land near".
看来,天下学外语的人是一家,正所谓"海内存知己,天涯若比邻"嘛!
The article is translated and editted by Chinlingo. Please indicate the source for any use, reproduction or transfer.

本文由Chinlingo编译后发布,如需转载,请标明来源。