Chinese dishes have been renowned both at home and abroad, which inspires many foreigners' affection for the country. And what they like most are spicy dishes with a special stimulating flavour that makes them sweat or even scream. So, what spicy dishes should they try?

中国美食享誉中外。很多外国朋友因为一道中华美食而爱上了中国。在众多中国菜中,辣味菜肴是很多外国人最为偏爱的一部分。相信他们一定还记得第一次被中国特有的辣味辣到流汗、辣到嚎叫时的那种酸爽。那么,在外国人眼中,决不能错过的辣味中国菜有哪些呢?
1. Mapo Tofu, Sichuan
麻婆豆腐,四川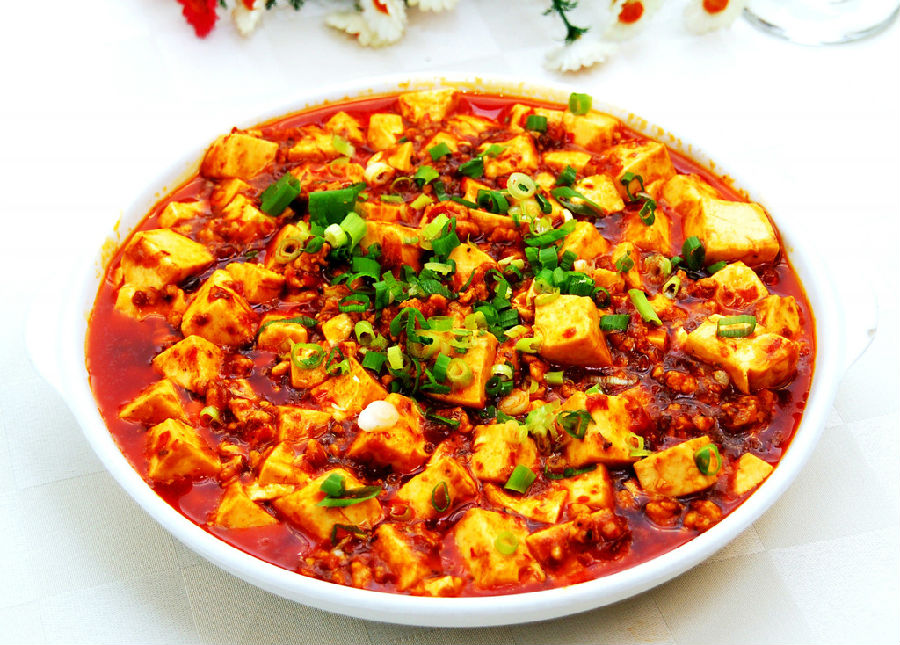 The dish is made with a chili bean sauce, tofu and ground pork and a liberal sprinkling of the mouth-numbing Sichuan peppercorn – a mainstay in Sichuan and Chongqing cooking.
这道菜的主要材料是豆瓣辣椒酱、豆腐、猪肉糜以及少量能让人嘴巴发麻的四川花椒——这玩意是四川和重庆菜肴中不可或缺的香料。
2. Dan Dan Noodles, Sichuan
担担面,四川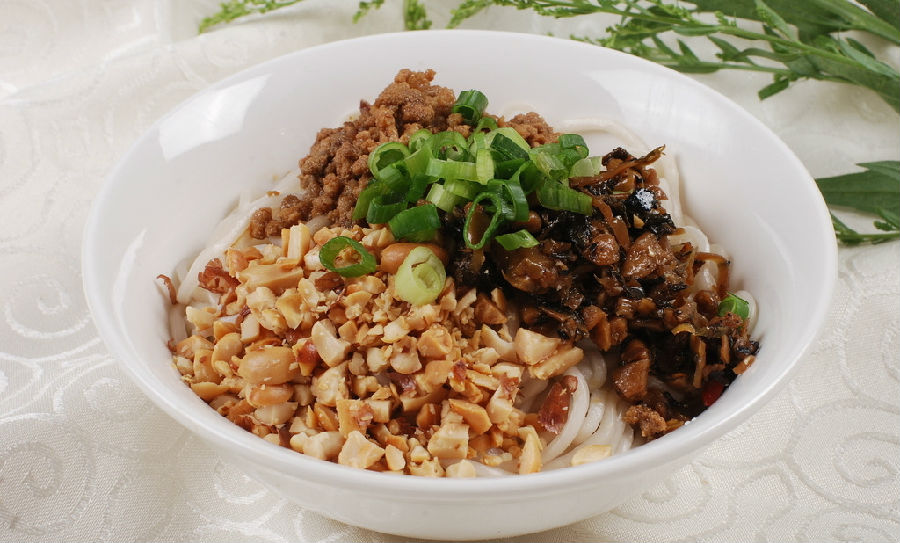 The authentic dan dan noodle dish is made with the fermented black bean chili sauce, ground pork, a dollop of raw minced garlic and crunchy peanut kernels, and is usually topped off with scallions and cilantro. The sauce is placed at the bottom of an empty bowl, unseasoned al dente noodles are put over the sauce and the diner is charged with the task of mixing it all up.
真正的担担面的主要食材有豆豉辣椒酱、猪肉糜、少量生蒜末,还要在上面撒上香脆的花生、葱花和香菜。先在空碗底倒入酱汁,然后把未调味但是很有嚼劲的面条盖在酱汁上,用餐者只需将其拌匀就可以食用啦。
3. Steamed Chicken with Chili Sauce, Sichuan
口水鸡,四川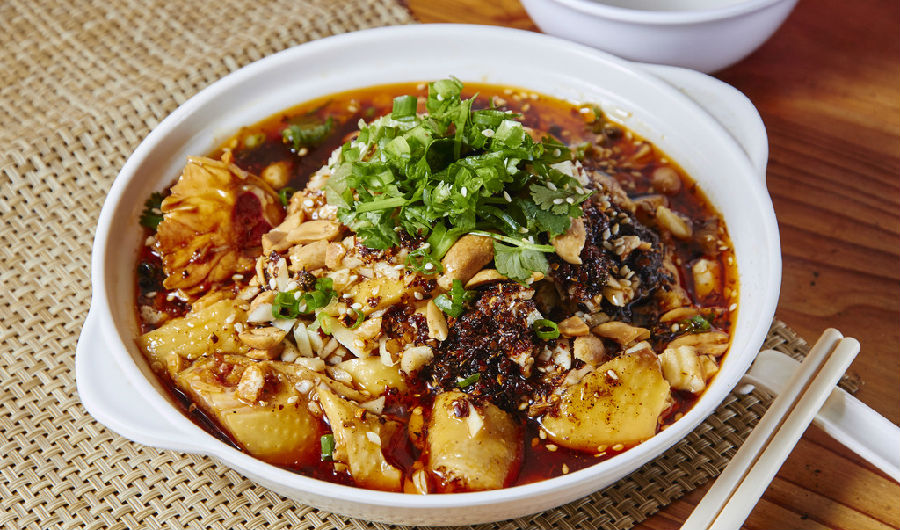 Literally translated as "saliva chicken", because saliva will be dripping from your mouth when you even think about this dish.
这道菜字面上被译作"口水鸡",因为你一想到这道菜就会流口水。
Boiled chicken is marinated in a chili and sesame oil sauce that features 10 spices and sauces, making it a fiery yet mouth-watering dish.
白煮鸡在辣椒和麻油的酱汁中浸泡,酱汁中有着10种香料和调味汁,让其热辣如火却又让人垂涎欲滴。
4. Hot and Sour Glass Noodles, Chongqing
酸辣粉,重庆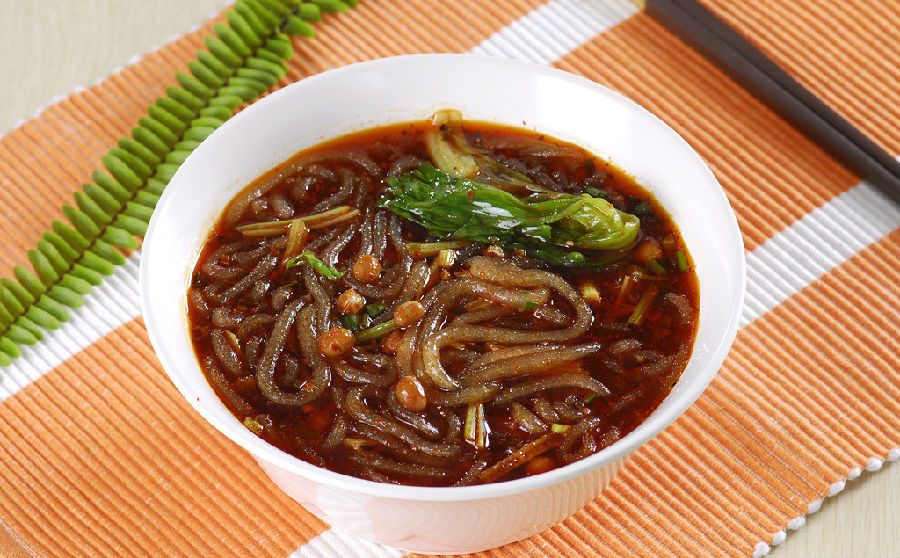 This inexpensive spicy snack is beloved all over China. And it even doesn't require any cooking techniques: just stew sweet potato noodles in the soup made of soybeans, chili paste, copious amounts of vinegar, and chili oil.
这道廉价的麻辣小吃风靡全中国,制作方法也很简单,把地瓜粉制成的粉丝用大豆、辣椒酱以及好几种醋和辣油制成的汤汁一起炖煮即可。
5. Ganguo, Hunan
干锅,湖南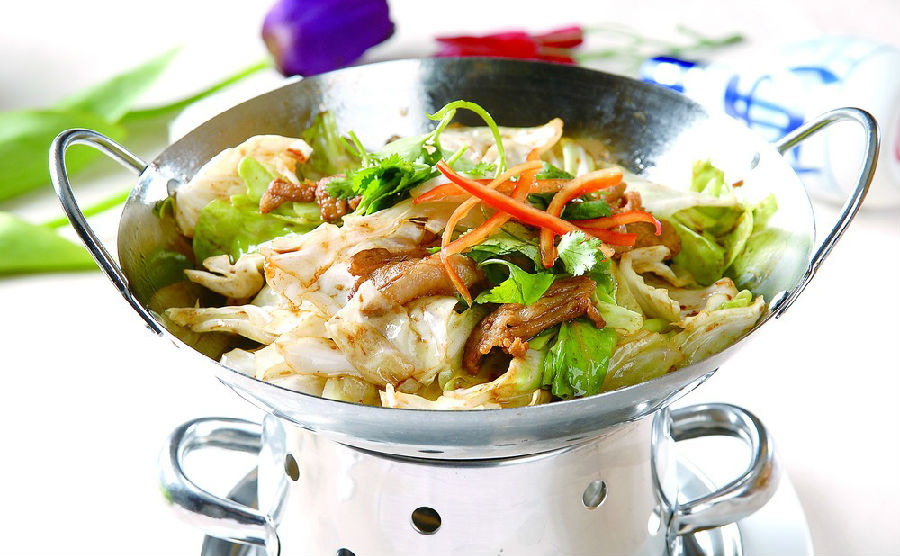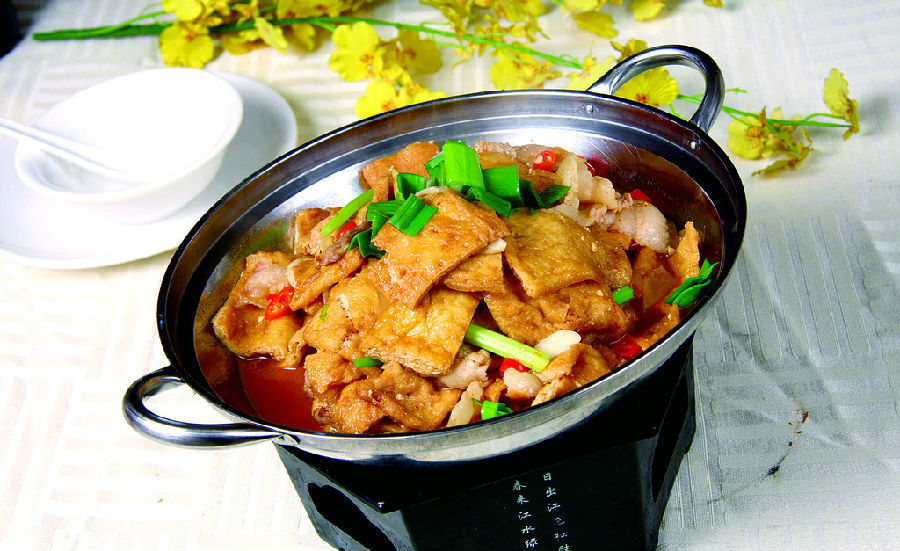 Choose from a variety of meats, vegetables and tofu to be quickly stir-fried and served sizzling in a mini wok.
选用各种肉类、蔬菜以及豆腐,在小锅中快速翻炒过后,连着迷你热锅一起端到你的餐桌上。
Hunan food is less oily than Sichuan food and the abundance of fresh red and green chili peppers, scallions, ginger and garlic make Hunan food arguably the spiciest cuisine in China.
湘菜并没有川菜那么油腻,且湘菜中大量的新鲜红椒和青椒、葱、姜和蒜使其有资格竞争中国最辣的菜肴。
6. Hot and Sour Fish Soup, Guizhou
酸汤鱼,贵州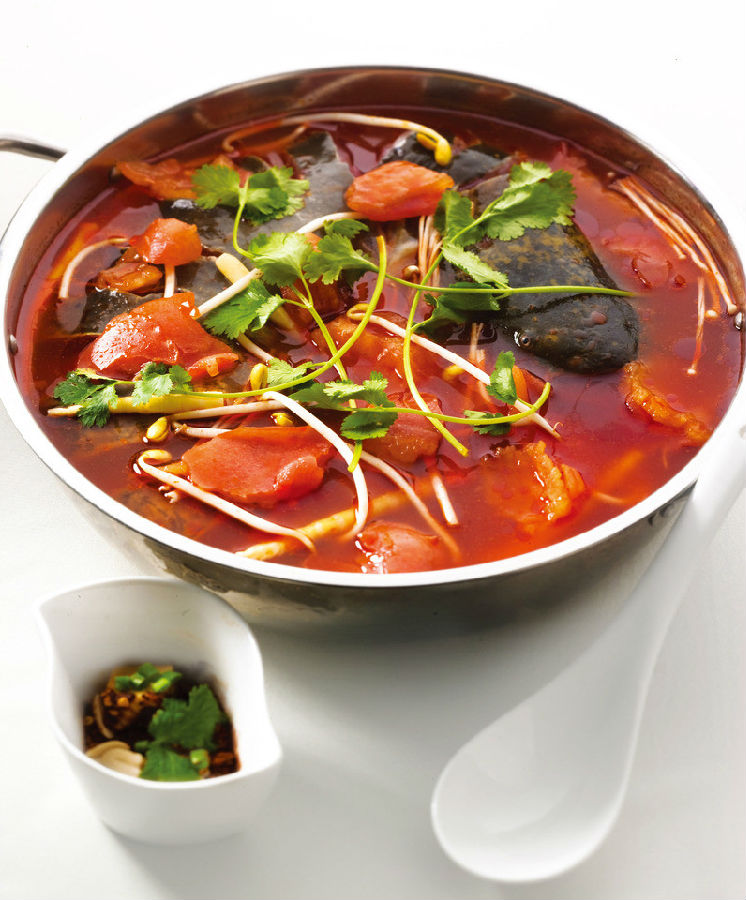 A Guizhou favorite is the hot and sour fish soup, which is made with freshwater fish and tomatoes, local Guizhou red chili peppers, chili oil and garlic and scallions.
酸汤鱼是一道贵州人民颇为喜爱的菜肴,由你选用的淡水鱼加上西红柿、贵州本地红辣椒、辣油、蒜和葱煮出的鱼汤制成。
7. Hunan Spicy Beef, Hunan
湖南香辣牛肉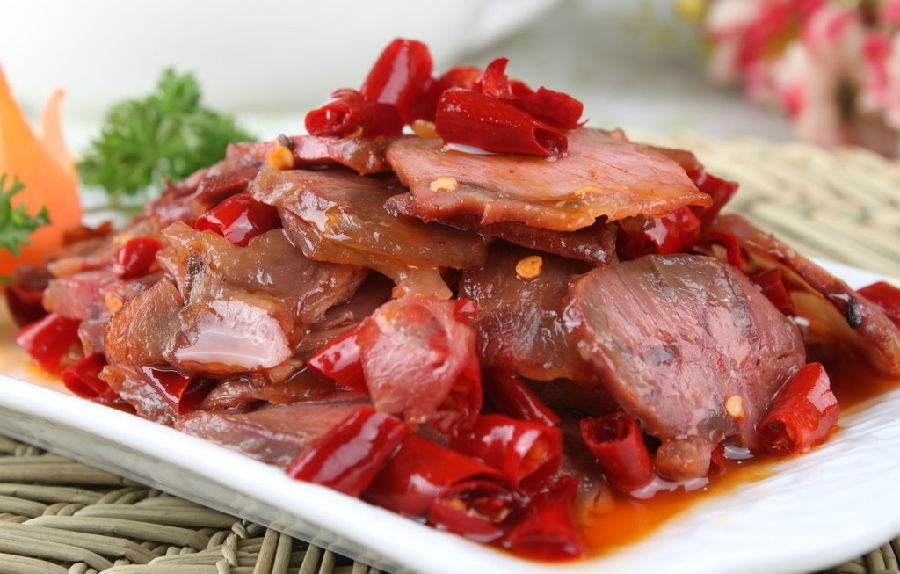 Hunan people know a thing or two about cooking beef since it is the second-largest supplier of beef in China. The regional beef dish is Hunan Spicy Beef, which is stir fried with a mixture of fresh beef, fresh chili and deep fried chili peppers.
湖南作为中国第二大牛肉供应省,十分精通牛肉料理。其中精选出的牛肉菜品就是湖南香辣牛肉,把牛肉和鲜辣椒以及油炸辣椒混在一起翻炒。
8. Er kuai Spicy Chicken, Yunnan
饵块辣子鸡,云南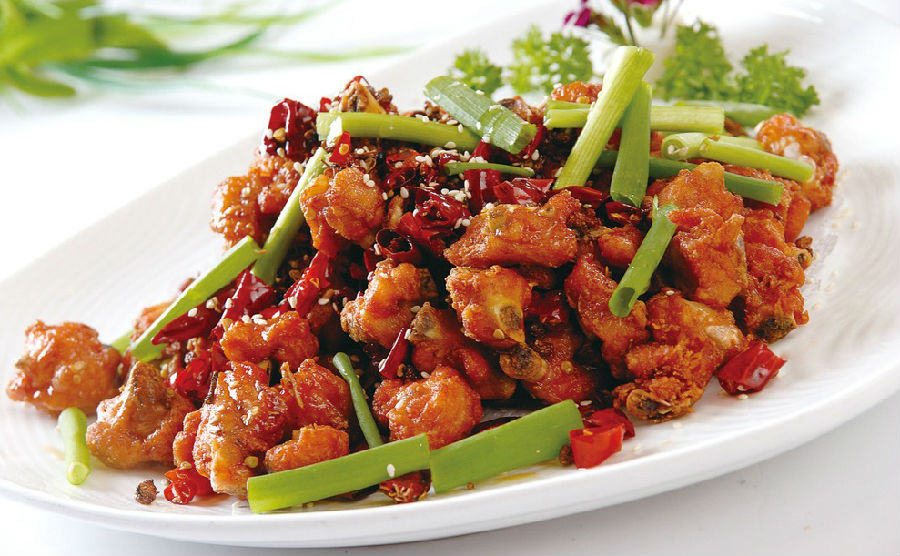 This dish is little known outside of Yunnan province but Chinese foodies rave about er kuai, a savory rice cake made of glutinous rice paste that is steamed and then cut into small cubes and stir fried with fresh chili peppers and morsels of deep fried chicken.
这道菜在云南省以外的地区鲜为人知,不过中国的美食家对饵块是大肆赞扬,由黏糊的米糊做成的可口年糕煮熟后写成小块(饵块),同新鲜辣椒以及炸过的嫩鸡丁一起爆炒成饵块辣子鸡。
9. Hotpot, Chongqing
火锅,重庆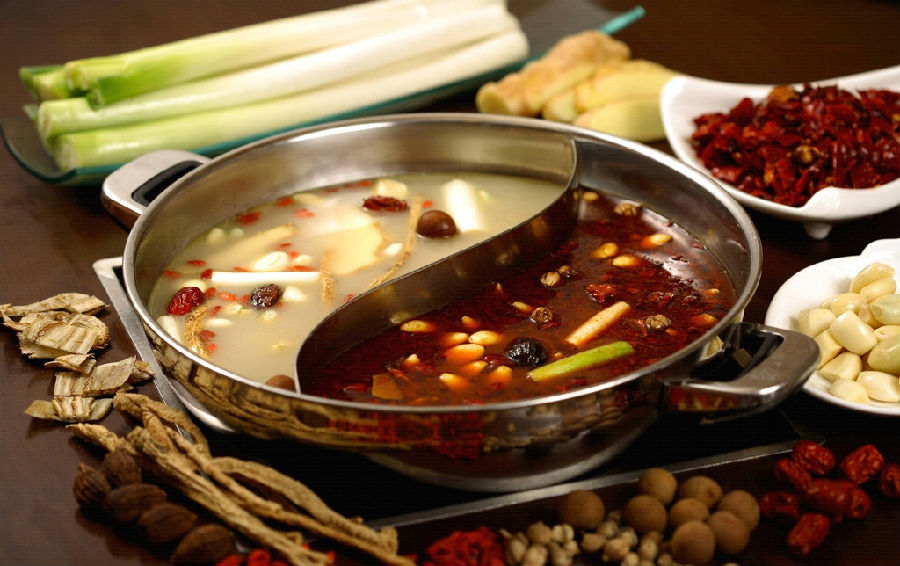 It's tasty because there's a layer of rendered beef fat in the kitchen-sink sized hotpot at the center of the table. Dried and fresh red chili peppers and 20 other herbs and spices are added into the hotpot soup, ensuring that whatever meat, vegetable, noodle or tofu you dip into the hotpot you will be rewarded with a spicy aftertaste that will linger long.
在桌子中央,摆上一口厨房水槽大小的火锅,浮着一层牛油,美味极了。火锅汤底包含干辣椒、鲜辣椒以及其他20种草药和香料,不管你往火锅里头丢什么,肉、蔬菜、面条或是豆腐,都能给你一种热辣的快感,经久不绝。
10. Yuxiang tofu, Sichuan
鱼香豆腐,四川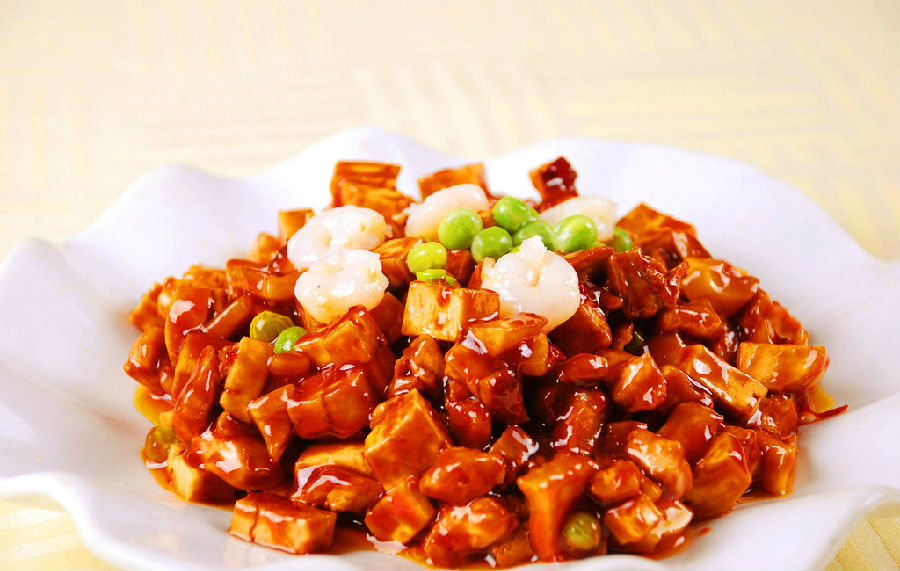 Never mind the fact that there is no fish used in the preparation of this dish.
这道菜里并没有用到鱼,不过不用在意。
Red chili bean paste, sugar, garlic, ginger, onions and soy sauce are stewed with deep fried tofu and fresh capsicum. This dish can be made substituting tofu for eggplant or shredded pork.
这道菜由豆瓣辣椒酱、糖、大蒜、生姜、洋葱以及酱油和炸过的豆腐以及新鲜的辣椒一起红烧而成,里面的豆腐也可以替换成茄子或是肉丝。
The article is translated and editted by Chinlingo. Please indicate the source for any use, reproduction or transfer.

本文由Chinlingo编译后发布,如需转载,请标明来源。