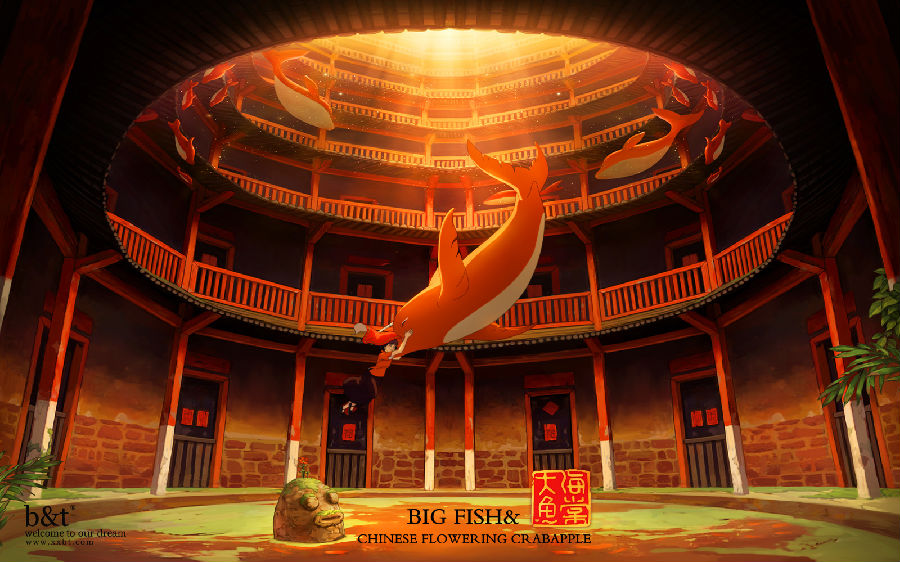 Awaited for 12 years, Big Fish & Begonia (or Big Fish & Chinese Flowering Crabapple), directed by Liang Xuan and Zhang Chun, is expected to be released on July 8. This animation film was called as "a bottomless pit" for its long production period and several postponed releases. However, after seeing the latest character posters and the prevue, most audiences have been touched by the fine workmanship of the movie and the sincerity of the team.

由梁旋、张春执导的动画电影《大鱼海棠》,蛰伏十二年,终于要在本周7月8日上映了。几度推迟上映时间,此前该片一直被调侃为国产"神坑"。但近期发布的角色海报以及预告短片,让人不禁感叹这部电影制作精良,诚意满满。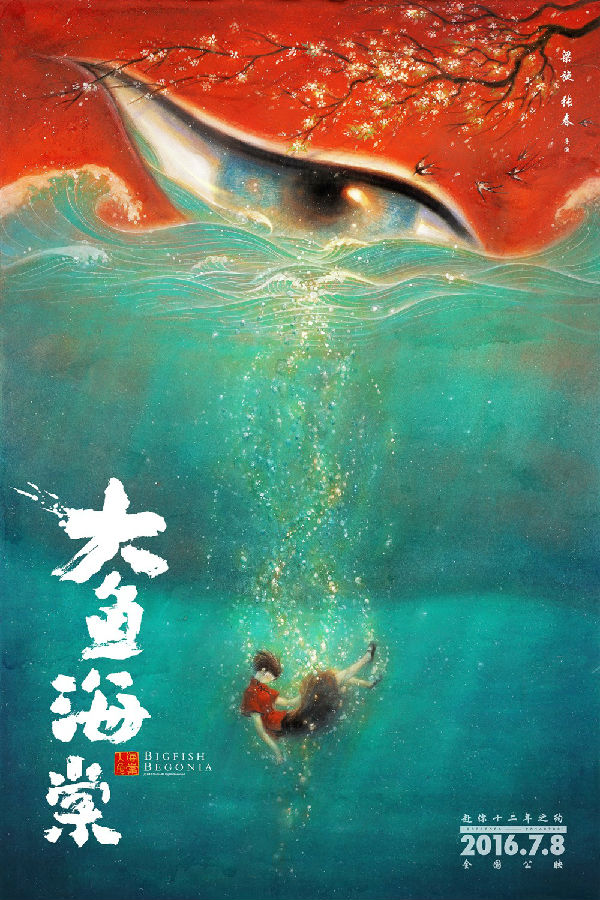 So, what story is the movie going to tell?
《大鱼海棠》到底讲述了什么样一个故事呢?
It is a world within our world, yet unseen by any human, and the beings here control time and tide and the changing of the seasons. On the day Chun becomes sixteen, she is transformed into a dolphin to explore the human world. She is rescued from a vortex by a human boy at the cost of his own life. Chun is so moved by the boy's kindness and courage that she decides to give him life again. But to do this, she must protect the boy's soul, a tiny fish, and nurture it to grow. Through adventure and sacrifice, love grows, yet now she must release him back to the sea, back to life in the human world.
这是一个存在于我们的世界里的另一个世界,不为人类所见,这里的生灵控制着时光,掌管着四季。当椿16岁时,幻化成一只海豚去探索人类世界。她掉入漩涡中,被一个人类男孩所救,但男孩却因此丧生。椿被男孩的善良和勇气所打动,于是决定让男孩复生。但是这样做,她就要保护男孩的灵魂,一条小鱼,并把它养大。经历了险阻与牺牲,爱情在椿和男孩之间萌生,但是椿必须把他放回海里,让他回到人类的世界。
Generally, Big Fish & Begonia is a Chinese-style movie. And its inspiration comes from a dream of the director Liang Xuan 12 years ago, where a fish swimming across his mind is exactly the same with Kun, a kind of enormous legendary fish, in The Carefree Excursion by Zhuangzi.
这部《大鱼海棠》主打中国风。故事灵感来源于导演梁旋12年前的一场梦,而梦中游过的大鱼恰好与庄子《逍遥游》中鲲的形象相吻合。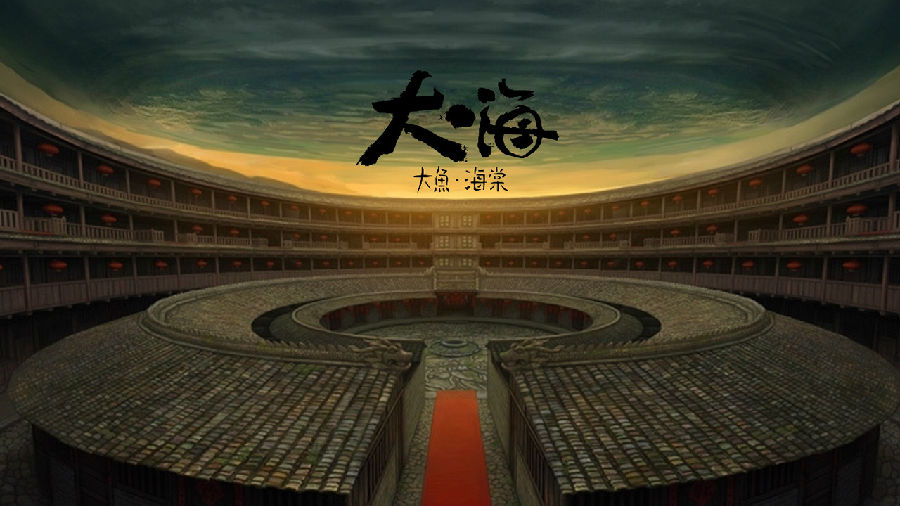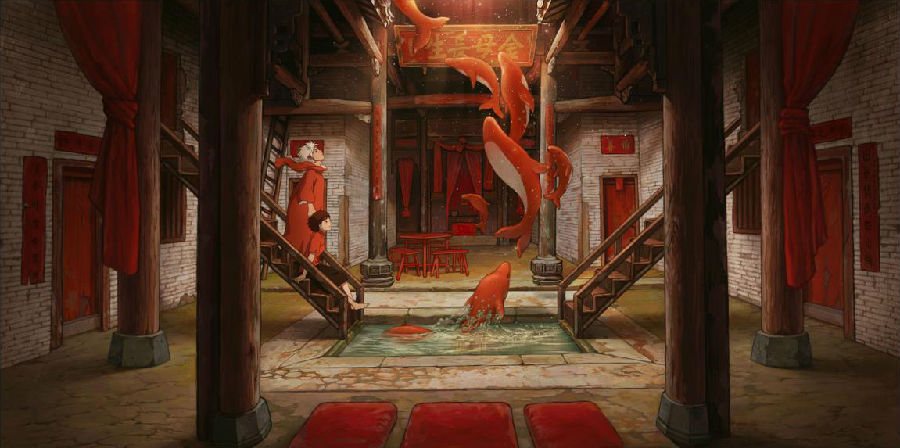 The prevue presents Chinese traditional costumes, round earthen houses in Fujian, and Chinese typical red, all of which show the classical beauty of China.
预告片中,传统服饰,福建圆形土楼,以及随处可见的中国红,无一不展示着华夏之美。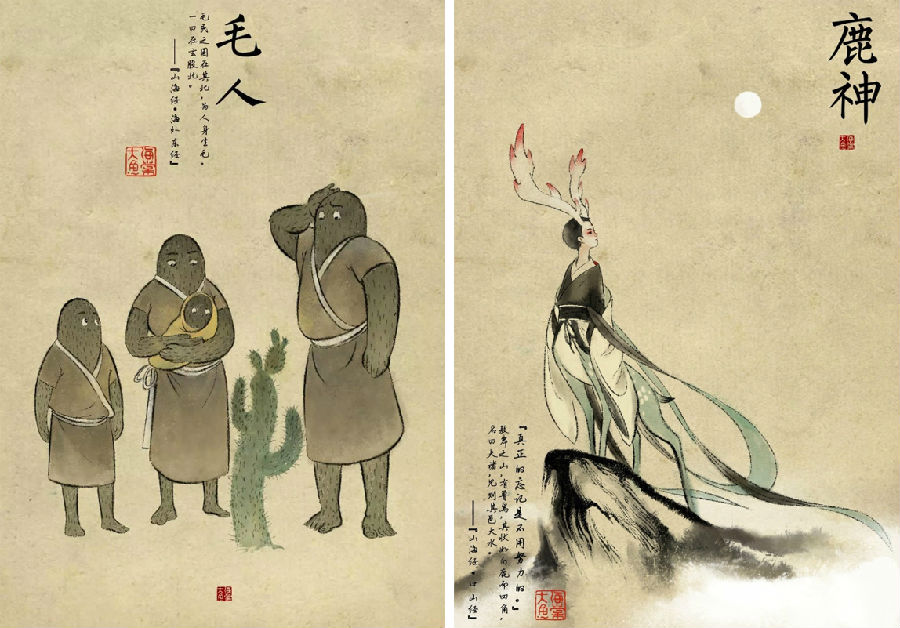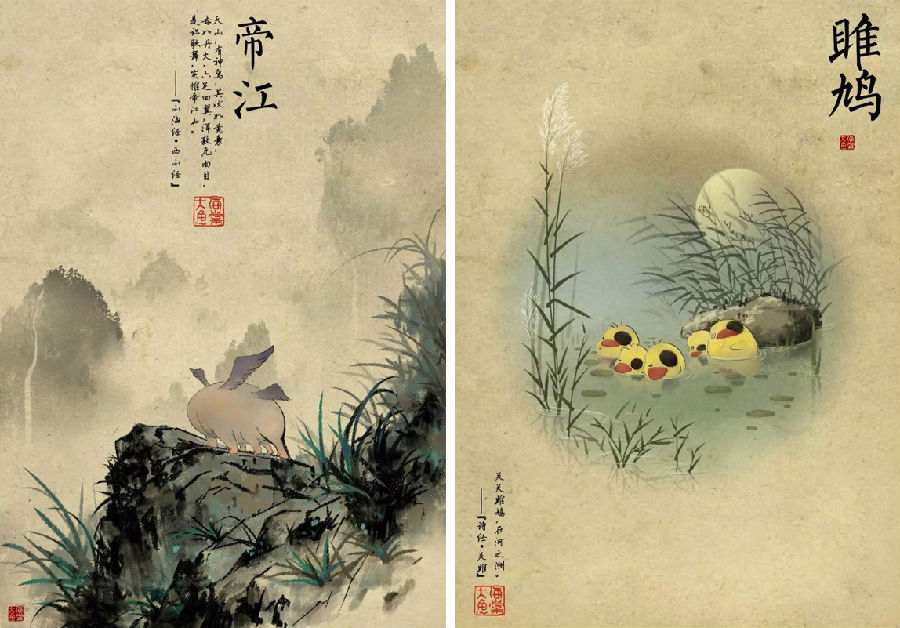 Regarding to the latest character posters, it can be inferred that the movie has extended the romantic perceptions of the Chinese ancestors. The movie has drawn inspirations from ancient works, such as "Hairy Man", "The Deer God" from Guideways of Mountains and Seas, and the "the Osprey" from The Book of Songs, etc.
而从最新曝光的人物海报上看,影片取材延续了华夏先人的浪漫情怀,从古籍中汲取了很多灵感,例如"毛人"、"鹿神"取材于《山海经》,"雎鸠"取材于《诗经》等等。
The movie, featuring Chinese ink and water colors, reveals a unique mysterious oriental flavor of the characters. It's definitely a visual feast!
就画面质感而言,水墨淡彩之间,人物展现出只属于东方的古典神秘气质,让人大饱眼福。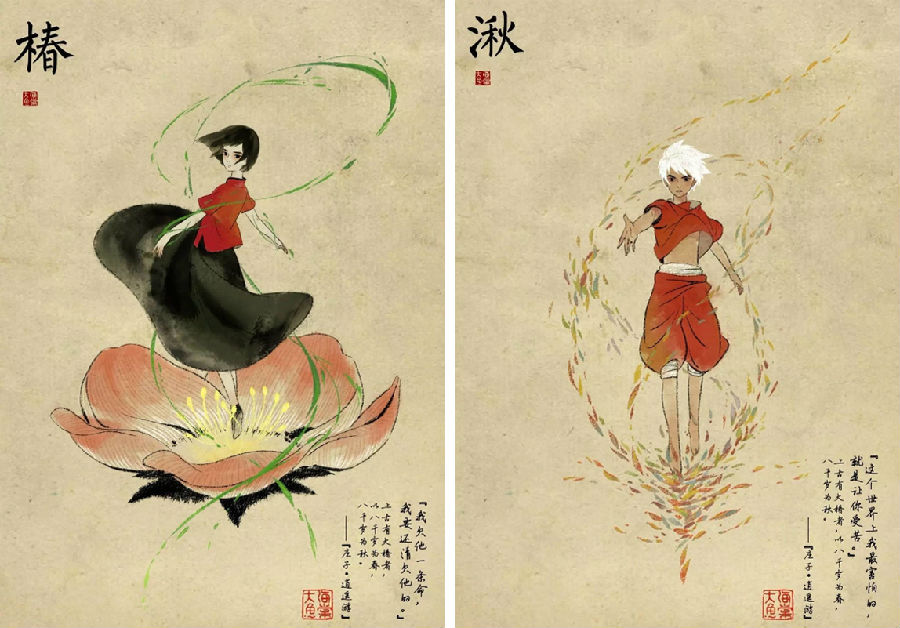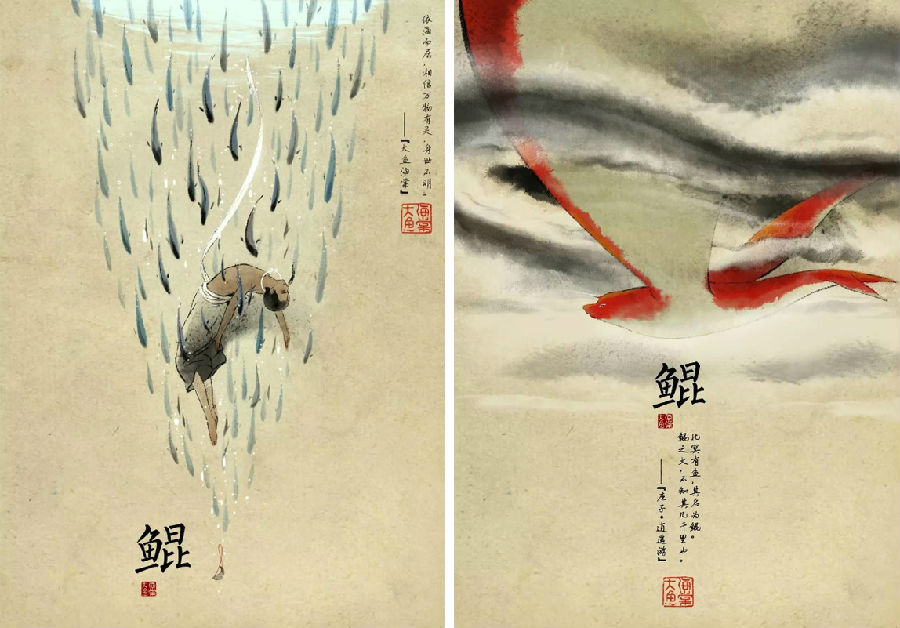 The movie has attracted wide attention from abroad. Here are the comments from some foreign media.
来看看国外媒体都是怎么评论这部电影的吧!
It seems to be about magical children who can transform into flying sea creatures. We say "seems to" because there isn't a word of English in this trailer. Thankfully, you don't need to know no languages to see just how darn pretty this here trailer is.
这部影片好像是关于一个有魔力的孩子,能够变成会飞的海洋生物。我们说"好像"是因为这部预告片里没有一句英文。不过谢天谢地,你无需听懂任何一种语言就能够领略到这部预告片的精美绝伦。
–Sam Barsanti from the Onion (洋葱报)
It is a must-see Chinese animated feature trailer: "Big Fish & Begonia". It looks impressive.
中国动画电影《大鱼海棠》的预告片必看不可。它真是让人印象深刻。
–Jerry Beck from Indie Wire (独立通讯)
We don't know a lot about this upcoming Chinese animated film, but wow does it look pretty. It seems very unlikely that the film will get a Western release, but at least we get to see these downright beautiful trailers.
我们对这部即将上映的中国动画影片知之甚少,但是它看起来太棒了。这部影片将也在西方上映似乎不太可能,但是至少我们可以看到这些美妙至极的预告片。
–James Whitbrook from io9 (io9博客)
A lot of foreign web users are also fascinated by the prevue. Let's see their comments.
国外网友们也没有闲着,纷纷在预告片下面发表评论,赞不绝口:
–That threw me off too. Pretty excited for a split-second.
–那也震撼到我了。每个瞬间都非常振奋。
–It's wonderful to see something truly beautiful coming from the Chinese industry. Da Hai is something I want to see more than any anime in these coming seasons, and I'm more than sure I won't be disappointed.
–能看到来自中国这么出色的影片真是太棒了。《大鱼海棠》是我在接下来的上映季中最想看的动画影片,并且我非常确定我不会失望的。
–Really looking forward to the full movie! It's sooo beautiful!
–真的好期待电影的正片!它太美了!
Of course, Chinese netizens won't miss any chances to join the discussion about their own country.
当然,中国的网友们也不会错过任何讨论与自己国家有关的话题。
–From this movie, kids will see a big fish, young people will see love and being loved, and the elders will see the cycle of life.
–小朋友看到了大鱼,年轻的人看到了爱和被爱,年长的人看到了生命的循环。
–Wow! I don't even know what to say, just… wow!
–哇!我真是不知道该说什么好,只能说……哇,赞!
–I have to admit that the movie looks good. But it also reflects a problem in Chinese animation industry: fickleness.
–我承认这是个好动画,制作精良,但是这也反映出了中国动画的现状:浮躁。
–Though the general appearance of the movie looks exquisite, the story is old-fashioned. Not promising.
–虽然画面看起来很精致,但是剧情老套,不是很看好。
Seemingly, people hold different views on this movie. Will the movie be a 'superb masterpiece' or a 'rubbish shot'? Let's wait and see.
看来,大家对影片看法各一。究竟"神作"还是"神坑",我们且拭目以待吧!
The article is translated and editted by Chinlingo. Please indicate the source for any use, reproduction or transfer.
本文由Chinlingo编译后发布,如需转载,请标明来源。