‍‍‍‍‍‍
Acrophobia sufferers beware… China's newest bridge isn't for the faint-hearted.
恐高症人群注意了……中国新造的这座桥可不适合胆小的人。
Stretching 380m across a section of Zhangjiajie's Grand Canyon, the new pedestrian bridge will completely have a glass floor. This isn't the region's first towering glass floor – a glass skywalk hugs the cliff of Tianmen Mountain – but the Grand Canyon installment is expected to be the longest and highest glass-bottomed bridge in the world.
该桥横跨张家界大峡谷的一部分,长达380米,新的人行天桥桥面的完全是玻璃制造。和该地区建立的第一座玻璃底桥 —— 紧附天门山悬崖的人行天桥相比,它可能不是第一座玻璃桥,但有望成为世界上最长最高的玻璃底桥。
The bridge has undergone nearly 100 safety tests to ensure it can withstand the high winds, earthquakes, frost and weight of 800 people at a time. The glass had also passed the tests on slip resistance and temperature resistance.
这座桥已经进行过近100项安全测试,以保证它能经受住狂风、地震和严寒的考验,并能一次承受起800人的重量。桥的玻璃也已经通过耐滑性和耐热性测试。
But is it really safe enough? Take a look at the recent safety tests:
但是它真的安全吗?近日该桥公开进行了安全测试。
A 2-ton car moves on the bridge back and forth.
一辆2吨重的小车在桥面玻璃上来回碾压。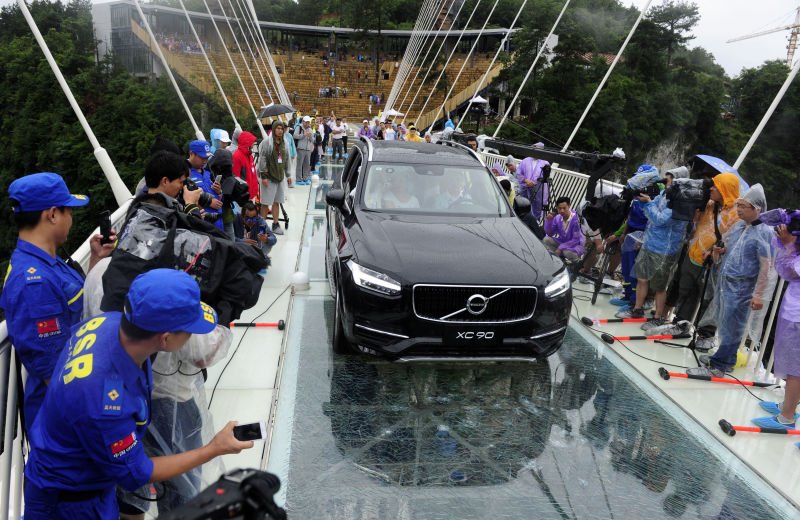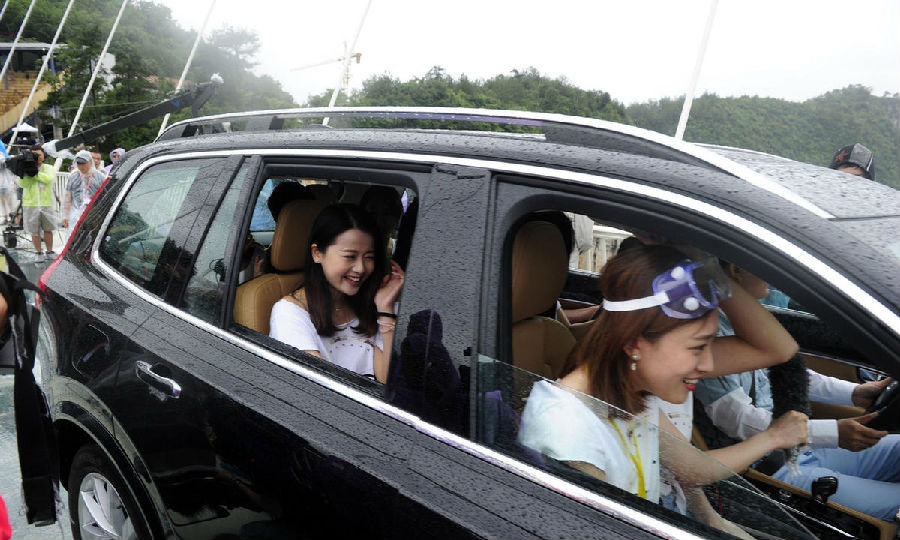 Over 10 young men, weighed 75kg each, jump on the bridge together.
10余名体重约75公斤的青年男子一起蹦跳。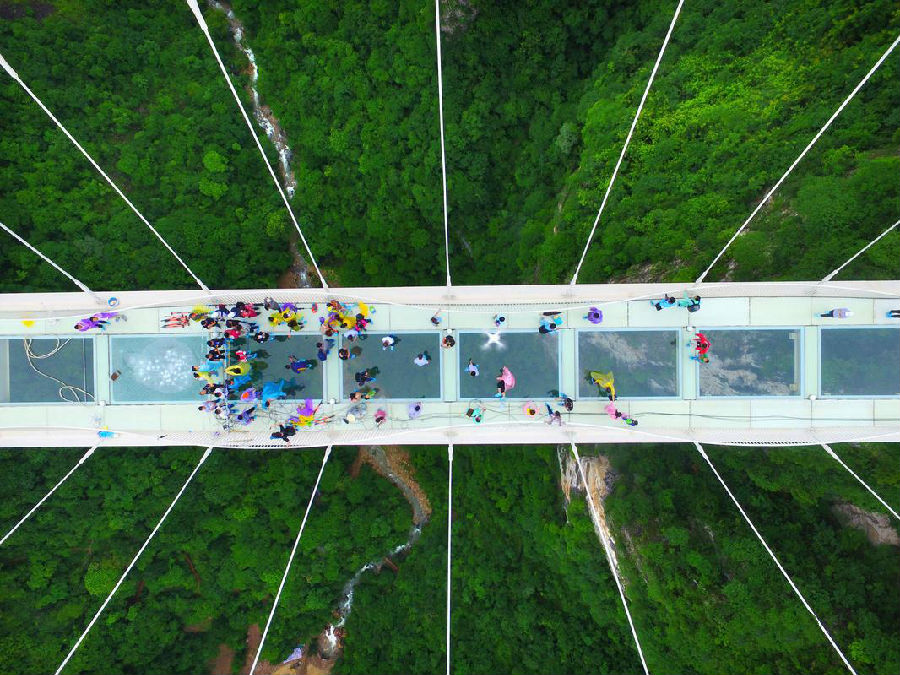 Over 30 people take turns to pound on the bridge with a big hammer.
30余人用铁锤轮番猛砸。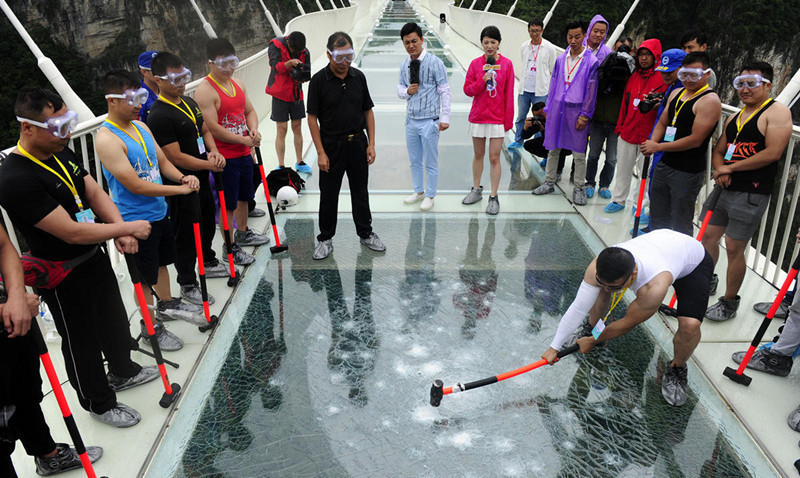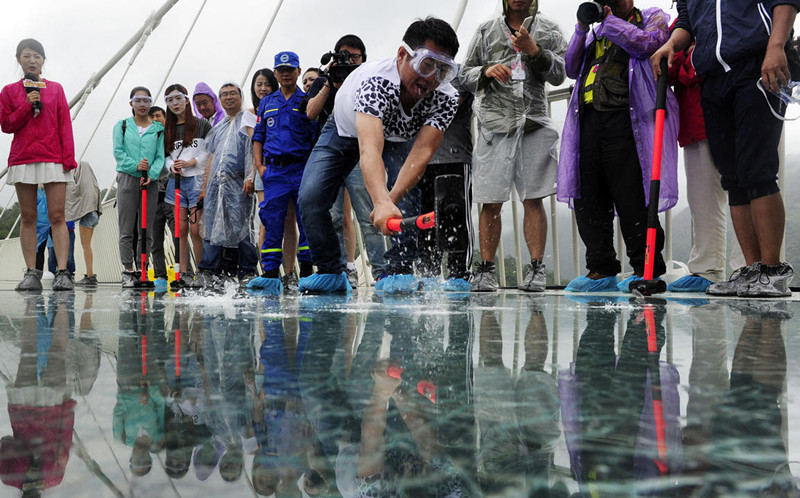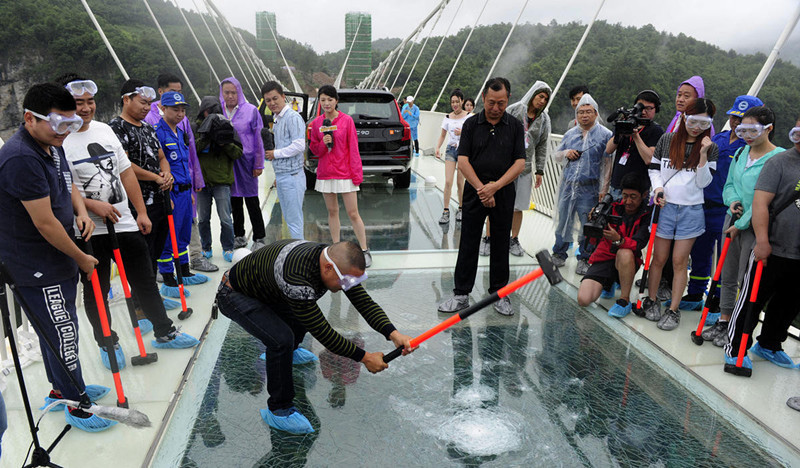 Even the BBC reporter is invited to smash the bridge:
甚至BBC记者也受邀来"砸桥":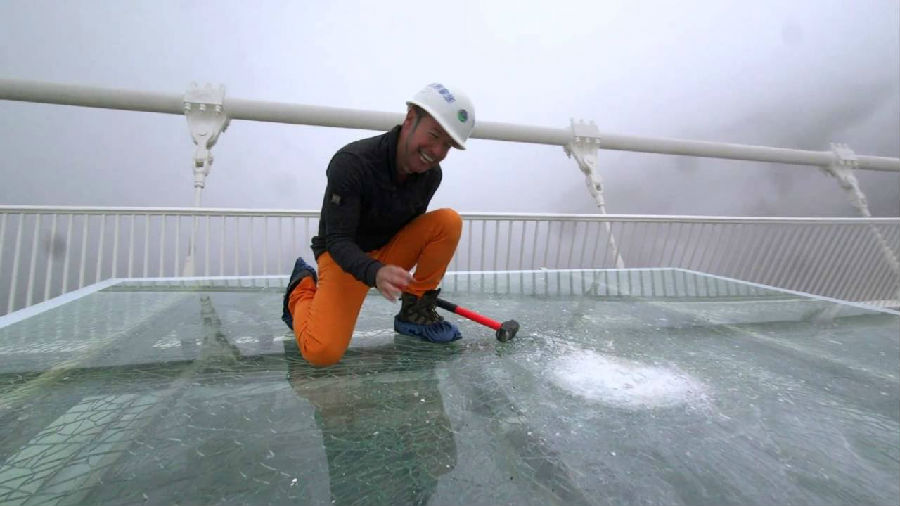 Although there are many who enjoy the thrill walking on the glass bridge, there are also those who are overwhelmed by fear to set foot on the glass and see the depths beneath their feet. Here is a popular video on social website showing petrified visitors on the glass bridges.
尽管有很多人可以很享受地在玻璃桥上行走,但还是有人需要克服恐惧才能在那玻璃上稳住脚且目睹脚下的深渊。下面是一段社交网站上很火的视频,视频里走在玻璃桥上的游客简直都吓呆了。
Are you a person who loves adventure and challenge? Do you dare to walk on this glass bridge?
你是个喜欢冒险和挑战的人吗?你敢在这座玻璃桥上行走吗?
[Key Words]
‍‍‍‍‍‍‍‍‍‍
玻璃 (bō lí): glass
桥 (qiáo): bridge
恐惧 (kǒng jù): fear‍‍‍‍‍‍‍‍‍‍‍‍‍‍‍‍
The article is translated and editted by Chinlingo. Please indicate the source for any use, reproduction or transfer.
本文由Chinlingo编译后发布,如需转载,请标明来源。