‍‍
It's the perfect season for eating watermelon again!
又到了吃西瓜的季节了!
Will you knock on the watermelons and try to hear a hollow sound before buying them? In fact, that's what almost every Chinese will do.
每次买西瓜之前,你是否会抱起西瓜敲一敲,凑上耳朵听回声?实际上,几乎每个中国人都会这么做。
This behavior triggers a heated online debate in China, talking about the art of knocking on watermelons. What caused this discussion is a photo posted on the social website:
这种做法近期在中国的网络上引发热议,大家争相讨论"敲西瓜"的艺术。而引发这一热烈讨论的原因则是由于最近有网友在社交网站上发了这样一张图片: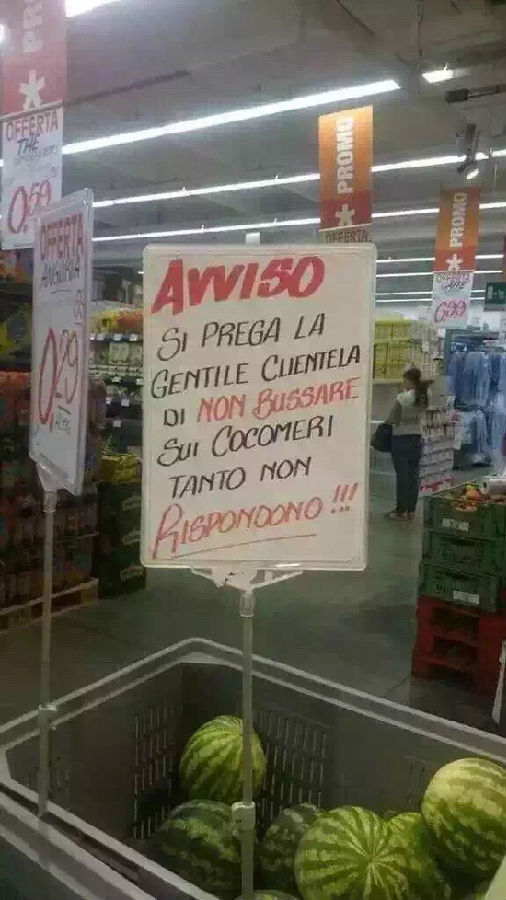 The photo showed a sign which read "please stop knocking on the watermelons, they will not respond to it!" in an Italian supermarket, asking customers not to knock on the watermelons to judge the ripeness. The sign was stuck in a crate full of watermelons.
照片是一家意大利超市挂出的一则标识,要求顾客不要敲西瓜。这则标识插在装满西瓜的板条箱里,其上写道:"请不要再敲西瓜了,西瓜不会回应你的。"
The photo was widely shared after the sign was said to aim directly at Chinese customers.
在这则标识据传针对的是中国顾客后,这张照片广为流传。
There's no indication that the supermarket was targeting this message at Chinese customers. The sign was written in Italian not Mandarin. But someone took it as an attack on the behavior of "watermelon knocking", which is regarded as an exclusive Chinese heritage, as Chinese often do this to select watermelons.
没有迹象表明超市挂出这则标识针对的是中国顾客。标识是用意大利语写的,而不是汉语普通话。但有人把这当成了对"敲西瓜"这种行为的攻击(中国人认为"敲西瓜"是中国独有的,是中华文化的精华,因为人们在挑选西瓜时经常这么做)。
What do Chinese people say about it? Let's take a look.
那么中国民众怎么评论这件事呢?一起看一看:





However, a quick online search reveals that Chinese people are not alone. Watermelon knocking and listening for a hollow sound is indeed a universal concept. You'll know that by reading the following comments by people over the world:
不过,在网上随便搜一搜就能发现并非只是中国人这样想。敲西瓜、听回声确实是普遍现象。通过下面世界各地人们的评论你就了解了: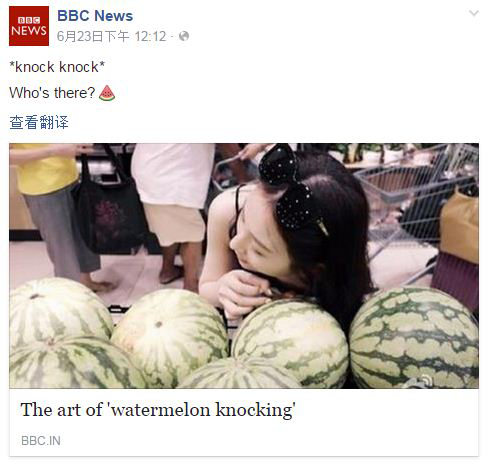 Even on WikiHow, there is an article about how to select a watermelon, which including the knocking technique.
甚至在wikiHow网站上有一篇关于如何挑选西瓜的文章,里面就谈到"敲一敲"的技巧。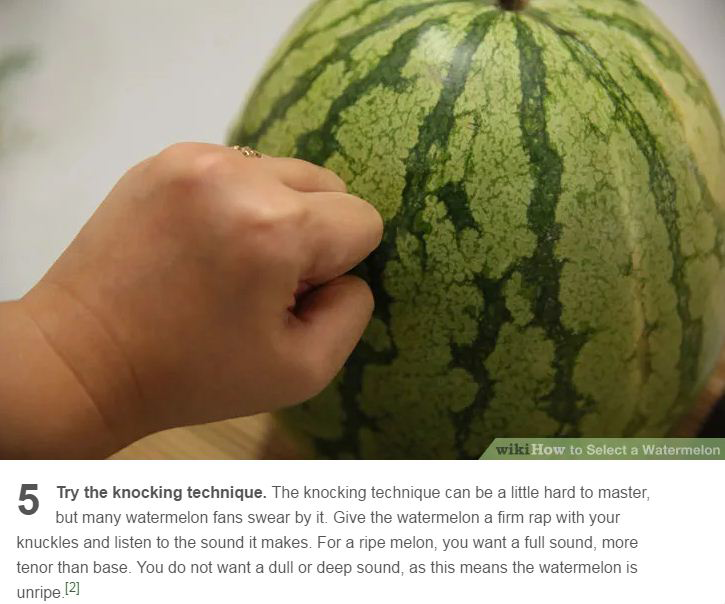 There are no absolute guarantees about what to do when it comes to choosing fruit. But here are some suggestions on how to pick a perfect watermelon:
在挑选水果的时候,没有什么万全之策。不过还是看看这些关于如何挑出完美西瓜的建议吧:
– Feel the weight of the melon. The heavier the better;
感受一下西瓜的重量,越重越好;
– Press on the watermelon. It should feel firm and if it springs back, it's ready to eat;
在西瓜上按一按,应该很硬实,如果按下去后会回弹,就是熟了;
– Look at the markings on the melon. A yellow patch on one end indicates it's ripe.
看一下西瓜的纹路。如果有一端发黄就是熟了。
– Of course you could also knock and "wait for a reply".
当然,你也可以敲敲西瓜,"等它回应"。
Will you knock on the watermelons when picking a perfect one? What else will you use to check if a watermelon is ripe?
你挑选好西瓜的时候会敲一敲吗?你有什么其他方法鉴别西瓜是否熟了呢?
[Key Words]
西瓜 (xī guā): watermelon
敲 (qiāo): knock
成熟 (chéng shú): ripe‍‍
The article is translated and editted by Chinlingo. Please indicate the source for any use, reproduction or transfer.
本文由Chinlingo编译后发布,如需转载,请标明来源。