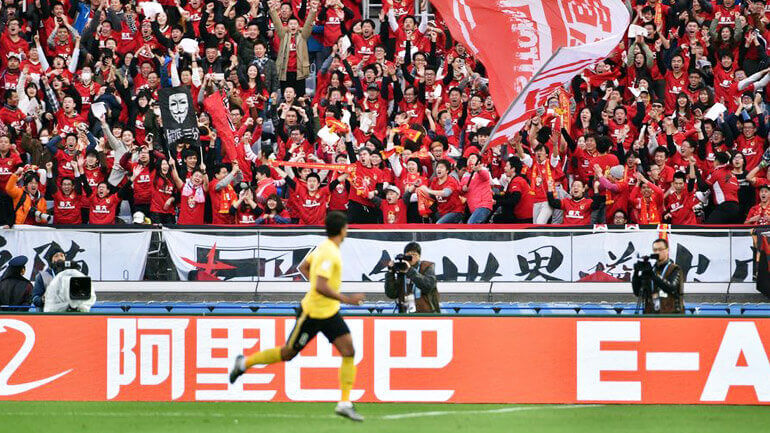 ‍‍
Chinese investors are making unprecedented inroads into professional soccer in the UK and elsewhere in Europe.
中国投资者正在对英国和欧洲其它国家的职业足球展开前所未有的投资活动。
Chinese brokerage Everbright Securities and Beijing Baofeng Technology, an internet entertainment company, as saying they are behind a deal to buy a 65 percent stake in MP & Silva, a sports media rights firm. The deal values the company at more than $1 billion. A Chinese group has also agreed to buy an initial 70 percent of Italian Serie A club AC Milan from former Italian prime minister Silvio Berlusconi, a person familiar with the negotiations told China Daily.
中国券商光大证券和暴风科技(互联网娱乐公司)正计划收购MP&Silva公司(一家体育媒体服务公司)65%的股份,收购价或超10亿美元。一位熟知AC米兰俱乐部收购谈判的人士告知中国日报,一家中国集团同意从意大利前任总理西尔维奥•贝卢斯科尼手中收购意大利甲级联赛俱乐部AC米兰70%的股份。
Behind the sudden surge of interest is Xi's determination to create a sports economy worth nearly $850 billion by 2025, according to Simon Chadwick, professor of sports enterprise at Salford University in the UK.
英国萨尔福德大学体育商业战略教授西蒙•查德维克称,在这些商业收购的背后是习主席决心大力发展体育产业,到2025年,体育产业总规模接近8500亿美元。
"When you think about it, that's extraordinary. At present, you have a worldwide sports economy worth about $400 billion. Yet one country is looking to double that by 2025 for itself alone," he said.
"目前,全球体育产业总规模约4000亿美元,可中国希望到2025年凭一己之力将这一数字翻一番,这个目标简直令人难以置信。"他说。
He has seen a change of emphasis in Chinese investment since the start of this year, from the straightforward acquisition of clubs, or stakes in clubs, to investing in soccer service organizations, such as sports agents and organizing bodies such as FIFA.
他发现,自今年年初起,中国的投资重点有所改变,以往中国投资者直接收购俱乐部或俱乐部部分股份,如今,中国投资者转向投资足球服务机构,如体育代理商和国际足球联盟类的机构。
A relatively unknown Chinese businessman, Xia Jiantong, paid a reported 70 million pounds for English club Aston Villa, according to the club's website. Villa won only three matches last season and was relegated from the Premier League to the second-tier Championship. The Villa case is significant in that it is the first time a club has been acquired virtually at the same time it has been relegated from the top tier of English soccer, and the first time a Chinese investor has acquired a 100 percent stake in a club.
据英国阿斯顿维拉俱乐部网站称,一个相对不太知名的中国商人夏建统出价7000万英镑成功收购维拉俱乐部。阿斯顿维拉在上一赛季中只赢了三场比赛,从英超降入英冠。维拉俱乐部成功被收购意义重大,原因在于,从未出现过一个俱乐部几乎在降级的同时被收购,此外,这也是中国投资商全资收购的第一个英国俱乐部。
Meanwhile, the AC Milan deal has a deadline of June 16, and the Chinese group is negotiating a price with Berlusconi's Fininvest Group.
与此同时,AC米兰收购协议将在6月16日签订,现在中国财团正在与贝卢斯科尼掌控的Fininvest公司谈判议价。
He has owned the club for more than 30 years, but was forced into discussions to sell it by shareholders in Fininvest and family members, according to the Football Italia website. He later said he wanted to sell the club to Chinese investors, because he did not want to put more money into it.
"意大利足球"网站称,贝卢斯科尼掌管了AC米兰俱乐部30余年,之后却被迫参与Fininvest集团和其他家族成员对AC米兰进行的出售讨论。后来,他说他愿意把俱乐部卖给中国投资者,因为他不想给俱乐部投入更多的金钱。
Wang Jianlin's Dalian Wanda paid 45 million euros just over a year ago for a 20 percent stake in Spanish La Liga club Atletico Madrid, and Chinese Media Capital acquired a 13 percent stake in the company that controls English Premier League club Manchester City for 265 million pounds.
一年前,王健林的大连万达集团以4500万欧元收购了西班牙马德里竞技俱乐部20%的股份,此外,中国媒体公司出资2.65亿英镑收购英超曼城俱乐部13%的股份。
According to Manchester City chairman Khaldoon al-Mubarak, "Football is the most loved, played and watched sport in the world, and in China the exponential growth pathway for the game is both unique and exciting."
曼城主席卡哈尔顿•阿尔-穆巴拉克说,"在世界范围内,足球粉丝最多,足球爱好者最多,甚至足球比赛收视率也是所有体育赛事中最高的;在中国,足球比赛发展迅速,发展方式既与众不同,又令人兴奋不已。
But it is not just about acquiring clubs. This month that four Chinese investor groups, including one led by model carmaker Rastar Group, were competing to buy Stellar Group, one of the world's most powerful soccer agencies. Control of UK-based Stellar would give its owner serious influence in player transfers, according to analysts.
中国投资者不单单收购足球俱乐部。中国四家投资集团(包括车模制造商星辉集团在内)正在竞购全球最具影响力的足球经纪公司之一,英国Stellar集团。据分析人士指出,成功收购英国Stellar集团的中国投资集团,将在球员转会交易时带来重大影响。
Last year, so-called super agent Jorge Mendes, whose clients include new Manchester United manager Jose Mourinho and Real Madrid star Cristiano Ronaldo, said his Gestifute management firm was forming an alliance with Fosun, the Chinese conglomerate part-owned by billionaire Guo Guangchang.
豪尔赫•门德斯是足球界大名鼎鼎的经纪人,他麾下的足球教练和足球明星包括曼联信任主教练若泽•穆里尼奥和皇家马德里巨星克里斯蒂亚诺•罗纳尔多。去年,门德斯称,他的Gestifute公司正在与复星集团董事长郭广昌达成战略合作。
"We believe the Chinese football industry has a bright future," Mendes said.
"我们相信,中国的足球产业有着光明的前景,"门德斯说。
Jack Ma's Alibaba Group is in talks to become a major sponsor of the FIFA World Cup. Dalian Wanda is already a sponsor. English clubs are also seeking to tap the huge resources in China.
万达集团已经是国际足联的主赞助商,继万达之后,阿里巴巴集团正在就其成为国际足联俱乐部世界杯主要赞助商展开磋商。英国俱乐部同样也希望从中国撷取巨大资源。
Manchester United has an estimated 100 million-plus fans in the country, with vast marketing opportunities for replica shirt sales and other memorabilia.
曼联俱乐部大约拥有1亿多名中国粉丝,因此,在销售俱乐部同款衬衣和其它纪念品方面,曼联可在中国发掘巨大商机。