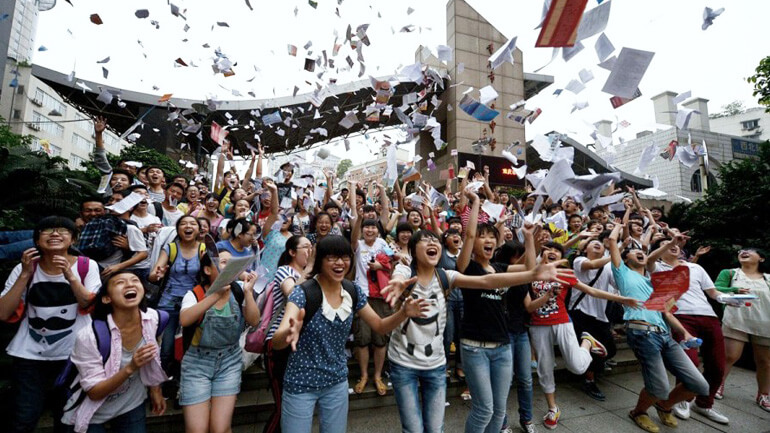 ‍‍
Today marks the annual 2-day gaokao (the national college entrance examination), a great event for Chinese families, as it is the only way to get into college. About 9.4 million students sit the examination this year. The 2-day examination, which draws nationwide attention, is also a test of life for these students.
Even Stephen William Hawking also posted his encouragement on Weibo, China's Twitter:
"As many of you prepare to take the National Higher Education Entrance Examination, I want to wish you, the next generation of scientific minds, success in your academic endeavors. This culmination of your hard work marks just the beginning of your very bright futures."
你们中的许多人即将参加#2016高考#,我在这里祝愿你们,新一代的科学人才,金榜题名。这是你们勤学不辍的顶峰,也标志着你们美好未来的开始。
"Growing up, my parents placed a high value on education and I am grateful for the limitless opportunities provided by my studies. Whether you aim to be a doctor, teacher, scientist, musician, engineer, or a writer — be fearless in the pursuit of your aspirations. You are the next generation of big thinkers and thought leaders that will shape the future for generations to come. "- SH
在我成长的过程中,我的父母一直很重视教育。我很庆幸这一路来学习给我带来得无数的机会。无论你励志成为一名医生、老师、科学家、音乐人、工程师或是作家 —— 请勇往直前地追逐你的梦想。你们是下一代的大思想家和意见领袖;未来将因你们而生。– SH
The message has gone viral immediately. Lots of Chinese net users on Weibo were fully moved and inspired. Has Hawking's encouragement brought the students good luck? Is gaokao scores everything? All roads lead to Rome, good results in gaokao is just one of millions of ways to success. Here are some funny jokes about gaokao.
[Utopian Style] I have a dream that there are only 5 cloze tests on each examination paper: school name, subject, class, name, student ID (20 scores for each).
【高考•乌托邦篇】我有一个梦想。一张试卷只有5个填空题,学校____科目____班级____姓名____学号 ____。每空20分。
[Chillaxin Style] Never mind. The gaokao only determines the place where you play dota or dress up.
【高考•淡定篇】别放在心上,高考只是决定了你们将来四年在哪打dota和穿丝袜。
[Maxim style] For those students admitted into the universities, you should build a good relationship with those who failed the examination, so that you can get employed someday in their companies.
For those students admitted into the key universities, you should keep frequent contact with those into the second-tier universities, as they will become the government leaders of your hometown.
For those students admitted into the second-tier universities, you should be friendly with those junior college students, as they will be your children's teachers.
And it's also important to have a good relationship with those who joined the army, as they are to-be traffic police, policemen or chengguan (city management official).
For the rich second-generation, you should maintain good relationships with pretty girls in your class, as they will probably become your stepmothers.
【高考•箴言篇】高考结束后,一位班主任老师在朋友圈里发了一条微信:
考上大学的同学要记得和没考上大学的同学搞好关系,等你们大学毕业了,好去他们公司去打工!
考上一本的要经常联系二本的,未来家乡的领导就是他们!
二本的同学要跟大专的搞好关系,他们将是你们孩子的老师!
也要和没上大学当兵的同学搞好关系,因为他们将来是交警,警察和城管!
富二代更要和班里漂亮女生搞好关系,因为她很有可能成为你后妈!
[Conclusion] Good luck to all gaokao takers! After four years, you will realize that your efforts today make no sense at all, the educational level will not change your fate. Instead, the factors that do change your fate are what your parents are (they must be rich or government officials), your features (you must be handsome or beautiful), and whether the government is planning to demolish the village where you are from (you will definitely become a millionnaire overnight!!!)
【高考•总结篇】祝高考的考生们考试顺利。四年后你们会明白,你们今天的努力其实并没有什么卵用。改变你们命运的不是知识文化,主要是爹妈、长相,还有就是你们村是不是要拆迁了。
Joking aside! Hope the gaokao takers perform well in the exams and get admitted into their dream universities.
[Key words]
高考(gāo kǎo): China's national college entrance examination
试卷(shì juàn): examination paper
金榜题名(jīn bǎng tí míng): to pass an exam; succeed in the government examination
The article is translated and editted by Chinlingo. Please indicate the source for any use, reproduction or transfer.
本文由Chinlingo编译后发布,如需转载,请标明来源。