Segal, who has retuned to China several times to scout other areas outside Liming, agreed. "You can just kind of like point your finger at a map of China and find good rock, and some of it's getting developed really fast," he said.
塞加尔后来几次回到中国,探索黎明之外的其他区域。他和辛诺特的想法一样。"你随便在中国地图上指一个地方,就能在那里找到很好的峭壁,有些地方开发得很快,"他说。
"Yangshuo is in Guangxi province and within Guangxi there are already about 12 different climbing spots," Hedesh said. "It's just that nobody goes to them because they're in the middle of nowhere." For this reason, some more-established climbers doubt that the sport is moving away from its traditional centers, at least for now.
"阳朔在广西,其境内已有约12处攀岩点,"赫德什说,"不过很多地方就是没人去,因为地点实在太偏僻。"也正是因为这个原因,有些名气更大的攀岩家对于这项运动正在远离它传统中心的说法是持怀疑态度的,至少目前是这种情况。
"I think Yangshuo is going to continue to be the epicenter of climbing in China," said Adam Kritzer, the owner of Climb Dali, a climbing club in central Yunnan. "There are probably a few dozen potential Limings in China, but they aren't going to get developed any time soon."
"我认为,阳朔会继续成为中国的攀岩中心,"云南中部的攀岩俱乐部大理攀岩的所有者亚当·克里策说,"中国很可能还有几十个地方具有黎明那样的潜质,但它们在短时间内得不到开发。"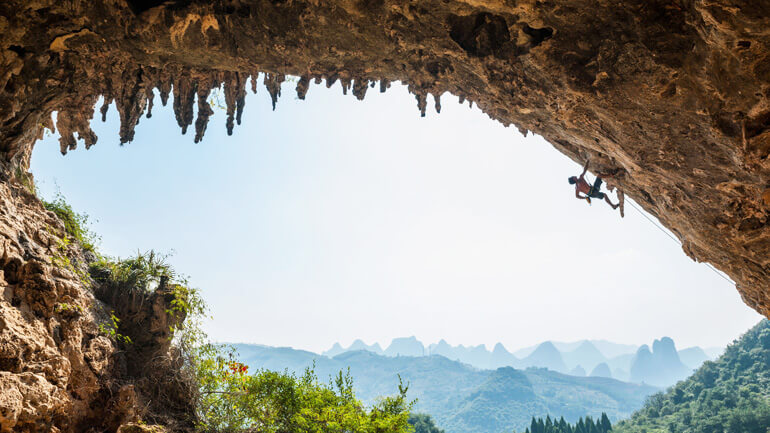 Yet while the familiar sport climbing hubs still dominate China's climbing scene today, others see a transition ahead. Driven by a growing Chinese middle class that can afford to travel, rock climbing has become increasingly popular as an outdoor recreation sport.
不过,虽然如今的中国攀岩业仍以常见的运动攀岩地点为主,但也有人认为未来会发生变化。随着有财力旅行的中国中产阶级的壮大,攀岩变成一种越来越受欢迎的户外休闲运动项目。
"Climbing has been in parts of the Chinese community for the past 15 years, and it's really been in gyms and Yangshuo, but now people want the adventure part of it," said Colin Flahive, a founder of Dali Bar, a natural food company in Kunming that sponsors China-based climbers. "With climbing there's the exercise and there's the drive to reach new levels, so going to the gym is almost as exciting as going to the crag. But when you move past that, the excitement of going to new places and exploring new spots is the second phase of climbing, and I think that's where everything is moving at this point."
"在过去15年里,攀岩已经出现在中国社会中,主要是在健身馆里和阳朔,但现在人们想获得攀岩的冒险体验,"昆明天然食品公司达力巴的创始人科林·弗拉海夫说。该公司为在中国的攀岩者提供赞助。"如果人们攀岩是为了锻炼身体或达到更高水平,那么去健身房和去峭壁几乎同样令人兴奋。但是当你过了那个阶段,下一阶段就是想获得去新地方探索新攀岩点的兴奋感。我认为,现在一切都在朝那个方向发展。"
This expansion into new areas has been helped along by a number of entrepreneurs who have seized on the sport's growth as a business opportunity. "There are these Chinese outdoor companies that want to become larger names, and so what they do is they hire people to go develop routes," Hedesh said. "They get an entire team of famous rock climbers, travel around for a month and put up 50 routes in an area."
向新地区的扩展得到一些企业家的帮助,他们从这项运动的发展中看到了商机。"有些中国户外运动公司想更出名,所以他们雇人开发新路线,"赫德希说,"他们请来全部是著名攀岩者组成的队伍,四处旅行一个月,在一个地区开发50条线路。"
While this business-driven model feels unnatural to some western climbers, others see it as the realistic next step. "I think a lot of it has to do with the culture of China and the way that a lot of Chinese people think, maybe more in terms of business rather than the joy of climbing," Kritzer said. "But it's basically worked really well for the development of climbing. It's made it a little more commercialized, but it's enabled people to develop areas that wouldn't otherwise be developed."
虽然这种商业驱动的模式在一些西方攀岩者看来不是自然发展,但也有人认为那是下一步的现实步骤。"我觉得这与中国文化以及很多中国人的思维方式有很大关系,他们更多的是从商业角度而非享受攀岩的角度出发,"克里策说道。"不过总体来说,它对攀岩的发展很有用。它虽然让攀岩变得更商业化了一点,但它能让人们去开发原本得不到开发的地方。"
The relatively free license to develop far-flung rural areas for rock climbing is another aspect of China that many find exceptional. Where other countries have rigid national laws governing public land, China's land administration system gives a great deal of authority to leaders at the local level. So particularly in the mountains, where agricultural and commercial interest is minimal, climbers are generally welcomed.
相对来说,中国政府对在偏远农村地区开发攀岩项目没有限制,在很多人眼里,这也是中国的一大优势。其他国家对公共土地管理制定了严格的国家法律,但中国的土地管理制度赋予地方领导者很大的权限。尤其是在几乎毫无农业和商业价值的山区,攀岩者总的来说是受欢迎的。
"The freedom we have here is really nice," said Peter Mortimer, a researcher at the World Agroforestry Centre and a Kunming-based climber. "I've bolted and climbed a bit in Laos, Vietnam and Thailand, and there there's always issues — there's a lot of red tape. But here I'm just kind of free of all of that, which appeals to me."
"我们在这里真的拥有很大的自由,"世界农林业研究中心的研究员、驻扎在昆明的攀岩者彼得·莫蒂默说道。"我在老挝、越南和泰国攀过岩,总是有各种问题,需要很多审批手续。但这里几乎完全不需要审批,这一点很吸引我。"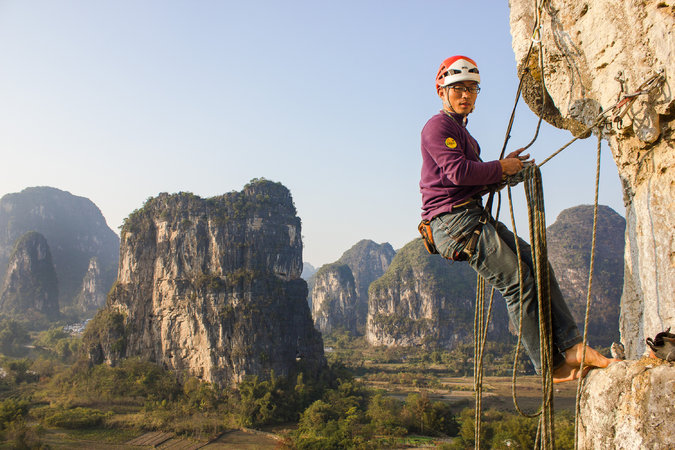 With growing numbers of well-off Chinese able to travel in search of newer and better terrain, some believe this coalescence of natural advantages will make China's hinterland more appealing to the next generation of climbers.
越来越多有财力旅行的富裕中国人在寻找更新、更好的地形,所以有些人认为,所有这些因素会使中国内地对下一代攀岩者更具吸引力。
"Krabi in Thailand, which used to be all Europeans and Americans, it's now almost all Chinese climbers going down there," Flahive said. "In that search for adventure, there's going internationally, but then there's also developing the local stuff. In Yangshuo, the rock is getting polished. People are craving something new."
"泰国的甲米府原来到处都是欧洲人和美国人,现在那里几乎全是中国攀岩者,"弗拉海夫说道。"追求冒险已成为全球趋势,但人们也在开发地方特色。阳朔的岩石正被磨光。人们渴望新事物。"
Mortimer, who continues to develop outside Kunming, said: "I noticed that in some of these areas I'd been developing, people I'd never even seen before had somehow heard of it and were appearing at the crags. Ten minutes from one of our favorite crags here we just followed a new farm road and came across a new cliff that'll yield another 60 climbs. It's just been sitting there like 10 minutes away. Who knows what else is in the hills."
莫蒂默继续在昆明之外的地方开发。他说:"我注意到,在我开发的一些区域,一些我从没见过的人不知怎么听说了它,出现在那些峭壁上。我们从最喜欢的一块峭壁出发,沿着新建的乡间公路走了10分钟,发现一块新的峭壁,它有潜力跻身60个经典攀岩点之列。它就在10分钟路程之外的地方。谁知道山里还有什么。"
Now back in the United States, Dobie is quick to admit that despite his work in Liming, traditional is still very much a niche part of China's climbing scene. "It rings true for the rest of the world – most people are really into sport climbing," he said. "I don't think Liming will ever be as popular with the Chinese as sport climbing."
已经回到美国的多比承认,虽然他在黎明做了很多工作,传统攀岩在中国攀岩界仍是小众市场。"在世界其他地方也是如此——大部分人真的喜欢运动攀岩,"他说。"我觉得,黎明在中国人中永远不会像运动攀岩那样受欢迎。"
"People in Yangshou once said the Chinese would never get into sport climbing, and now you go there and there are like 40 people sharing a crag," Dobie said. "I think there's this sense of disbelief about something new. I think it's human."
"阳朔的攀岩者曾经说,中国人永远不会迷上运动攀岩,现在你去那里看看,一块岩壁上能有40个人,"多比说道。"我认为,这是因为人们对新事物有一种不信任感。我觉得这是人的本性。"