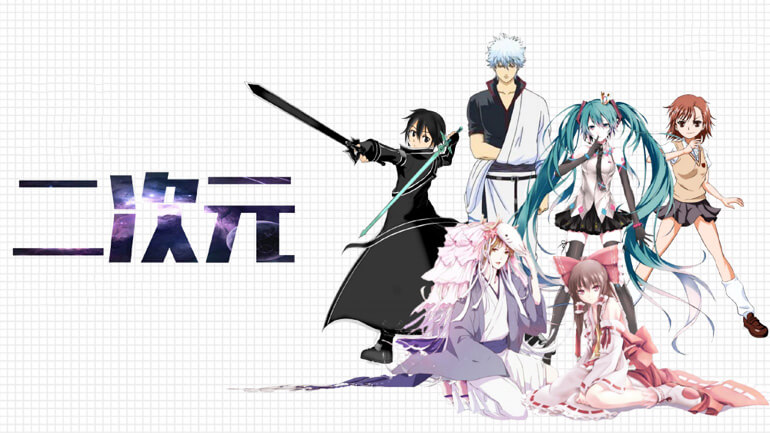 For years watching anime online has been the favorite pastime of Rae Yang, who works at a state-owned Chinese bank in downtown Beijing. The 27-year-old Yang says she spends hours every day on popular Japanese manga such as Gangsta and Gin Tama, so she can immerse herself in a virtual world free from the trivial matters at her workplace.
多年来在网上观看动漫一直是蕾·杨最喜欢的消遣方式,她在位于北京市中心的一家中国国有银行工作。27岁的蕾·杨说,她每天花上几个小时观看流行的日本漫画,比如《匪徒》和《银魂》,所以她可以沉浸在虚拟世界中,不用想工作中的繁琐事情。
Now 200 million consumers like Yang are fueling the rise of a youth entertainment market that has come to be known as er ci yuan (which loosely translates as a two-dimensional space). The term is reserved for the online world of anime, comics, games and novel (ACGN) based on imported Japanese titles – the attraction is so deep that the market has reached 250 billion yuan this year, according to CITIC Securities, which estimates that it can double to 500 billion yuan in a few years as more young consumers opt for the virtual getaways.
如今有2亿名像蕾·杨这样的消费者推动着年轻的娱乐市场的崛起,这一市场被称作"二次元"市场。这一术语是基于引入的日本名称,专门用于指代动漫、漫画、游戏和小说的网络世界。据中信证券股份有限公司,其吸引力如此之大,以至于市场规模今年已达2500亿元。该公司估计,这一市场规模可以在几年内翻一番,达到5000亿元,因为越来越多的年轻消费者选择逃入虚拟世界。
"The Japanese anime are different from cartoons for kids," Yang says. "They are based on real lives but produced in a very interesting way."
蕾·杨说:"日本动漫不同于儿童动画片。它们基于现实生活,但以非常有趣的方式制作出来。"
The popularity has gained the attention of investors including Chinese web giants Alibaba and Tencent, who have put billions of dollars in anime-streaming websites and domestic art studios. The companies are betting that consumers will be willing to pay higher subscription fees online, and domestic anime brands will eventually catch up with Japanese manga in plot and art quality. They are also adapting anime and comics into movies and television series to generate sales from advertising, tickets and peripheral products.
其受欢迎程度吸引了投资者的关注,包括中国网络巨头阿里巴巴公司和腾讯公司,它们为动漫网站和国内美术工作室投资了数以十亿计的美元。这些公司在下赌注,赌消费者将愿意支付更高的网上注册费,而国内动漫品牌最终将在情节和艺术质量方面追赶上日本动漫,它们还将动漫和漫画改变成电影及电视剧,以从广告、电影票房和周边产品中获得销售额。
"ACGN is a youth sub culture, but I think it can become mainstream in five years," says Chen Yuetian, an investment director at Beijing-based venture capital Sinovation Fund who has invested in Shanghai-based studio Haoliner Animation. "The big companies need to keep pace, otherwise they will end up making the wrong products."
一家总部设在北京的风投公司创新工场的投资总监陈悦天说:"二次元是一种年轻人的次文化,但我认为,它可以在五年内成为主流。"他投资了总部在上海的工作室绘梦文化,"大公司必须与时俱进,否则它们将最终制作出错误的产品。"
Anime site AcFun, for example, raised $50 million in an August funding round led by Alibaba's video site Youku Tudou. One month later, Shenzhen-listed Alpha Animation bought Chinese anime site You yaoqi for 900 million yuan. In November, Tencent put 200 million yuan for a 15% stake in video-sharing site Bilibili, which is now partnering with the company to make 20 domestic anime series over the next two years.
比如,动漫网站AcFun在2015年8月的一轮融资中筹集了5000万美元,此轮融资是以阿里巴巴旗下的优酷土豆网站为首。一个月后,在深交所上市的奥飞娱乐股份有限公司以9亿元收购了中国动漫网站"有妖气"。11月,腾讯公司以2亿元收购了哔哩哔哩网站15%的股份。该网站如今与腾讯公司合作,将在未来两年内制作20部国内动漫剧。
But most of the investments are money-losing, according to Huang Guofeng, an analyst at consultancy Analysys International. Whatever subscription fees the sites currently generate isn't enough to cover their operating costs, and China's anime fans are yet to take a liking to local screen adaptations. The Legend of Qin, a 2014 film based on a namesake domestic series, generated 60 million yuan in ticket sales but that is not enough to cover its 100 million yuan in production costs. A television series that aired this year has a rating of 4.6 out of 10 on Chinese review website Douban, as people criticize it for cheap special effects and plot that strayed from the original story.
但据咨询公司易观国际的分析人士黄国锋表示,大多数投资都将打水漂。不论网站目前获得的注册费有多少,都不足以负担其运营成本,而中国的动漫迷尚未喜欢本国大银幕的改编版。《秦时明月》是一部2014年的电影,基于国内同名漫画剧集制作的,获得了6000万元的票房,但不足以支付其1亿元的制作成本。今年播出的一部同名电视剧在豆瓣网站上的得分为4.6分,总分为10分,因为人们批评其廉价的特效以及偏离原著的情节。
"Although there are not good business models at the moment, the companies are still willing to invest because the market is at its infancy," Huang says. "Prices are cheap. If you get in now, you may have an advantage later."
黄国锋说:"尽管目前没有好的商业模式,但公司仍愿意投资,因为这个市场处于初期阶段,价格便宜。如果你现在进入,那么之后你也许会拥有优势。"
Sinovation Fund's Chen says money can be made from future games and e-commerce offshoots. "It is hard for the production and the distribution process to be profitable," he says. "But there will be opportunities in game adaptations and sales of peripheral products if an anime can gather enough fans."
创新工场的陈悦天说,可以从未来的游戏和电子商务衍生品中赚钱。他说:"制作和发布过程中很难有利可图。但在游戏改编和周边产品销售中,将会有机会,如果一部动漫可以吸引足够多的粉丝的话。"