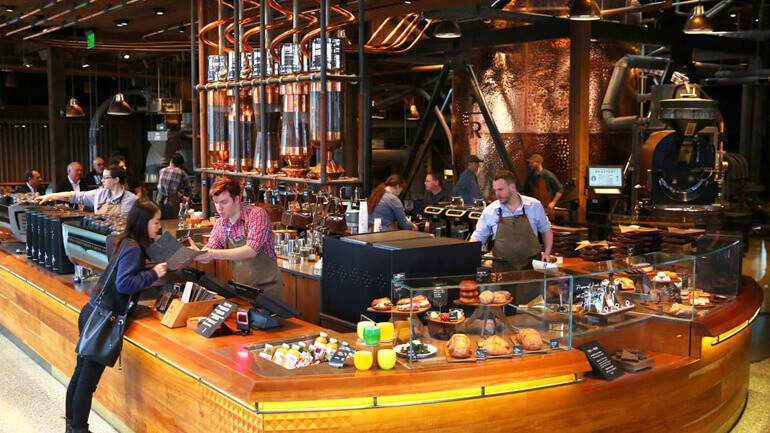 Starbucks Coffee Company announced that it will bring its first international Starbucks Roastery and Reserve Tasting Room to Shanghai in 2017.
星巴克宣布其将在2017年在上海开设海外首家咖啡烘焙工坊以及臻选品鉴馆。
Located along Nanjing Road W., one of the world's busiest shopping destinations, the Roastery will be part of the soon to be built HKRI Taikoo Hui Project, Shanghai's newest premium world-class retail, office, and hotel area.
烘焙工坊坐落在世界最繁华的商业街之一的南京西路上,入驻于即将完工的兴业太古汇。兴业太古汇是上海最新的集零售、办公、酒店于一体的建筑。
Scheduled to open in late 2017, the new Starbucks Roastery and Tasting Room in Shanghai will be inspired by the first location that debuted in December 2014 in the company's hometown of Seattle, Washington. The 2,700-square-meter Shanghai space will reflect a similar, immersive all sensory experience. This interactive, retail environment will allow customers in China to better understand the craft of roasting and brewing a range of Starbucks coffees including the rare, limited availability of Starbucks Reserve coffees from around the world.
全新的上海星巴克咖啡烘焙工坊及臻选品鉴馆计划于2017年开放,并且从2014年12月开放的总部西雅图店中得到灵感。2700平方米的门店会给人带来相似的沉浸式感官体验。这样的互动零售环境能够让中国的消费者更好地感受制作烘焙咖啡豆和泡制咖啡的工艺,其中包括一系列在全球高端门店中才能体会到的宝贵体验。
"China represents the most important and exciting opportunity ahead of us. As our first international Roastery, we will take even bolder steps to make this Shanghai location our most stunning store, while making it completely unique and relevant to the Chinese customer," said Howard Schultz, chairman and chief executive officer of Starbucks.
公司的主席兼首席执行官霍华德·舒尔茨表示:"中国对我们来说代表着最重要和令人激动的机会。作为我们首家海外烘焙工坊,我们会更加精心地让上海门店成为最棒的一家,并且同时让其与众不同且使中国消费者感到亲切。"
"The Starbucks Roastery environment honors coffee innovation as a modern day Willy Wonka experience, where customers are only feet away from the theatre and artistry of our coffee craft. I am confident this will be one of the most highly-anticipated store openings in our international markets."
"星巴克烘焙工坊希望能够实现王家卫电影中所呈现的摩登生活,顾客们距离剧院和我们咖啡手作的艺术只有几步之遥。我认为这将是国际市场里最值得期待的星巴克门店之一。"
China is, today, Starbucks largest international market with more than 2,100 stores across over 102 cities, including 55 Starbucks Reserve stores.
如今,中国是星巴克最大的海外市场。星巴克的2500间店面分布在全国102座城市里,其中包括55间星巴克储备商店。