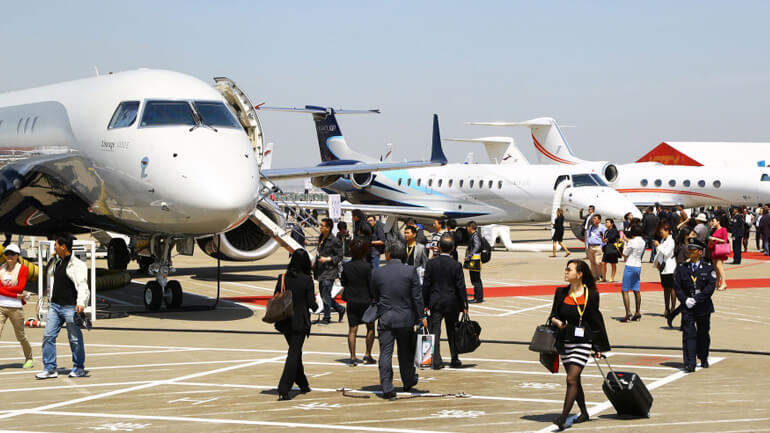 In the mid-1980s, more than three decades after Mao Zedong's communist revolution, David Dixon was one of the first capitalists allowed by a wary Beijing to fly over China in a business jet – with an escort.
上世纪80年代,得到谨慎的中国政府的批准后,戴维·狄克逊成为首批在中国运营公务飞机的资本家,但机上必须配备一名陪同人员。
Three decades later, China has embraced business aviation and is home to Asia's largest business-jet fleet. After an extended period of rapid growth, it is experiencing growing pains that should be temporary, provided it can further relax its heavy control of its skies and airports.
30年后,中国接受了公务航空业务,成为拥有最多公务飞机的亚洲国家。在经济相当长时间的快速增长后,中国市场正面临成长期的阵痛。但阵痛应该是暂时的,只要中国进一步放松对空域和机场的严厉管控。
Data from the consultancy Asian Sky Group's 2015 Asia Pacific Fleet Report shows that China, Hong Kong and Macau's combined fleet saw a net addition of 26 jets last year, an increase of 6.2 percent, but just under half the net additions of 2014. Despite the end of 20-percent annual growth, many in the industry are expecting strong, steady growth for years.
香港亚翔航空有限公司《2015年度亚太地区公务机机队报告》统计显示,中国内地、香港、澳门三地去年净增加公务飞机26架,虽然同比增幅达到6.2%,但净增量只有2014年的一半。虽然年增速20%的时代结束了,但许多业内人士预计中国市场今后仍将保持强劲而稳定的增长。
"I think we're definitely seeing an uptick from a year ago," said Jason Liao, chairman and CEO of China Business Aviation Group. "I'm very positive. I think we'll see an average of 10 percent, sustainable long-term growth."
中国公务航空集团董事局主席兼首席执行官廖学锋说:"我认为现在的情况明显好于一年前。我非常有信心。我认为能够保持年均10%的长期可持续增长。"
China's shift from being a global investment destination to becoming a global investor is also changing the market.
中国正在从全球投资目的地转变为全球投资者,这一变化同样在改变公务航空市场。
"China's commercial interests are spreading all over, to Africa, to South America, regions which are not necessarily their traditional markets," Mr. Dixon said. "When they go looking for resources, they're usually in remote areas, so access becomes crucial. How do you get from Beijing to Angola easily and when you want to? The answer is business aviation."
狄克逊说:"中国的商贸利益延伸到全球各地,延伸到非洲和南美,那些地方不一定是中国人的传统市场。他们去寻找资源的时候,通常需要前往偏远地区,所以交通工具非常重要。如果你想从北京前往安哥拉,希望方便快捷、说走就走,那该怎么办?答案就是公务航空。"
"Geographic positioning of the Asia Pacific region and distances between major cities necessitates the need for long-range aircraft," said Khader Mattar, Bombardier's vice president of sales for the Asia Pacific region and China. "We expect the Chinese market to be one of the four most active markets and to generate the most deliveries over the next 10 years."
加拿大庞巴迪公司负责亚太及中国区销售业务的副总裁卡迪尔·马塔尔说:"亚太地区的地理位置以及大城市之间的距离催生了对远途公务飞机的需求。我们预计中国市场将跻身世界四大活跃市场的行列,今后十年的交货量将位居全球之首。"
China's business aviation market should benefit from support from Beijing, which has mentioned general aviation in the past two five-year plans.
中国公务航空市场应该会从政府支持中受益,北京在此前两个"五年规划"中都提到了民用航空事业。
"General aviation is becoming one of the main directions in China's national policy," said Fang Xinyu, vice president of Deer Jet, China's largest charter provider, "the government is encouraging more investment in this industry."
中国最大的包机服务商金鹿公务航空有限公司副总裁方新宇说:"发展民用航空正在成为国家政策走向之一,政府鼓励加大对该行业的投资。"
The market is maturing but has far to go, he said. "We are still short of pilots, mechanics and even professional marketers."
方新宇介绍说,中国市场正在走向成熟,但还有许多路要走。"我们仍然急需飞行员、机修工乃至专业营销人员。"