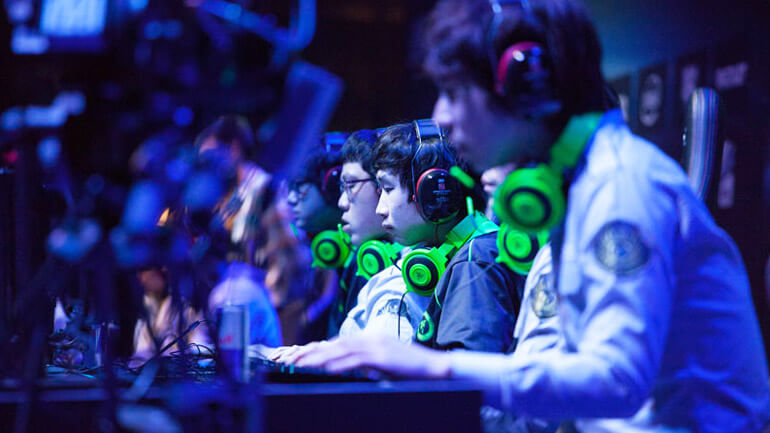 Ben Wu's hard work in college led to a degree in biomedical engineering and a well-paid job at a Chicago trading firm. But in spite of being the envy of many of his peers, he quit after just three years to become a professional PC online game player. Going by the name Merlini, he was able to earn more money playing games, like Defense of the Ancients, and working as a commentator for eSports tournaments than he ever did as a trader.
吴贲在大学期间的刻苦攻读使他获得了生物医学工程学位以及芝加哥一家贸易公司中一个报酬丰厚的职位。但是,尽管是很多同龄人的艳羡对象,他却在工作3年后就辞职当了一名职业个人计算机在线游戏玩家。他以梅利尼之名闯荡电子竞技界,打DotA等游戏以及担任电子竞技比赛评论员挣的钱比以前当交易员时更多。
Wu's career trajectory is emblematic of the growth of eSports, which are booming globally, but particularly in Asia where champions and commentators have achieved cult-like status. And people like Wu are playing digital games and earning more money than the majority of us make at our 9-5 jobs.
吴贲的职业轨迹象征了电子竞技的发展。电子竞技在全球繁荣发展,尤其是在亚洲,冠军和评论员获得了偶像般的地位。吴贲等人打打游戏,挣的钱就比大多数朝九晚五的上班族更多。
eSports can be played on PCs or mobile devices, the latter segment is predictably experiencing a huge boom, especially in China. Massive live tournaments, such as the League of Legends World Championships, with millions of dollars up for grabs, are held every year and Chinese teams are a force to be reckoned with. Chinese Web giant Alibaba recently launched AliSports World Electronic Sports Games, with 1,200 events planned this year across 15 Chinese cities and total planned payout of $5.5 million.
电子竞技能够在个人计算机或移动设备上进行。移动设备电子竞技正在经历巨大发展,尤其是在中国。《英雄联盟》全球总决赛等大型现场赛事每年举办,有数以百万计奖金可供争夺,来自中国的队伍是一股不容小觑的力量。中国网络巨头阿里巴巴公司最近创办阿里体育世界电子竞技运动会,今年计划在中国15个城市举行1200场比赛,总奖金达550万美元。
Today, eSports gamers like Wu are professionals leaving coveted jobs in finance to earn more money playing video games. These gamers have fans; Wu in particular has thousands of followers watching his online gaming tutorials on YouTube and Twitch, the streaming service that Amazon bought for nearly $1 billion. We estimate there are 100 million eSports fans in China now. They watch professional competitions on many video sites that are China's answer to Twitch.
如今,吴贲这样的电子竞技玩家已成为职业选手,他们放弃为他人艳羡的工作、通过打视频游戏挣到更多钱。这些选手拥有很多粉丝:尤其是吴贲,数以千计追随者会在YouTube和Twitch(亚马逊公司斥资将近10亿美元购买的流媒体服务平台)上观看他的在线指导视频。我们估计,目前在中国有1亿电子竞技爱好者。他们在很多与Twitch类似的中国视频网站上观看职业比赛。
And, while eSports typically comprises PC online games today, there is already growth in the mobile eSports segment, too, where gamers play competitive eSports on mobile devices such as tablets or smartphones.
还有,尽管目前电子竞技通常是指个人计算机在线游戏,但移动电子竞技也在发展,即玩家在平板电脑或智能手机等移动设备上进行竞争性电子竞技。
Much of the confusion over eSports and the MOBA genre stem from their relatively infant roots – both have only risen to significance only over the past five years, whereas the other genres have been around for much longer.
电子竞技和MOBA游戏都是在过去5年中才崛起的,而其他类型游戏已经存在了很多年。比赛也已经存在很多年了,但最近才大张旗鼓地办起来。
MOBA games have had a direct impact on turning eSports into a place for amateurs having fun into revenue-driving professional events. That demand for MOBA games is driving a resurgence in demand for Internet cafés across China and Asia, as gamers prefer to play face-to-face and to socialize with their 5-person teams and 5-person opponents. The use of Internet cafés bottomed out in 2013, and in 2014 and 2015 we saw an increase in the use of Internet cafés for competitive gaming and viewing eSports.
MOBA游戏对电子竞技从业余玩家的一种娱乐变成职业赛事产生了直接影响。对MOBA游戏的需求正在推动中国和亚洲各地对网吧需求的复苏,因为玩家更愿意面对面打游戏、与自己的5人团队成员和5名对手当面交流。2013年,网吧的使用量止跌回升,2014年和2015年,我们看到,在网吧中进行和观看电子竞技的情况增加了。
Market estimates are that the total global market for eSports was nearly $750 million in 2015, nearly half of that from Asia led by China and South Korea. Some analysts predict eSports will generate nearly $2 billion by 2018.
市场估计,2015年电子竞技全球总市场将近7.5亿美元,将近一半来自以中国和韩国为首的亚洲地区。一些分析师预测,到2018年,电子竞技的市场价值将接近20亿美元。