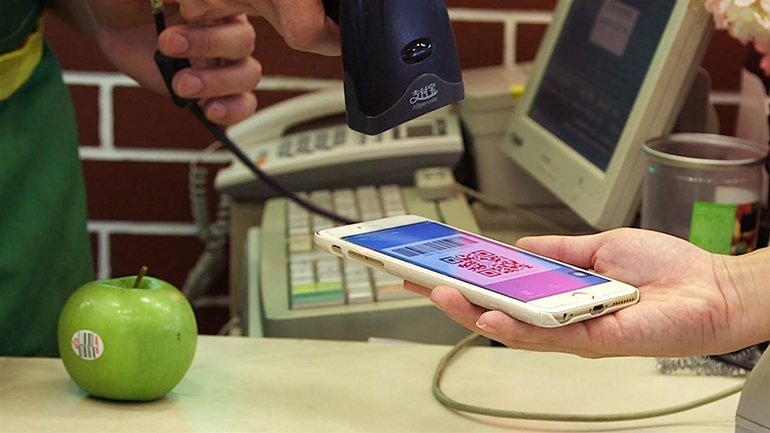 When diners ask for the bill in an urban Chinese restaurant, they are more likely to reach for their mobile phones than their wallets.
在中国城市的餐馆里,如果用餐者埋单,他们更有可能拿出手机,而不是钱包。
This reflects the rapid spread of mobile payment platforms, which are pushing urban China towards becoming a cashless society, leapfrogging credit cards in the process.
这反映了移动支付平台的迅速扩张。中国由此正在变成一个无现金的社会,并在这个进程中跳过信用卡。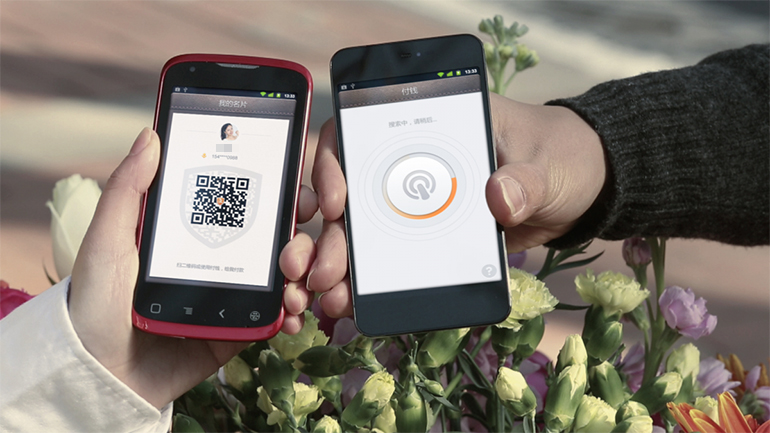 In a survey of 1,000 urban consumers conducted by FT Confidential Research, a unit of the Financial Times, 98.3 per cent of respondents said they had used mobile payment platforms over the past three months, with little difference across city tier, age group or income level.
《金融时报》旗下研究服务部门"投资参考"对1000名中国城市消费者的一项调查显示,98.3%的人说,他们在过去3个月中使用了移动支付平台,城市规模、年龄群体或收入水平对人们使用移动支付平台的影响不大。
Alibaba's Alipay was the most frequently used payment platform, cited by 79.5 per cent of respondents, as the first chart shows.
阿里巴巴的支付宝是最常用的支付平台。79.5%的受访者使用这一平台。
That is a far greater proportion than those who said they most regularly used credit cards (45.5 per cent), debit cards (30 per cent) or even cash (79 per cent).
使用移动支付平台的人要多于使用信用卡(45.5%)、借记卡(30%)和现金(79%)的人。
Alipay's chief rival Tenpay, owned by Tencent, was cited by 26 per cent of respondents. Just 0.3 per cent said they used Apple Pay.
有26%的受访者使用腾讯公司的财付通。财付通是支付宝的头号竞争对手。只有0.3%的受访者说,他们使用苹果支付。
Alipay's dominance is nationwide, selected by 79.3 per cent of respondents in first-tier cities, 80.2 per cent in second-tier cities and 79 per cent in third-tier cities. It was 5.9 percentage points more popular than cash in first-tier cities, though narrowly lost out in second and third tiers.
支付宝在全国范围内占据着支配地位。在一线城市中,有79.3%的受访者选择使用支付宝,在二线城市中有80.2%的受访者选择支付宝,在三线城市中有79%的受访者选择支付宝。
The rapid adoption of such platforms means credit cards may never gain traction in China. Credit card penetration fell to 0.29 per person at the end of last year, after peaking at 0.34 at the end of 2014, according to central bank data.
这类平台的迅速流行意味着信用卡或许永远不会在中国获得有力发展。中国央行的数据显示,截至去年年底,中国人均持有信用卡下降到0.29张,而截至2014年底,中国人均持有信用卡曾达到0.34张的峰值。
The number of users of mobile payment platform grew 64.5 per cent in that time to 357.7m.
同一时期,移动支付平台的使用者数量增加了64.5%,达到3.577亿。
Respondents said they most often used them for payments in supermarkets and shopping malls, but they are also popular for paying utilities, ordering food, buying travel tickets or eating out, as the second chart shows.
受访者说,他们在超市和购物中心最常使用移动支付平台,但人们也常用它们支付水电费、点餐、买车票或下馆子吃饭。
Unsurprisingly, the younger the respondent, the more likely they were to have adopted this relatively young technology: only 56.1 per cent of respondents aged 35 or older said they prefer making mobile payments to paying via PC, even though almost all owned smartphones. In contrast, 88 per cent of 18 to 24-year-olds preferred paying via their mobile device.
受访者越年轻,他们越可能采用这一相对年轻的技术。年龄在35岁或以上的受访者中,只有56.1%的人表示他们更倾向于移动支付而不是通过个人电脑进行支付,尽管几乎所有人都拥有智能手机。而在18-24岁人群中,88%的人偏爱移动设备支付。
Mobile platforms are now trying to move beyond a simple scan of a QR code for a retail transaction. Taking advantage of the big data resources of their parent companies, they are expanding into consumer finance, some with a view to challenging the traditional banks.
现在,各种移动平台正试图超越扫一下二维码进行零售交易的阶段。通过利用它们母公司的大数据资源,它们正在向消费金融扩张。一些人认为,它们会对传统银行构成挑战。
The take-up has not been entirely smooth, however. The new online banks have not overcome a central bank regulatory hurdle to become deposit-taking institutions, which requires in-person verification of an account holder's identity.
然而,事情进展并不完全顺利。监管部门有理由感到紧张。中国网络金融服务的扩张导致许多贷款未受到足够监管,并且还造成了明目张胆的欺诈行为。另一方面,中国的银行尤其几大国有银行,也在积极保护自己的领地。如果这些网络银行获得成功,那么中国的监管机构和传统银行都需要适应新形势。