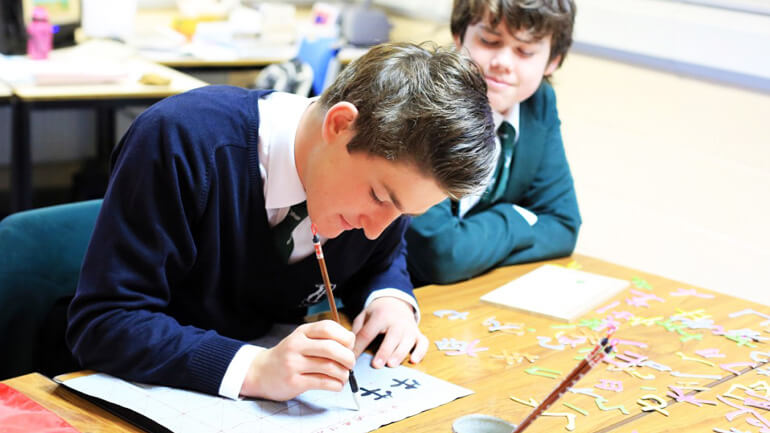 The immersion program and especially the inclusion of Mandarin in Bohunt School has seen widespread acclaim through the British Council and HSBC's National Mandarin Chinese Speaking Competition where students from Bohunt have attained the top 3 places 3 years in a row, with 2 out of the 3 achieving first place.
博航特中学的汉语浸入式教学获得了英国文化委员会的赞赏。博航特的学生连续三年在汇丰银行举办的汉语演讲比赛中包揽前三名。
Furthermore, before Prime Minister David Cameron's trip to China in 2013, students from the program were invited to 10 Downing Street, to give him a Mandarin lesson.
2013年,学生们还被邀请到唐宁街10号给即将去中国访问的英国首相卡梅伦上了一堂中文课。
Students in the immersion group have a more positive attitude to learning than those outside the immersion group, according to Philip Avery, Director of Learning and Strategy for Bohunt School.
学校主管学习的Philip Avery 主任认为,接受浸入式教学的学生往往比其他学生更加积极。
"That gap opens up during their first year and it stays all the way through their time with us. How they perceive themselves as learners, how they perceive learning and how they perceive school is more positive," adds he.
"这种差距从学生接受浸入式教育的第一年就开始出现并且会一直持续下去。他们对自己、对学习、对学校的理解都更加积极。"
"They find it hard to study a subject in another language and that builds resilience, you have to have good listening skills and you are going to have to work collaboratively with others". However, he adds that the most noticeable benefit is the increase in the students' confidence.
博航特的校长发现,学生们用另一门语言去学习某一个科目非常困难,这样就培养了他们的韧性。因为要时刻和别人合作或者寻求帮助,他们还必须培养听别人讲话的能力。更重要的是,学生们的自信心也得到了极大的提升。
Through this learning method, many students from Bohunt School grows great interest in Chinese language and China.
通过这种学习方式,博航特很多学生对中文和中国产生了极大的兴趣。