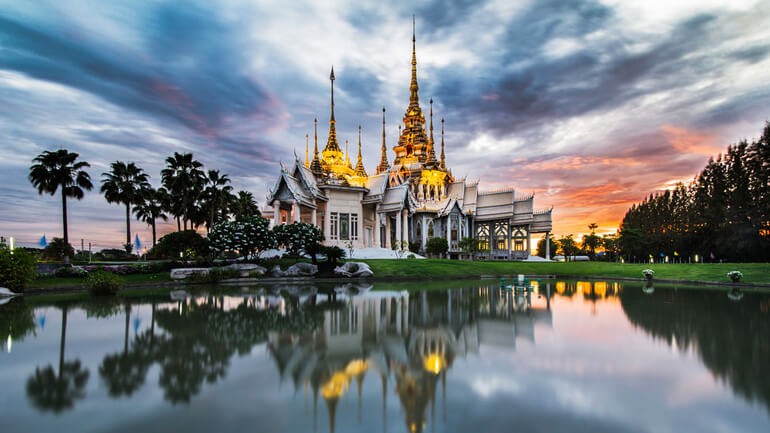 Everywhere you look on Thailand's Amata industrial estate in Rayong you see signs in Chinese. It's a similar story just along the coast in the tourist resort of Pattaya, where Mandarin is increasingly visible alongside English and Russian.
在泰国罗勇府的安美德城工业村,中文标识随处可见。旅游胜地芭堤雅的情况亦是如此,在这里中文标识与英文及俄文一样日益常见。
As China's economy slows, its investors are looking abroad for growth, and Thailand is a hot investment destination in everything from industry to condominiums.
随着中国经济放缓,中国的投资者正在将目光转向海外以寻求增长机会,而泰国则是投资的热门目的地。
"Thailand is usually the first stop for Chinese tourists and investors," said Xu Gen Luo, who runs the Thai-Chinese Rayong Industrial Zone. Dozens of new Chinese-owned solar, rubber and industrial manufacturing plants have opened in the zone since 2012.
"泰国通常是中国游客和投资者的第一站。"泰中罗勇工业园总裁徐根罗称。自2012年以来,已有数十家中资光伏、橡胶及工业制造工厂落户该工业园。
"Thailand's investment environment, especially its investment promotion policies, are among the best worldwide," he said, adding that labor costs were higher in China.
"泰国的投资环境,尤其是投资保护政策,在全球范围内属于最好的。"徐根罗补充说,中国的劳动力成本更高一些。
Chinese investors have found a warm welcome in an economy that has seen investment crimped by a decade of political turmoil, and where the junta has struggled to revive exports and domestic demand in the two years since seizing power.
中国投资者在泰国受到热烈欢迎。持续10年的政治动荡令泰国经济领域的投资大受冲击,而泰国军政府自掌权以来一直在想方设法令出口和内需复苏。
Tourist numbers have also jumped, helped by the huge success in China of the slapstick comedy "Lost in Thailand". About 7.9 million Chinese visited the "Land of Smiles" last year, up 71 percent from 2014, and Thailand expects more this year.
前往泰国的中国游客人数也大增,部分得益于喜剧电影《泰囧》在中国的大获成功。去年赴泰国的中国游客约为790万人次,较2014年增长71%。泰国方面预测,今年接待的中国游客会更多。
Xu expects the number of Chinese firms at his park to increase to about 100 this year, from 75 currently, and to 500 in the next five years. Moving to Thailand can also help companies in industries such as solar and chemicals sidestep anti-dumping measures, industry experts said.
徐根罗预计,今年落户泰中罗勇工业园的中国企业数量将从目前的75家增至大约100家,并会在未来五年增至500家。行业专家称,把工厂迁移到泰国,还能帮助各行各业的企业规避反倾销措施,譬如光伏及化工企业。
"China is facing trade barriers from many countries, particularly on solar, so many Chinese firms are coming to invest in Thailand," said Visnu Limwibul, chairman of a Thai electronics and telecommunications industry group.
"中国面临许多国家的贸易壁垒,特别是在光伏产品方面。因此,许多中资企业前来泰国投资。"泰国电子及电讯行业协会会长Visnu Limwibul称。
As the expatriate Chinese community grows and more Chinese look for holiday homes in Thailand, real estate investment is on the rise. Bundit Sirithunyhong runs the Suttangrak Group, which has just joined with Chinese firms to develop housing projects worth $140 million to sell as time-shares to Chinese buyers.
随着中资企业外派人员的增多,加上更多的中国人在泰国投资度假房,地产投资也跟随增长。Bundit Sirithunyhong经营的Suttangrak Group刚刚与中资企业合作开发耗资1.4亿美元、向中国买家出售分时度假房的地产项目。
"I think they are not just investing in real estate, but starting to use Thailand as a base for business in Southeast Asia," he said. "Here they can stay and work as their second homes. It's a step further in business expansion."
"我认为他们不仅仅是投资地产,而是开始将泰国作为拓展东南亚生意的基地。"Bundit Sirithunyhong说。"他们可以把这里作为第二故乡来生活和工作,这是进一步扩张业务的一步。"