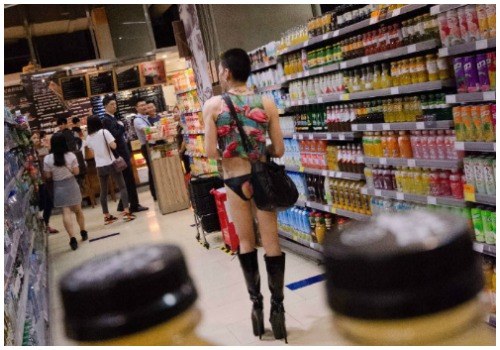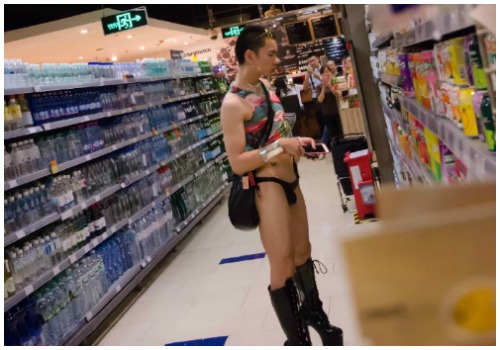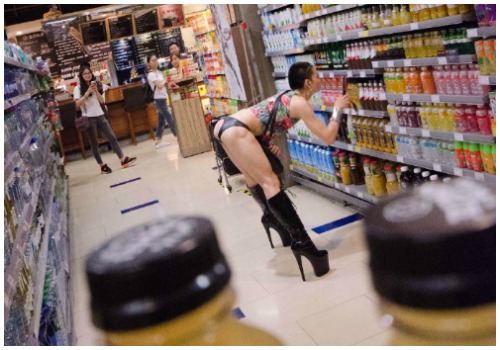 Recently, a male shopper became a hot topic in China, as the young man was wearing a pair of wicked knee high boots, dressed in skin-tight, raunchy undies with open buttocks, in Shenzhen MixC supermarket.
最近,一名异装男火了!网友在深圳万象城的超市看到一名年轻男子,踩着高跟靴、露屁股皮裤、花哨背心,真是活久见!
The pictures cause much commotion on Weibo, where netizens have different opinions on this grocery shopping outfit.
微博上一时骚动四起,网友们看法不一。
mr.wiener
Wot, his G-string?
遮羞布?
Brando
Why is this news? Oh…right…it's China.
这居然也能成为新闻?哦,也是,这是在中国。
Lucy
Can't we let people wear what they want when they want without shaming them and plastering it all over the internet?
我们就不能让别人爱怎么穿就怎么穿,而不是在网上到处转载来羞辱他们?
FSM Ramen
No problem, live and let live.
有意见吗?自己活,也让别人活!
The article is translated and editted by Chinlingo. Please indicate the source (info.chinlingo.com) for any use, reproduction or transfer.
本文由Chinlingo编译后发布,如需转载,请标明来源:info.chinlingo.com.