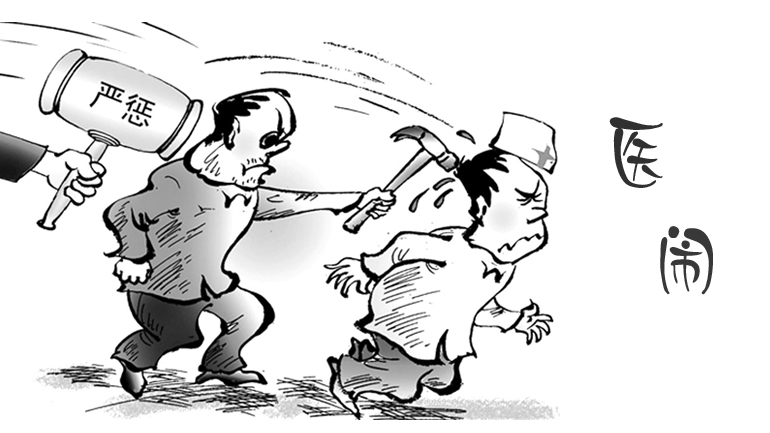 Wang Jun, a doctor in a hospital in southern China, was busy with a line of patients on Wednesday when, after a blow to his skull, he became the latest fatality in a plague of violence afflicting the country's hospitals.
中国南方一家医院的医生王俊在正忙着接诊的时候被击中头部,这使他成为中国医院暴力事件的最新受害者。
Dr. Wang's assailants appeared to be family members of at least one patient waiting to be treated by him and his colleagues, news reports said.
袭击王俊医生的是正在等候就诊的患者家属。
"The family members complained that the doctors were not vigorous in treating patients," said a report from Xinhua, the main state-run news agency, citing staff members at the Shaodong County People's Hospital in Hunan Province, where Dr. Wang worked as an ear, nose and throat specialist.
湖南邵东县人民医院的工作人员说,家属抱怨"医生救治工作不积极",王俊是这家医院五官科的专家。
"They swore at and hit Dr. Wang Jun, who was treating patients, and he fell to the ground injured," Xinhua reported.
"他们辱骂并殴打正在接诊的医生王俊,造成王俊受伤倒地。"新华社报道。
Dr. Wang, in his early 40s, appeared to be the latest victim of a problem feared by many Chinese hospital doctors and nurses: families of patients who, driven by a visceral distrust of the health care system, subject medical staff members to humiliation and violence when they feel that patients have been mistreated or neglected.
40岁出头的王俊医生成为中国很多医护人员恐惧的一个问题的最新受害者,这个问题就是:出于对医疗体制本能的不信任,患者家属在认为患者被误诊或被忽视的时候,经常辱骂或者殴打医务人员。
The issue has been common enough to inspire its own terse name in Mandarin Chinese, yinao, which roughly translates to "medical ruckus."
这种现象非常普遍,以至于出现了一个专门的名词——"医闹"。
Dr. Wang was unconscious for several hours, while news reports about the attack rippled across China. Efforts to save him failed, and he died late in the afternoon.
王俊医生在昏迷数小时后因抢救无效死亡。
By the time he died, two people suspected of being assailants had been arrested, and another later surrendered to the authorities, the Shaodong County police said in an online statement. The police noted that the suspects had the same surname, Yang, but did not give other details about them or what had prompted the assault.
在他去世之前,公安机关已抓获两名嫌疑人,另一名嫌疑人稍后投案自首。警方说,这几名嫌疑人都姓杨,但没有提供其他信息,也未说明袭击动机。
In 2014, law enforcement officials recorded 4,599 "security incidents" in hospitals, many of them assaults or protests by aggrieved families of former or current patients; 1,425 people had been arrested in such episodes, Xinhua said in a recent report.
新华社在最近的一则报道中说,2014年,全国共查处涉医治安案件4599起,刑事拘留1425人。
The Chinese Medical Doctor Association said last year that "nearly 60 percent of medical staff had experienced verbal abuse, and over 13 percent had been assaulted," according to Xinhua.
中国医师协会说,近60%的医务人员受到过语言暴力,13.07%的医务人员受到过身体上的伤害。
The government has promised to stop the attacks, and the Ministry of Public Security has said that violence in hospitals has been falling. But many doctors and nurses still say they feel unsafe, especially in small-town hospitals where their numbers and resources are limited. And protests by medical workers after attacks have spread.
中国政府承诺打击发生在医院的暴力行为,公安部说,暴力伤医事件正在减少。但很多医生和护士仍表示,他们感到不安全,特别是在一些小城市的医院,这些医院的医务人员数量和资源都十分有限。越来越多的医务工作者开始在遭受袭击之后站出来抗议。