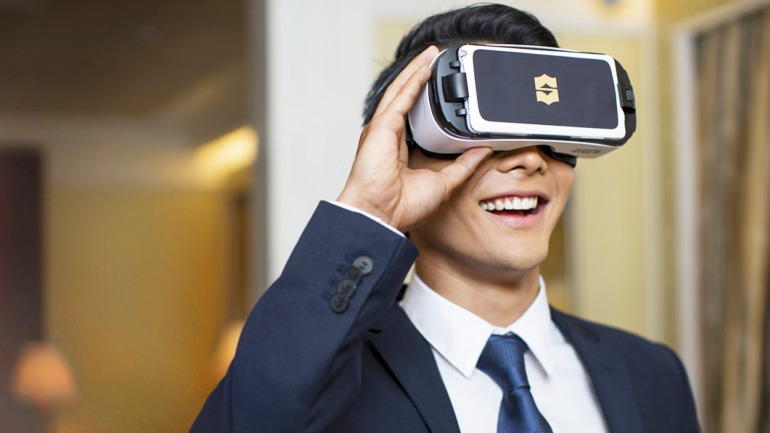 Hip-hop dancers, military marchers and daredevils in winged suits are bringing China's Internet titans into the world of virtual reality.
嘻哈舞者、野战军人和穿着翼装的夜魔侠正带领中国的互联网巨头进入虚拟现实的世界。
Alibaba Group Holding Ltd., Tencent Holdings Ltd. and Baidu Inc. are using their money to employ a different perspective on the virtual-reality business than their overseas competitors. Instead of building headsets like Sony Corp., Facebook Inc. and HTC Corp., the Chinese companies are positioning themselves as middlemen: seeding dozens of startups and opening their platforms to developers of content and hardware while they wait for a dominant headset to emerge.
与它们的海外竞争对手相比,阿里巴巴集团、腾讯控股有限公司和百度公司正利用它们手里的资金,从一个不同的角度来发展虚拟现实业务。这些中国公司不像索尼公司、脸书网站和宏达电子那样致力于开发头戴式视图器,而是把自己定位成中间商:选定几十个初创企业,把它们的平台向这些内容和硬件开发商开放,然后等待一种在市场上占优势的虚拟现实头盔出现。
"All three of these companies want to focus on creating platform and content," said Ricky Lin, a Beijing-based analyst at IResearch. "The issue facing China's VR industry at this point is that it lacks core technology, so they need to hedge their bets."
艾瑞咨询集团驻北京的分析师里基·林说:"这三家公司希望把精力集中在创造平台和内容上。目前,中国虚拟现实行业面临的问题是它缺乏一种核心技术,所以它们需要对冲风险。"
The gambit means to capitalize on a domestic VR market expected to grow by 36 times in the next four years to 55 billion yuan. The country began a campaign to support entrepreneurship in 2014 and since has opened 1,600 high-tech incubators for startups.
这一策略旨在充分利用国内的虚拟现实市场,从中获利。预计在今后四年里,中国的虚拟现实市场将增长36倍,达到550亿元的规模。2014年中国发起一波支持创业的运动,从那以后已经为初创企业开放了1600家高科技孵化器。
At least 200 startups are working in China's virtual-reality industry, according to IQiyi.com Inc., a Baidu unit. Venture-capital investments in China surged about 50 percent to $12.2 billion in the first quarter, according to London consultancy Preqin Ltd. In that same period, about $1.1 billion was invested in the VR industry, according to California-based Digi-Capital.
据百度旗下的爱奇艺网站说,至少有200家初创企业正在致力于中国的虚拟现实行业。据伦敦咨询公司普雷钦研究公司说,今年第一季度中国的风险资本投资增长50%左右,达到122亿美元。据总部在加利福尼亚州的数码资本公司说,同一时期内,大约有11亿美元投资于虚拟现实行业。
"A lot of people think that this industry will mature fast with the push of capital and media," said Duan Youqiao, who oversees IQiyi's initiative. "The VR industry right now is like when we were still living in the ages when horses pulled carriages."
爱奇艺高级副总裁段有桥表示:"许多人认为,在资本和媒体的推动下,这个行业将会快速成熟起来,如今中国的虚拟现实行业仍然处于蛮疆时代。"
Baidu, Alibaba and Tencent—often referred to collectively as BAT—have a combined market capitalization larger than Israel's gross domestic product, and they serve 688 million Internet users in China alone. China's VR market is expected to reach 55 billion yuan in value by 2020 from 1.5 billion yuan last year, according to Guangzhou-based researcher iiMedia.
百度、阿里巴巴和腾讯(常被称为BAT)的市值加起来超过了以色列的国内生产总值。他们独自为中国的6.88亿互联网用户服务。据总部在广州的艾媒咨询估计,到2020年,中国虚拟现实市场的规模预计将从去年的15亿元增长到550亿元。
The segment with the most initial promise is online video, since about 504 million Chinese regularly use streaming sites, according to government figures. Immersive video and game applications could be the first VR industry to mature, according to China's Ministry of Industry and Information Technology.
政府统计数据显示,在这个市场中,最先起步的是网上视频部门,因为大约5.04亿中国人经常使用流媒体网站。据中国工信部说,沉浸式视频和游戏可能是最早成熟的虚拟现实市场。
About 6.3 million VR headsets will be shipped worldwide this year, with 40 percent of them going to China, Canalys said May 12. Sony's PlayStation VR, Facebook's Oculus Rift and HTC's Vive will range from about $400 to $800.
卡纳利斯咨询公司在5月12日说,今年全球范围内出货的虚拟现实头戴式设备大约会有630万台,其中40%将发往中国。索尼公司的PlayStation VR、脸书网站的Oculus Rift和宏达电子的Vive等虚拟现实设备售价从400到800美元不等。
Beijing-based IQiyi.com is working with more than 300 partners, including listed Beijing Baofeng Technology Co. and Le Holdings Co., on content and hardware.
总部在北京的爱奇艺网站正与300多家合作伙伴,包括上市公司暴风科技和乐视控股公司在内,一起努力开发虚拟现实市场的内容和硬件设备。
IQiyi plans to build the world's largest Chinese-language VR service, and a key element is a new app suite that makes its movie and game offerings compatible with any head-mounted devices, it announced May 5. "VR will become iQiyi's main business – not a sideline business," Duan said.
爱奇艺在5月5日宣布,它计划打造全球最大的中文虚拟现实服务,其中一个关键因素是一款新的应用套件,后者能使爱奇艺提供的影视和游戏产品与任何头戴式虚拟现实设备兼容。段有桥表示:"虚拟现实服务将成为爱奇艺的主要业务——而非边缘业务。"
IQiyi also is experimenting with streaming live concerts and producing VR films such as "Iron Fists of the Despicable," Duan said. Films and TV shows could become more like games in the future, with storylines changing based on user preferences, he said.
段有桥表示,爱奇艺还在尝试流媒体音乐直播业务,并尝试制作像《卑鄙的铁拳》之类实拍与特效结合的虚拟现实电影。他说,电影和电视节目在未来可能会变得更像游戏,故事线会根据用户的喜好来变化。
Alibaba, China's biggest e-commerce company, is developing VR-related shopping experiences for its 400 million users. The Hangzhou-based online emporium created 3-D renderings for hundreds of products and will issue standards for merchants to create their own VR-enabled shopping options.
中国最大的电子商务公司阿里巴巴集团正在为其4亿用户开发与虚拟现实相关的购物体验。阿里巴巴的平台已经为许多产品建立了3D体验,公司还将为平台上的商人建立他们自己的虚拟购物选项发布标准。
China's largest e-commerce platform set up GnomeMagic Lab to create content with its movie and TV unit. The business, named after characters from "World of Warcraft," will work with video-streaming unit Youku Tudou Inc. and Alibaba Pictures Group, which is investing in Hollywood movies, including "Mission: Impossible—Ghost Protocol."
这个中国最大的电子商务平台已经宣布建立虚拟现实实验室(被称为"地精魔法实验室"),以便和旗下的电影和电视部门一起推动虚拟现实内容的生产,这个实验室以《魔兽世界》里的角色来命名,它将和流媒体部门优酷、土豆及阿里巴巴影业集团进行合作。阿里巴巴影业集团正在投资好莱坞影片,包括《碟中谍4:幽灵协议》。
Tencent, whose WeChat and QQ instant-messaging services have more than 1.3 billion active users, is boosting spending on videos, games and anime comics to keep users in those services longer.
与此同时,中国另一个互联网巨头腾讯正在增加对视频、游戏和动漫的支出,以保持用户更长时间地使用这些服务。腾讯的微信和QQ即时聊天服务拥有超过13亿活跃用户。
Original Force, a Tencent-backed company that specializes in computer-generated content, is working on VR movies for Tencent Pictures. It also is an investor and Chinese partner for Florida-based Pulse Evolution Corp., which created holograms of Michael Jackson and rapper Tupac Shakur for concerts.
腾讯投资的原力电脑动画制作有限公司正致力于为腾讯影业制作虚拟现实电影。此外,腾讯还是美国佛罗里达州脉冲进化数字特效公司的投资者兼中国市场合作伙伴,后者曾为已故天王迈克尔·杰克逊和美国说唱歌手图派克·夏库尔制作全息图像。