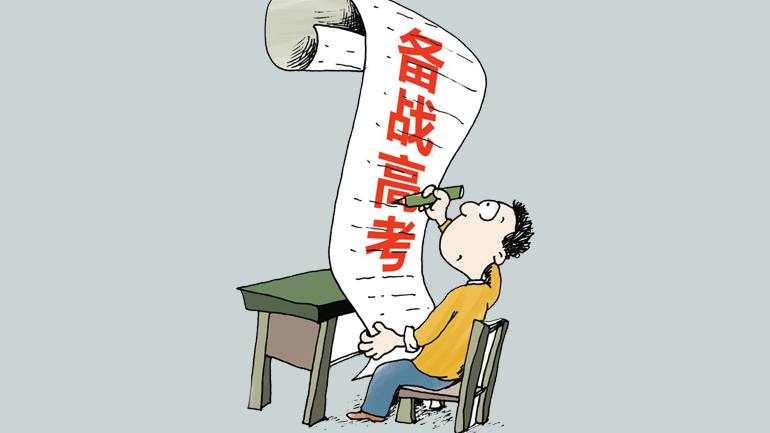 As of press time, over 10 provinces and cities have published the number of students who will take this year's gaokao. Among these, the number of examinees in Beijing, Liaoning and Jiangsu provinces was the lowest seen in recent years, the China News Service reported Thursday.
截止发稿时,已经有十多省市公布了今年参加高考的学生人数。据中国新闻社周四的报道,北京考生、辽宁考生和江苏考生的数量跌至近年来的最低水平。
Only 61,000 students in Beijing will take this year's gaokao. The number has been dropping for the last 10 consecutive years and has fallen to nearly half the figure in 2006.
在北京,只有61000名考生会参加高考,这一数据已经连续十年持续下降,现在北京参加高考的考生几乎不到2006年时的一半。
Central China's Henan Province still has the largest number of gaokao takers, with 820,000 students saying that they will sit for this year's exam. But the number of gaokao takers in Henan has also been dropping for six consecutive years since 2009.
中部省份河南依然有最多的高考考生,大约有82万学生将参加今年的考试。但是河南省考生的数量也从2009年开始连续6年持续下降了。
Chu Zhaohui, a research fellow at the National Institute of Educational Sciences, told the Global Times that the drop is mainly due to the decline in the total number of Chinese high school students. Based on the current population structure, that trend will not change in the short term.
国家教育科学研究院研究员储朝晖(音)告诉《环球时报》,说高考考生数量的减少主要是由于在校高中生人数减少引起的。基于目前的人口结构情况,这一趋势在短时间内不会改变。
A report released by education site eol.cn in 2014 said that the drop, which was mainly caused by a population decrease, will last through 2020.
由教育网站eol.cn在2014年发布的一份报告显示,高考考生人数下跌主要是由人口减少造成的,这一下跌趋势将持续到2020年。
Chu added that more and more students are choosing to pursue a college education abroad, while some are beginning to think that working may be a better choice than going to college, adding to the decrease.
储朝晖补充说道,越来越多的学生选择到国外接受大学教育,而还有部分学生开始认为工作要比上大学更好一些,这些情况加剧了高考考生数量的减少。
However, Chu pointed out that the situation will likely be different in the long term, since secondary education is becoming more popularized in western China as the government increases benefits for students in rural areas.
储朝晖指出,就长期来看,这一情况可能会变得不同。由于政府加大了惠及农村学生的力度,中等教育在西部地区越来越普及。
Chinese universities are required to enroll about 60,000 students from poverty-stricken areas, according to a circular issued by the Ministry of Education and the National Development and Reform Commission on Thursday. The arrangement aims to promote urban and rural areas' equal access to higher education. The circular did not specify how the candidates would be selected
据教育部和发改委在本周四发布的联合通知指出,中国高校需要从贫困地区录取6万名学生。这一安排旨在促进农村地区和城市地区有平等接受高等教育的权利。但是这一通知并没有详细说明将会如何从贫困地区遴选学生。