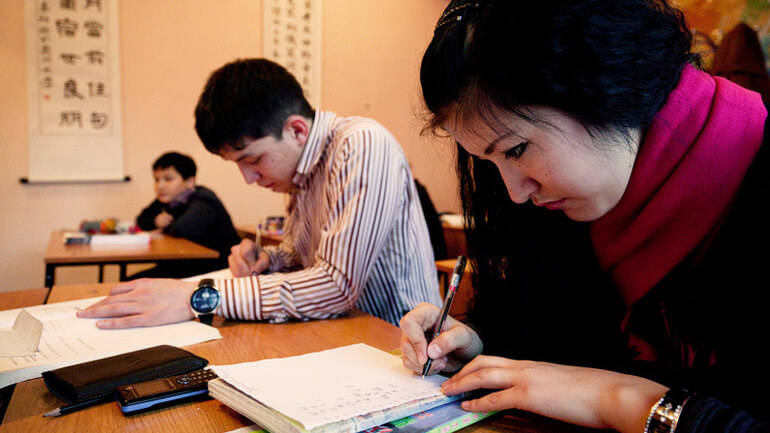 "China is the key for your future," reads a notice pinned to the wall, jostling for attention alongside a toy panda, Chinese wall hangings, and plastic bamboo.
"中国对你们的未来至关重要,"墙上钉着的一则告示写道。与这则告示一样引人注目的,是一只玩具熊猫、中式壁挂和塑料竹子。
On a Tuesday evening at this Almaty language school, several small groups are engaged in learning Chinese.
在一个周二的晚上,在阿拉木图的这所语言学校里,几组学生正在聚精会神地学习汉语。
Viktoriya Nazarchuk, a 33-year-old painter, says she became interested in the language through an enthusiasm for Chinese calligraphy. Like most students of Chinese in Kazakhstan, however, she also has an eye on Beijing's growing economic clout.
33岁的画家维多利亚•纳扎尔丘克说,她爱好中国书法,并由此喜欢上了汉语。不过,就像哈萨克斯坦大多数学汉语的人一样,她也密切关注着中国日益增强的经济影响力。
"We need to get acquainted with their culture, history and language," she says. "When my level is high enough I plan to teach my little son Chinese, too. He will need it in his future life."
"我们需要熟悉他们的文化、历史和语言。"她说道,"当我水平足够高时,我还打算教我小儿子汉语。他在以后的生活中将需要汉语。"
As China's economic power in the region grows, Ms Nazarchuk is one of a growing number of central Asians looking to learn Chinese. Nurzhan Baitemirov, founder of East-West Education Group, which owns the language school where Ms Nazarchuk is studying, says his focus is shifting. The company once specialised in teaching English to Kazakhs, but it is now increasingly educating them in Chinese.
随着中国在中亚的经济影响力不断增强,越来越多的中亚人考虑学习汉语,纳扎尔丘克就是其中之一。东西教育集团创始人努尔然•拜捷米罗夫表示,他正在改变自己的工作重心。这家集团曾专注于教授哈萨克斯坦人英语,但如今开设了越来越多的汉语课程。纳扎尔丘克学汉语的语言学校就隶属于该集团。
"West Kazakhstan used to be Canadian companies, but they have shifted and it is now majority Chinese companies. It's better if you speak Chinese if you want to get a position," says Mr Baitemirov, who has a masters degree from Wuhan. The number of students learning Chinese is increasing by 5 per cent a month, he estimates. "Parents do understand that if their child has a good education in Chinese they have good job prospects," he says. "They're seeing there are a lot of Chinese investments here."
"哈萨克斯坦西部曾是加拿大企业的地盘,但情况已经发生了变化,如今那里大多是中国的企业。如果你想找份工作,最好是会说汉语,"已在武汉获得硕士学位的拜捷米罗夫说。据他估计,学汉语的学生人数每月增加5%。"家长们明白,如果他们的孩子接受了良好的汉语教育,就会有不错的职业前景。"他说,"他们注意到,中国在这里有大量的投资。"
The number of Kazakh citizens studying in China has risen more than fivefold in the past decade to 12,000, according to the China Scholarship Council, a government body that helps overseas students study in China. Beijing, meanwhile, has set up 11 Confucius Institutes to promote Chinese language and culture in the five Central Asian "stans".
中国国家留学基金管理委员会数据显示,过去十年里,在华留学的哈萨克斯坦公民人数增加了四倍多,达到1.2万人。该委员会是一家帮助海外学生在华留学的政府机构。与此同时,北京方面已在中亚五国开办了11所孔子学院,推广中国的语言、文化。
Even Kazakhstan's first family has endorsed learning Chinese: Dariga Nazarbayeva, deputy prime minister and daughter of the country's president, in February said that Kazakh children should learn Chinese in addition to Kazakh, Russian and English. "China is our friend, our trading partner and the biggest investor in the economy of our country," she said. "In the near future, we all need to know Chinese."
就连哈萨克斯坦的第一家庭也已为学汉语背书:哈萨克斯坦总统之女、该国副总理达丽加•纳扎尔巴耶娃在2月表示,除了哈萨克语、俄语和英语,哈萨克斯坦儿童还应学习汉语。"中国是我们的朋友、贸易伙伴和我国经济的最大投资者。"她说,"在不远的将来,我们都得懂汉语。"