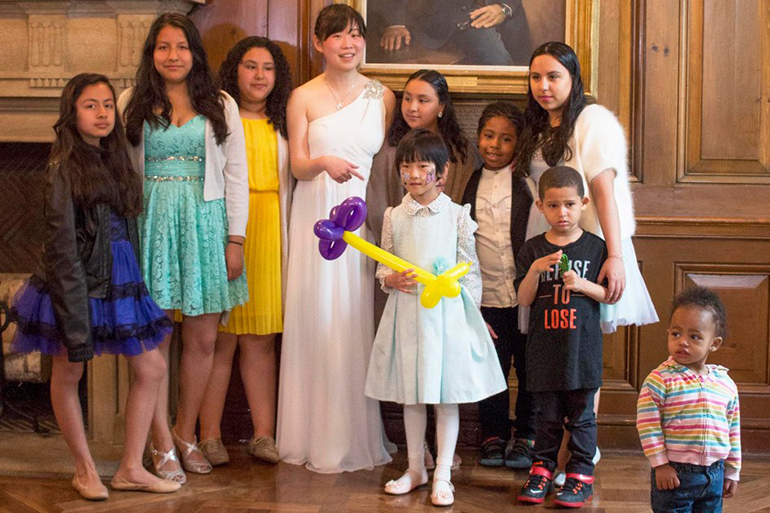 Glowing in her white gown, her hair braided in a classic updo, Yiru Sun was the picture perfect bride as she looked out at her 60 guests on May 7. But Yiru wasn't getting married, and she didn't know a single one of them.
当地时间7日,身穿一袭白色婚纱、梳着经典高髻的孙亦如面对来宾露出了灿烂笑容,这个完美的"新娘"看上去幸福极了。不过,让她感到幸福的并不是因为这一天她要嫁人了,而是她将原本悲剧的一天变成了一场欢乐大派对,虽然她甚至都不认识当日来参加派对的来宾。
The Princeton graduate and Corporate Vice President at New York Life Insurance had canceled her wedding two months ago after she refused to sign the proposed prenuptial agreement. But instead of canceling the reception – which she put down a nonrefundable $8,000 deposit for – at the luxurious Harold Pratt House in the Upper East Side, Yiru decided she would find a group of children and families in need to attend instead.
两个月前,因为拒绝签署婚前财产协议,孙亦如,普林斯顿高材生、现任纽约人寿保险副总裁,取消了自己的婚礼。不过,她早就为婚宴支付了8000美元不可退的押金,而婚宴地点在纽约上东区豪华的哈罗德•普拉特酒店。就这样让钱打水漂有点可惜,于是,孙亦如决定干脆邀请一些贫困孩子和她们的家人来酒店用餐。
Finally, Sun invited 60 needy kids and their mothers to the party. The luncheon became a warm-up activity to celebrate Mother's Day.
在纽约慈善组织的帮助下,孙亦如最终确定了来宾名单,邀请了60位贫困家庭的孩子和他们的母亲参加婚宴。因为婚礼第二天是母亲节,当天的午宴也变成了庆贺母亲节的"预热活动"。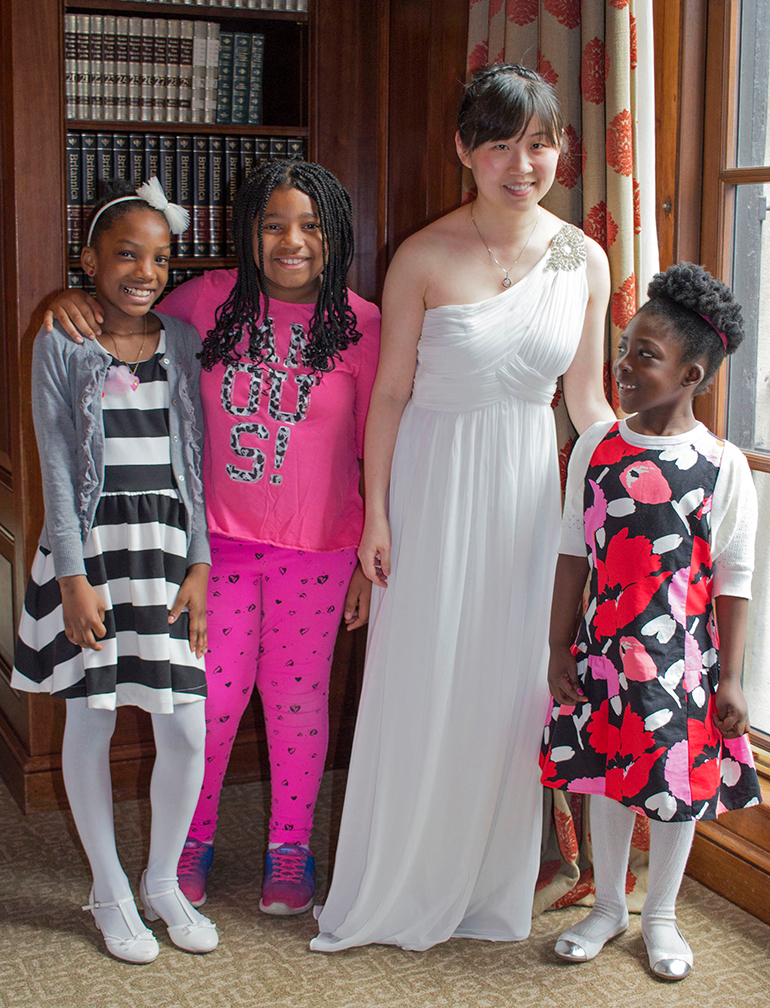 The event also helped Yiru, single mother to a six-year-old girl, take her mind off the fact that she would not spend the day tying the knot. Yiru would only say that she was not comfortable with the prenup, adding that she 'initially felt frustrated' when she decided to call the wedding off. "I don't want to sign things I don't feel comfortable with," is all she'll reveal of the prenup dust-up.
孙亦如本身也是一位单身母亲,带着一个6岁女儿。她对在场的来宾说:"本来,我站在这里,应该是准备结婚的,但婚礼被取消了。一开始我感到沮丧极了。但我不想去签让我心里感到不舒服的东西。"
"Three weeks later, I woke up with this idea," said Sun. "I cannot be the princess of my wedding day, but I can give the kids a fairy tale."
"三星期后,我想到了(邀请贫困孩子用餐)这个主意。"孙亦如说,在原本是婚礼的日子,她没有办法成为公主,"但我可以给孩子们一个童话故事。"
Yiru said she couldn't have enjoyed the day more, and she believes her guests felt the same way. 'My guests feel even more happier than wedding guests,' she joked. 'They don't need to prepare wedding gifts.'
结果是,这一天让孙亦如感觉美好极了。当天的派对充满欢声笑语,一些客人还带来了表演,演奏钢琴和尤克里里。"我的宾客,比参加结婚的来宾应该更开心吧。他们不需要准备结婚礼物。"孙亦如开玩笑地说。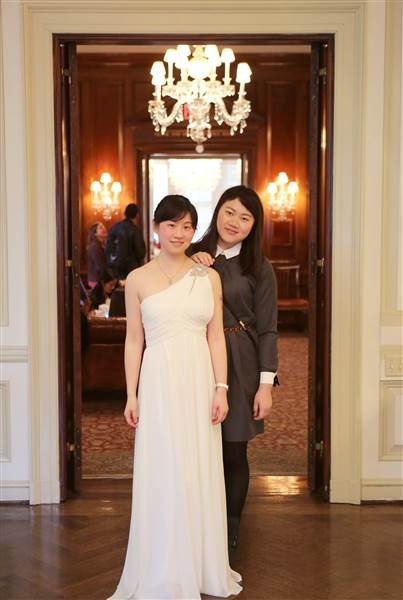 But the day was not for wallowing. Instead Yiru told her guests about how she had grown up poor in China before studying in America and winning a full scholarship to obtain her PhD in electrical engineering at Princeton.
孙亦如还与来宾分享了自己的励志故事,这位普林斯顿毕业生与来宾一样,出生于穷苦家庭,但现在已成为一名成功的职业女性,现任纽约人寿保险副总裁。她告诉前来参加宴会的孩子们和母亲们,自己成长于中国的一个贫苦家庭,后来到美国求学,获得奖学金在普林斯顿大学攻读电子工程博士学位。
Single moms, and their kids, can face difficulties in life and still do great things, she insisted.
孙亦如称,单身母亲还有她们的孩子,面对挫折照样可以做很棒的事情。
Comments:
Lucille M., Los Angeles, United States
What a woman! What an awesome thing to do. Many blessings to her in return.
很棒的女子!很赞的事儿!祝福!
Way Lucas, Pittsburgh, United States
Awesome lady. And people whine about immigrants…this woman came from China with nothing to wind up attending Princeton and getting her PhD. The world needs more people like Ms. Yiru.
非常棒!还会对移民发牢骚?这位主人公来自中国,凭自己能力考入普林斯顿大学,取得博士学位。这个世界需要更多像孙女士这样的人才!
adnaap, NY, United States
Totally against the vows of marriage, maybe he sprung the pre-nup on her without prior discussion as a way out of the marriage. Pure Lemonade for the Soul! She is an amazing single-mother to be able to turn the sour grapes handed to her by her pre-nup-hubby-to-be into sharing her blessings for Mother's Day with families in need that were as she was growing up needy in China. This is how ya do it when you work for your own living and someone tells you they want you to sign a pre-nup to protect their assets like marriage is a business deal meant to have a loser. Totally against the vows of marriage. Yiru Sun is already the better whole that she is and has no need for such a marriage. This is her own money she used from the reception hall rental cost she paid for her cancelled wedding.
和婚礼宣誓的画风完全不一样!也许她先生没有提前商量就向她提出婚前协议。了不起的单亲妈妈!把自己不愉快的经历变成母亲节祝福,分享给贫困家庭。她自己也出身贫寒,有同情心。你努力自己谋生,但你的男友却要求你签所谓的婚前协议来保护他的财产,像一场交易一样。所以,孙女士不需要这样的婚姻。婚宴押金是她自己的付的,她爱怎么做就怎么做。
The article is partially translated and editted by Chinlingo. Please indicate the source (info.chinlingo.com) for any use, reproduction or transfer.
本文由Chinlingo编译后发布,如需转载,请标明来源:info.chinlingo.com.